I'm in Nagoya now, awaiting the first game of the Nippon Series. Back in Chiba it's 14 C/57 F and a typhoon is on the way; here it's just cloudy and cold. Good thing the game today is in Nagoya or else there wouldn't be a game 1 today.
I'd like to take a quick look at how Our Marines match up with Chunichi for the series. I don't see much value in comparing position to position – I want to review the head to head competition between the two teams.
This year's interleague showed the Pacific and Central champs are pretty evenly matched. Much is made about the Chunichi pitching but in the two games at Chiba Marine the story was the Lotte pitching. Starters Bill Murphy and Shunsuke Watanabe both pitched great in their two starts, and with a bit of offense the Marines had all they needed to win both games.
At Nagoya Dome, Chunichi took both games with late rallies. In the first game bad defense and an awful pitch by Yabuta led to the Dragons scoring three in the bottom of the 8th to tie it, and Kobayashi gave up his first earned run of the year (this was in June) in the 11th to take the loss. In the second game Lotte starter Yoshimi got way behind and the Lotte offense chipped away at the lead but couldn't make it all the way back, even with a dramatic late HR by Kim Tae Kyun.
What can we take from this? I think much like the Softbank series just showed, if the Lotte pitching is strong the team will win. This was the theme all through the first part of the season as well – as the pitching went, so went the team. It's a bit odd thing to say about a team that put up so much runs.
My totally biased opinion is that Our Marines will take this series in Game 5 at Chiba Marine. Why?

1) Momentum. The team has been in playoff mode for over a month, and just won an impossibly difficult series on the road. Three must win games in a row to end the season, two in a row on the road at Seibu, 4 out of 6 including the last three in a row – all on the road, at Fukuoka.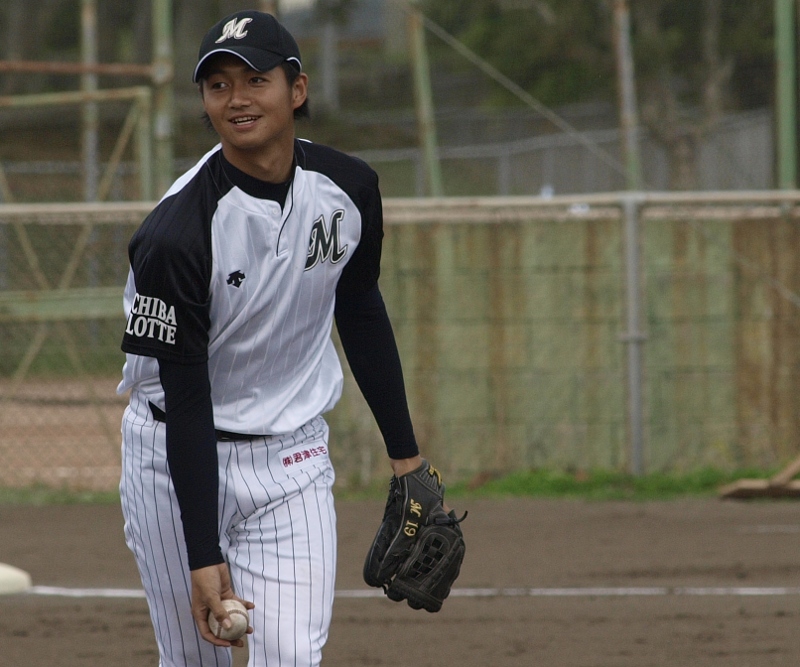 2) Getting Healthy. Satozaki has had more time to rest his back – and look what he has done when he's played in the playoffs this year. Fukuura has also had time to rest his foot. And The Baby-Faced Killer, my guy Karakawa, is officially back and will be making a start. It could only be better if Ogino (Ta-Ka-Shi!) were back but sadly he's not – I saw that he is in fall camp at Kamogawa, not here.
3) Unreached potential. There's still so much more this team can do! Look at the offense in Fukuoka – Tsuyoshi had an off series, hardly anyone got on base with regularity, Fukuura barely played, Kim Tae Kyun got some hits but no HRs. There's SO much more that this team could do. I believe this team WILL do more.
Yup, Lotte in 5 sounds about right to me.