Today I want to celebrate the big send-off for the first part of the season that our boys in black and white prepared for us! They brought everything; my favorite pitcher (The Baby-Faced Killer), a goregeous sunny-but-not-too-sunny, warm-but-not-too-warm day, and big fistfuls of offensive goodness. They even brought the return of the 52 yen Lotteria burgers!
Lamentably, today was my last home game for two weeks – until the interleague game versus Chunichi on 18 May. Can you believe we are at that point of the season already? Yep, after today's game with Nippon Ham in Chiba Marine the 1/4 way point of the 2010 Chiba Lotte Marines season was passed. How did it go?
Not so great early. The Baby-Faced Killer (Yuki Karakawa, for those who don't have a slavish devotion to my every turn of phrase) limped out of the gate with a walk, single, an RBI single by Koyano, and another walk before finally setting in and clearing out some batters. It wasn't a pretty start at all – he was quite fortunate to escape with only one run yielded. Good thing his mates know how to pick up his spirits, with some runs!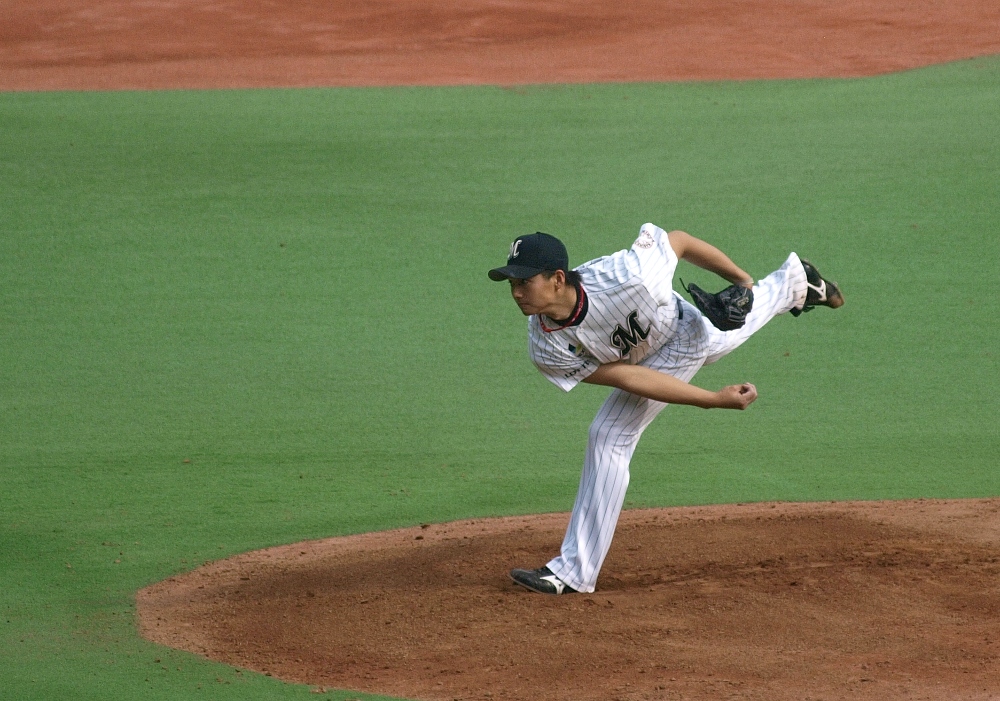 Fighters starter Yoshikawa had a nervous start of his own. After getting Nishioka and Ogino (Ta-Ka-Shi!) out he walked Iguchi, Tae Kyun, and Ohmatsu, setting up the chance for a big Saburo (in the DH role today) timely hit. I leaned over to my mother (visiting from the US) and said "We're doomed"; yup, we were – Saburo struck out swinging. Argh!
The Baby-Faced Killer still didn't settle down very much – in the second and third he allowed a pair of singles in each frame but kept any runners from coming home. Maybe he was just trying to be Entertaining? No matter, it was still a 1-0 game at this point. Yes! I said at this point.
At the very next point – the bottom of the third – Lotte batters engaged in a contest to see how far a ball would fly. First contestant, Iguchi. He takes a 2-1 pitch on the outside from Yoshikawa and smashes it way into the right stands!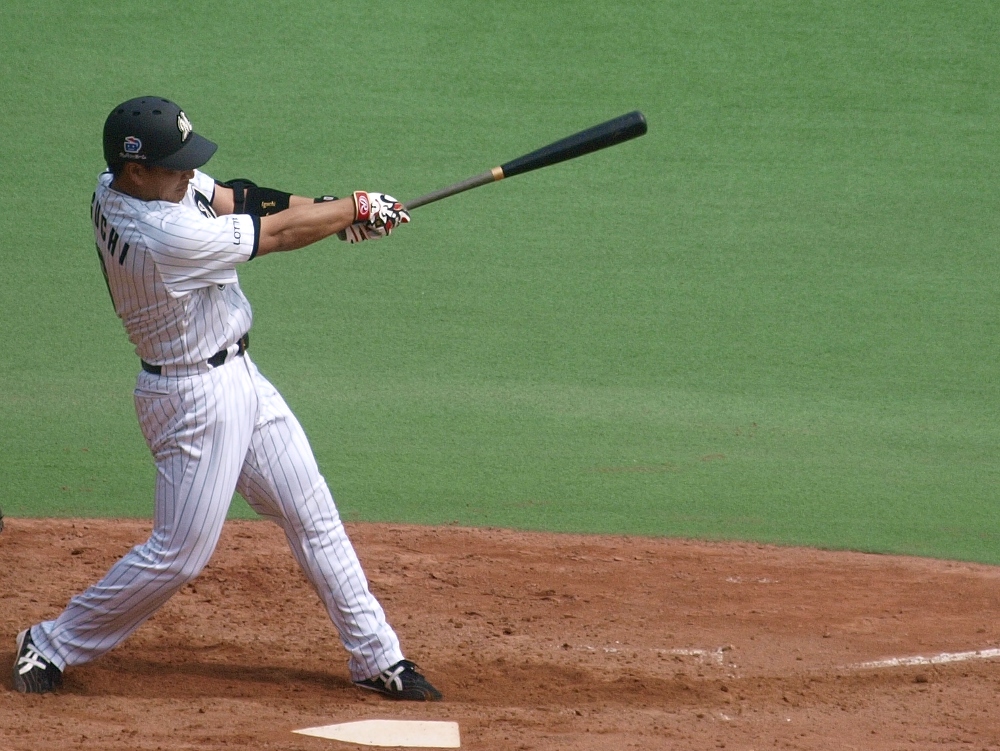 Up next, yesterday's granter of cheap Kimuchi Tae Kyun Burgers, um, you know who. He waits for a 2-1 pitch and launches one himself! Very, very deep to left field – way gone! Everyone rushes to Lotteria to celebrate.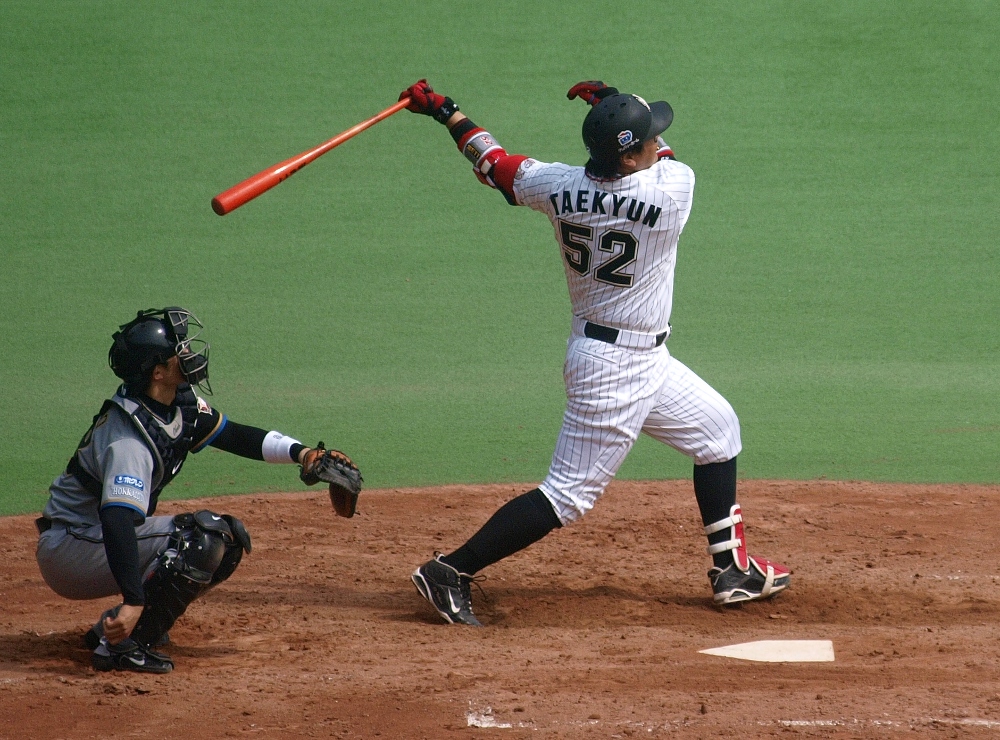 Ohmatsu has to spoil things for everyone – he pokes a single to center. C'mon, Ohmatsu! It's a competition! Saburo remembers that, though – first pitch, long gone! 3 HRs in the inning, 4 runs, and all before a single out recorded!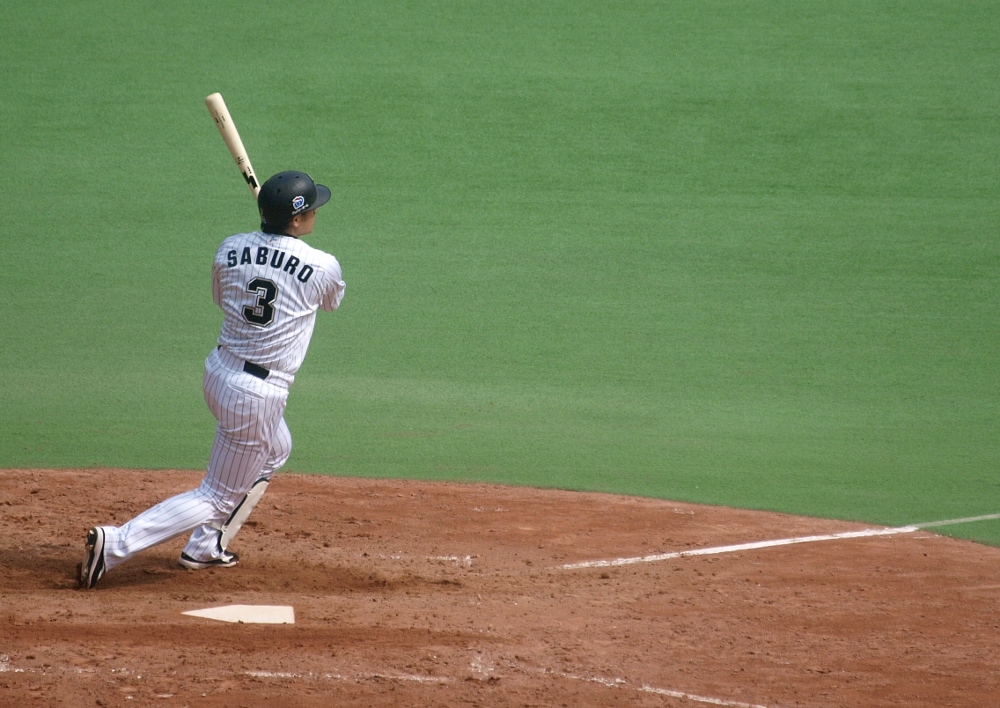 In the fifth, the Fighters's Itoi was doubled off on a very, very high infield pop. He was off on the pitch, Koyano skied it but Itoi never saw where it went. Tsuyoshi gamed him by acting like the pitch went over his head and foul, so Itoi froze between first and second. Iguchi reeled it in, though, and whipped it back to first for a DP! Very fine play.
To celebrate such a fine play, the offense got it going again in the bottom half of the inning. Ohmatsu, having been chastised by the 3, 4, and 6 hitters for not entering the 3rd inning HR contest, decides to enter in the 5th inning instead. It went back, leaking left, left, left – Hichori went back, and it just sneaked over the wall. The 4th HR on the night!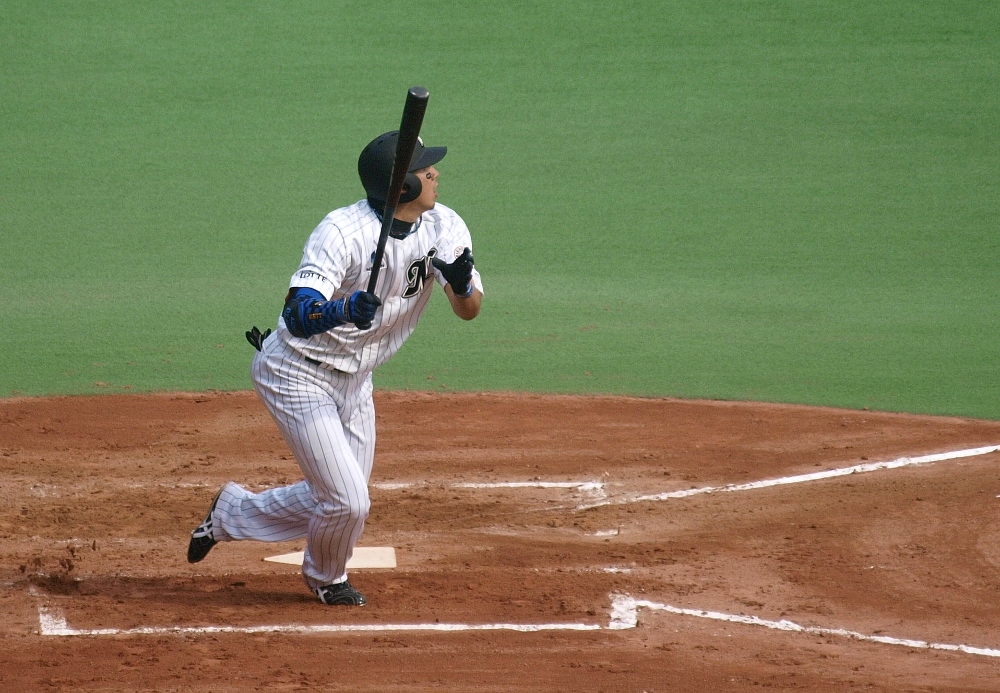 Lotte tacked on another run in the inning thanks to a single and a steal of second by Minami (starting in right) and an Imae double smack. It's now 6-1, Lotte in firm command.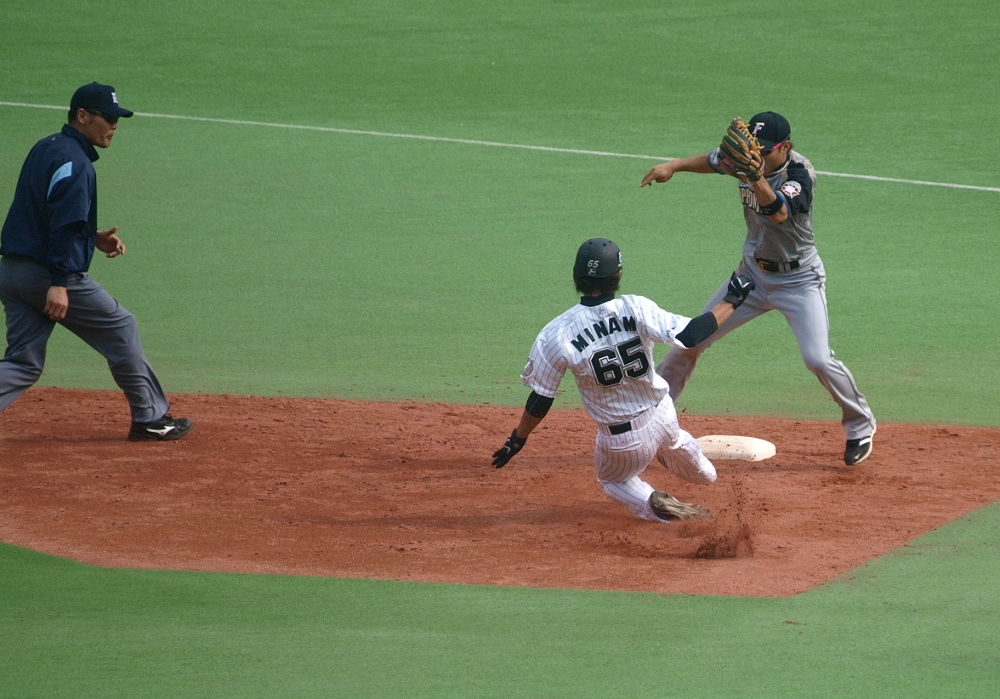 In the 6th the Fighters pitched way around Tae Kyun, walking him on 4 pitches. Ohmatsu felt he still hadn't contributed enough to the homer contest, so he pastes a ball to deep center, over the fence, and out of there! 8-1 Lotte on the 5th homer of the day! Imae and Tsuyoshi also contributed to the inning, driving in another run each and running the score to 10-1. And that's how it would end.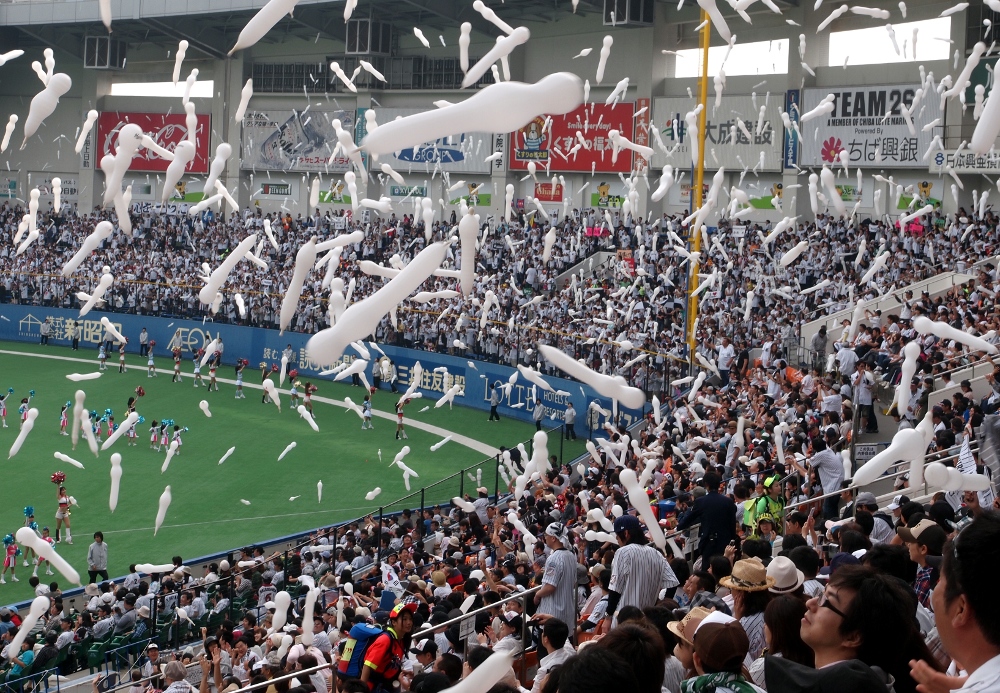 In addition to my mother (who I mentioned before) I came to the game today with my good buddy Katsu and two new friends Kevin and Dawn, in for their first game at Chiba Marine. I tried to be nonchalant about the offensive explosion, saying "Oh, we hit at least 5 homers every day" but they were smartly not buying it. It was a great game for all (all = Lotte fans, sorry Fighters fans!), and if I have to go 2 weeks without a home game this was a good way to send me into that break.