If you look back at my recent postings you'll see a criticism of our new Korean slugger Kim Tae Kyun. To quote myself:
Some trends are bothering me a bit – the main one is Kim Tae Kyun's issues in the cleanup spot. He's played nice defense and is second in the league in walks (Iguchi has a considerable lead) but given the OBP of the guys in front of him – Tsuyoshi at .393, Ogino at .368, Iguchi at .508, and if you want to roll it to the 9 spot, Imae at .362 – he's only got 18 RBIs on the year (and 2 HRs). If this keeps up he's going to have to move down in the lineup.
Ahem! After last Wednesday's loss to Seibu Tae Kyun's season stats were a rather pedestrian 33-114 (.289 BA), 2 HR, 18 RBI. From Thursday's game in Tokorozawa through today's game vs the Fighters at Chiba Marine his line has improved a wee bit. How about:
10-20, 5 HR, 15 RBI, 8 runs scored
Ehhh? Seriously?
10-20, 5 HR, 15 RBI, 8 runs scored
Crikey! I should have mildly criticized him earlier in the season! Anta Kim Tae Kyun! Anta Kim Tae Kyun! You will, of course, notice that this post is heavy on the KTK pictures. Now you understand WHY it's so full of him.
I'm going to largely ignore the weekend series at Daiei, but to sum: KTK went crazy in the first couple of games yet the team still lost thanks to a pitching implosion, and Great Vengeance from ex-Marines 2B Ortiz, who hit 4 HRs of Lotte pitching. The Marines took one of three – Sunday's game, started and won by Bill Murphy – so there was a positive note coming into the Golden Week series with Nippon Ham.
Shunsuke Watanabe took the hill for Lotte today facing Nippon Ham rookie Masui. In contrast to El Submarinero's last two starts where he pitched well but took the loss, Shunsuke was just not very good today. He gave up two runs in the first on RBI singles by Koyano and Inaba, both of whom had two strike counts with two outs. Lotte would get one of the runs back in the bottom of the first thanks to a lead-off double by Speedostar Tsuyoshi (3-3 with 2 walks, a stolen base, and 3 runs scored) and a passed ball by Nippon Ham's Tsuruoka.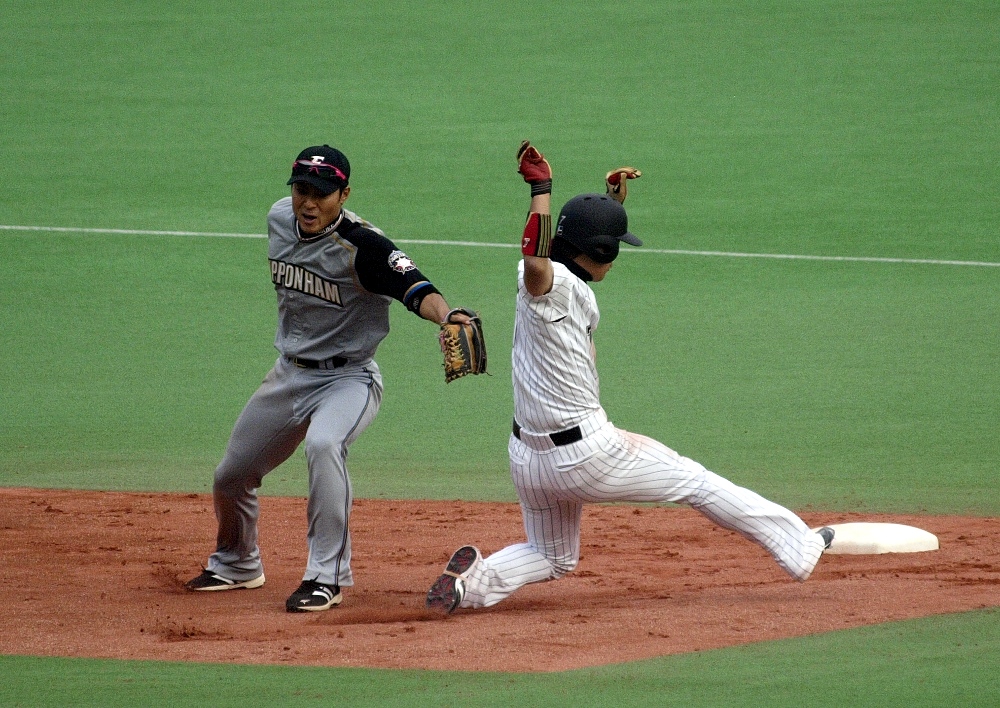 Fukuura led off the second with a walk by Satozaki managed to safety bunt into a double play, a dubiously impressive feat. In the third Lotte had another lead-off walk by Tsuyoshi, Ogino safety bunted him to second (GRR! He's batting close to .330, over .400 with RISP, and is fast, fast, fast. If I bitch enough will Nishimura PLEASE stop making him bunt!)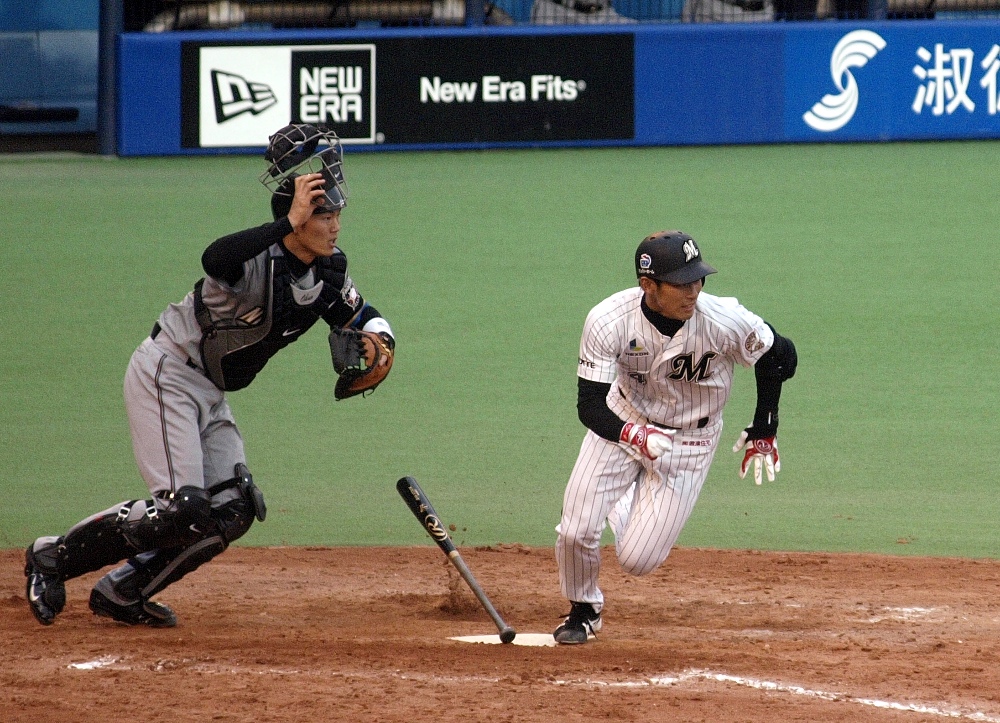 Iguchi walked because he's crushing the ball and hey, first is open (GRR again). All was well with the world very soon, though, as our big first baseman took a pitch right in his wheelhouse and obliterated it deep, deep into the left field stands. Absolutely NO doubt about it!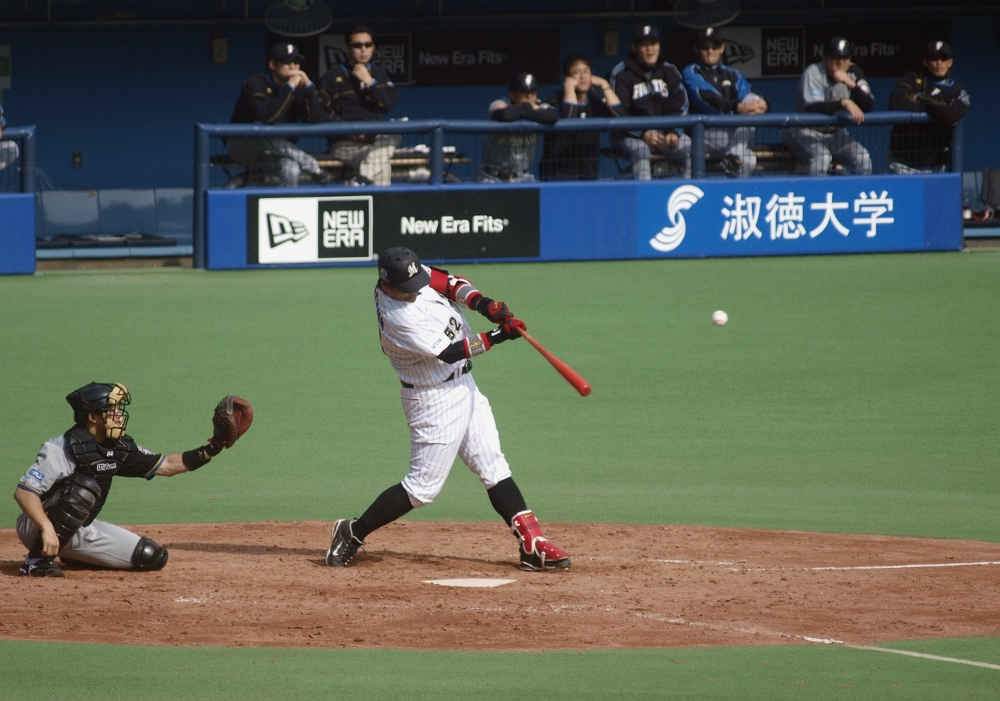 That's right, boys and girls! For the first time this year, 52 yen Kimuchi Tae Kyun bugrers were available at the stadium Lotteria – it's the promotion any time KTK hits a dinger at home this year. It took until May, but he did it.
The Fighters's Itoi was absolutely robbed of a sure extra base hit in the third inning by a beautiful stretched out catch on the run by (New Favorite Player) Ogino. In the 5th, however, Itoi would not be denied as he singled in a run. Koyano followed that up with another run-scoring hit to tie the game, and with that Shunsuke got the early exit. In comes Furuya, who was decidedly unimpressive in his limited action last year but has done well in limited time this year. Furuya gives up a walk to Inaba but gets Konta out to end the inning. It was a 4-4 game going into the bottom of the 5th.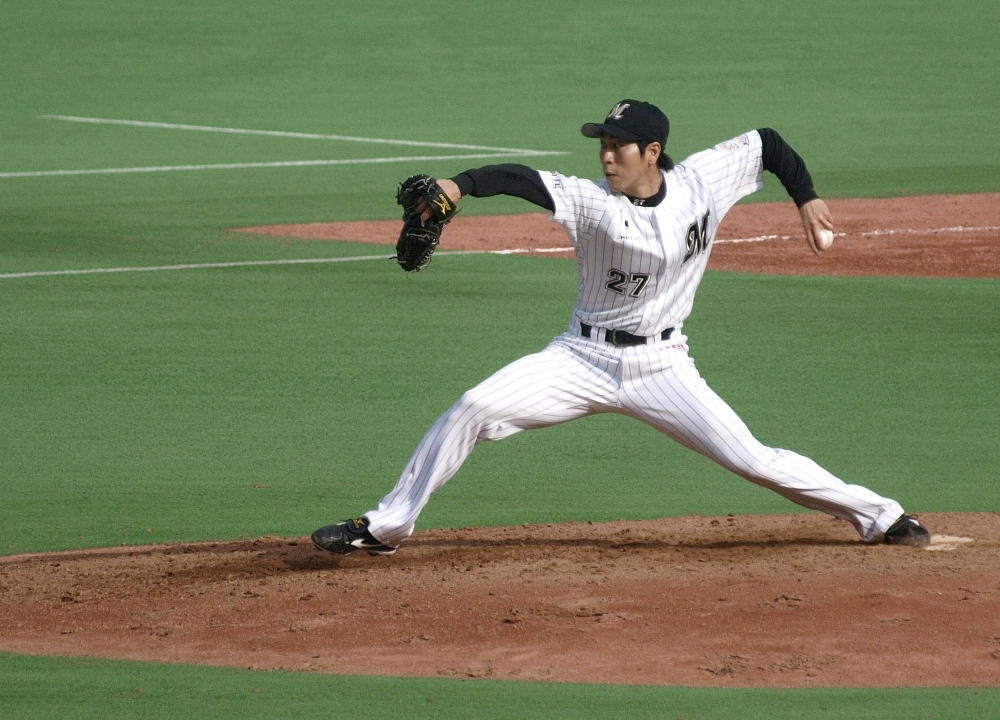 With one out in the bottom of the 5th, up comes Tae Kyun. He swings and OHHHHH!!!!! ANOTHER HR, this time to deep right field! Wow!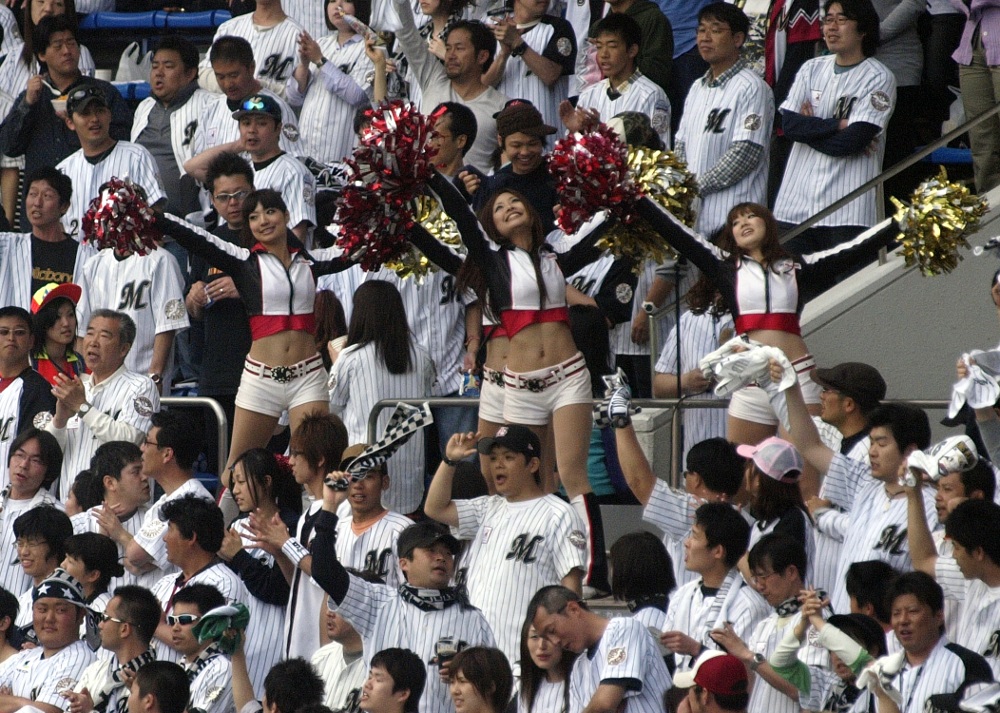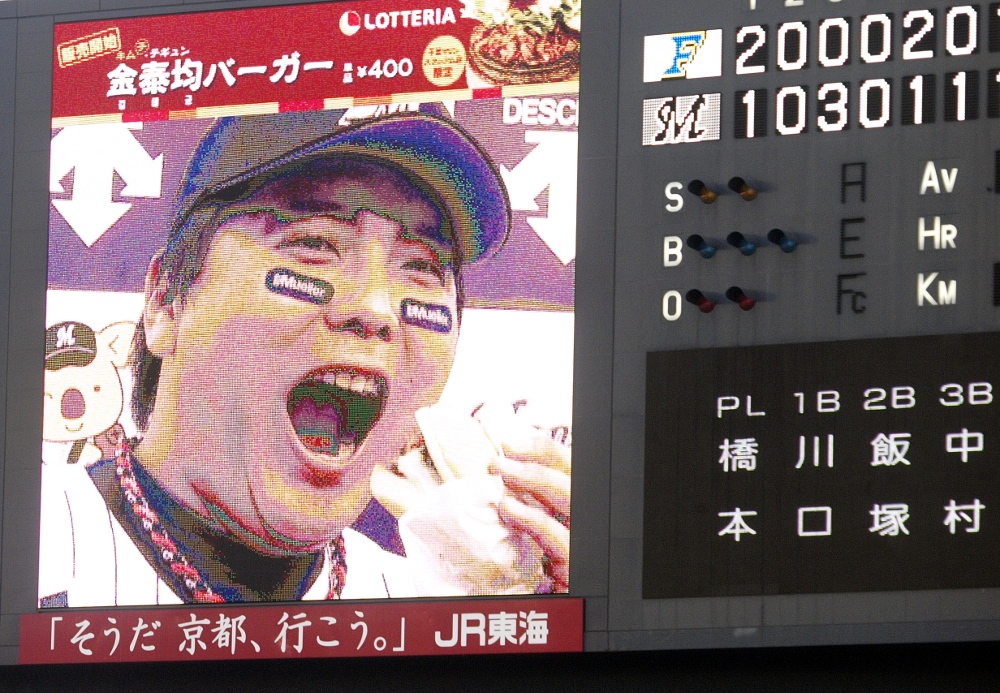 Lotte added another run in the 6th with a SF by Ogino (Ta-Ka-Shi!). Tae Kyun was "unintentionally" popped in the back by Hisashi Takeda (yes, nothing to do with blast one or two, I'm sure) but with the bases loaded Ohmatsu meekly flied to right.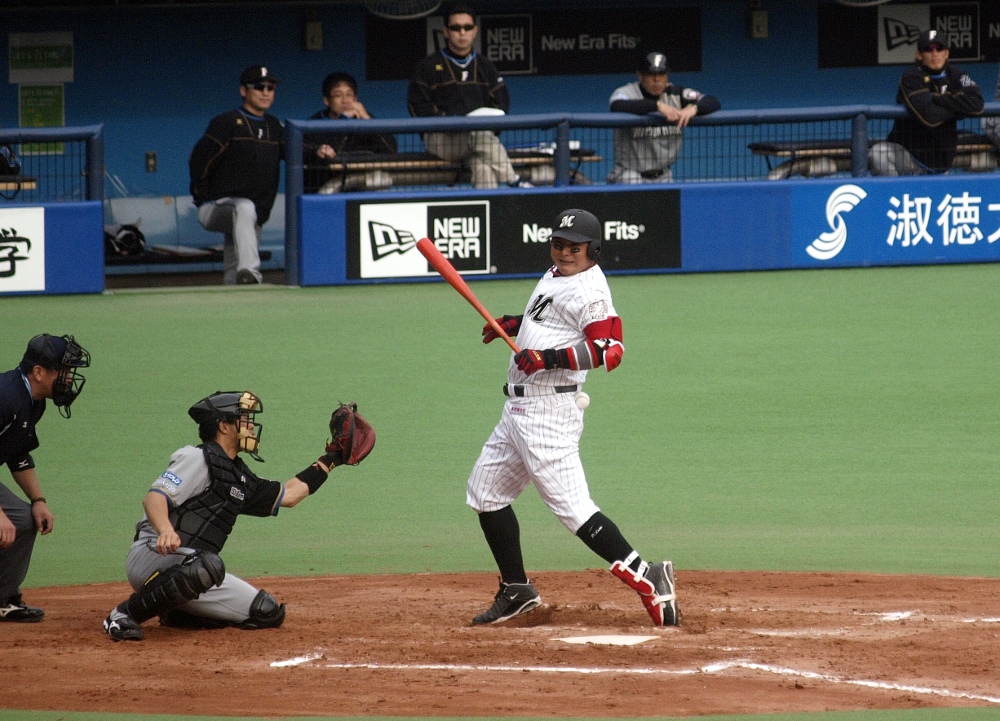 Nippon Ham recorded another run in their half of the seventh, so for the bottom half Lotte needed an answer. Satozaki provided it with a big blast to center left! A nice present for the Lotte Lucky 7.
Yeah, video. It's new to me so not so good yet.
In the 8th, just for good measure, Tae Kyun drove in another run with a single (but was thrown out at second). 8-5 Lotte, and that's how it would end!
For the record: 1) Lotte is now 6-0-1 against the Fighters on the season 2) KTK was 3-4 with 2 HR, 2 runs scored, 2 RBI on the game. He was, of course, the hero of the game as was Furuya for his first NPB win, although only on 9 pitches. Banzai!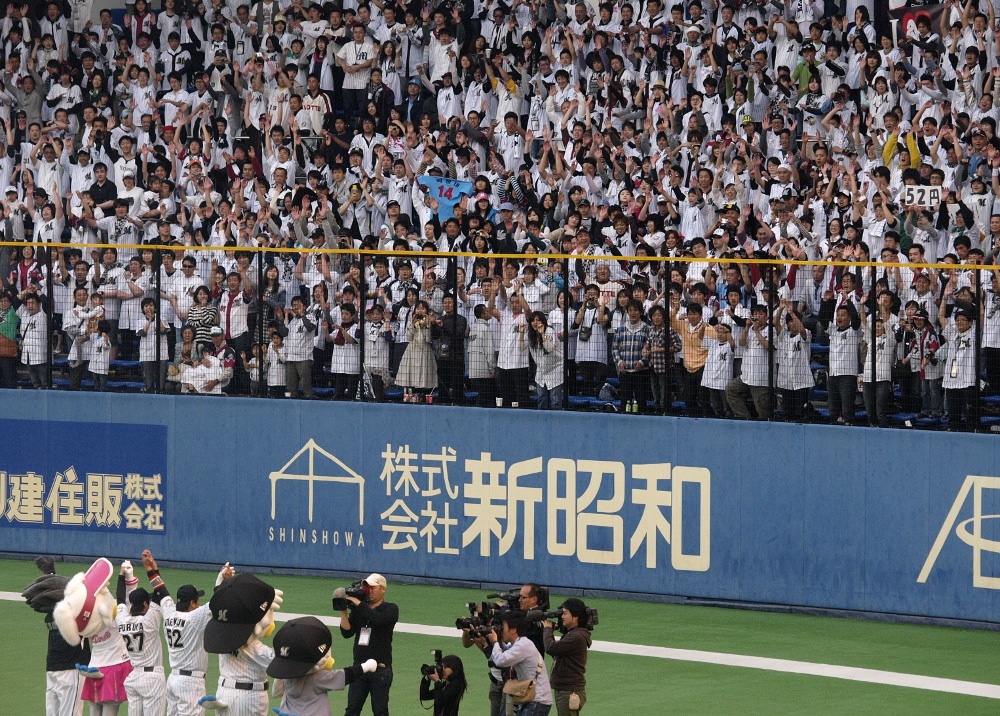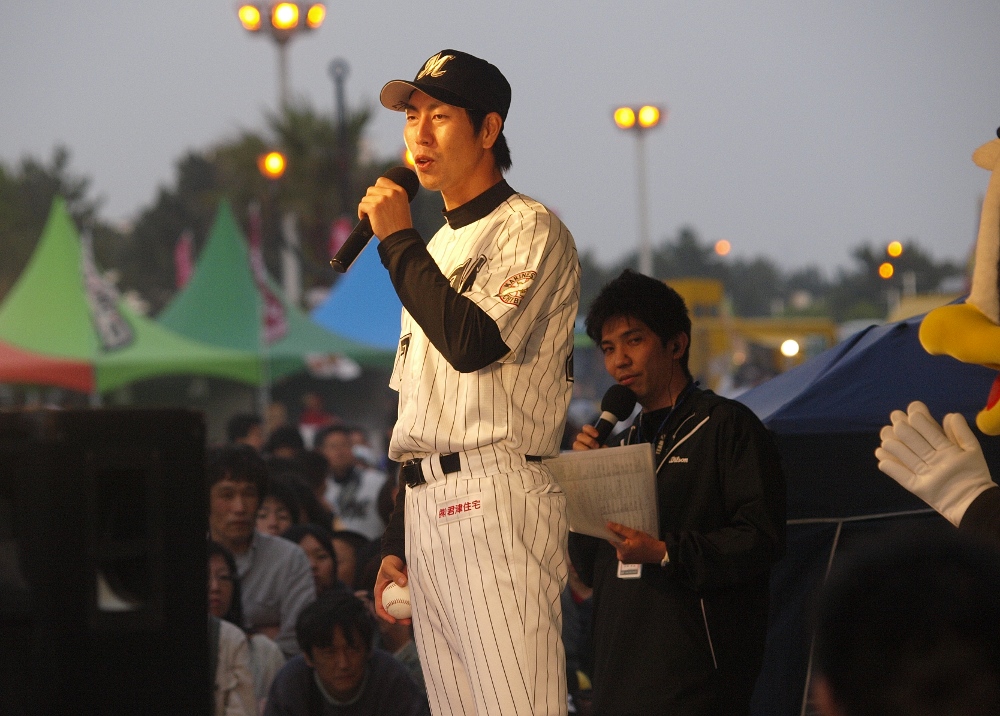 I'm back at the game tomorrow to see the Baby-Faced Killer in action, though he's been more the victim than the assassin as of late. Let's hope he gets back on track and Lotte can continue to pound out the hits. Here's a few more pictures from today's game.