This past week will be remembered for a couple of career firsts for two of Our Young Marines. The week started with Kota Futaki getting his first career win in a complete game effort on Tuesday afternoon in Sendai. Later in the week in Sapporo, Takuya Takahama hit his first career home run on Friday, and then played the hero with a go-ahead hit in the 10th inning on Sunday. Lotte went 4-2 on the week, good enough to maintain their claim to first place in the Pacific League at 12-7-1.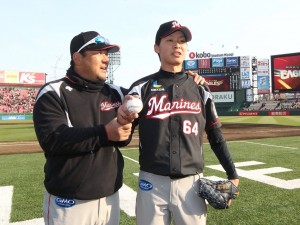 Tuesday's matinee game in Sendai was a 7-1 Lotte win. Not only did Futaki go the distance in his first career win, he flirted with a shutout until the Eagles pushed across lowly run on a 9th inning 1-out sac fly.
Iguchi's
2 run double in the 6th and
Captain Daichi's
3 RBI were more than enough support for the 20 year old to get his first of hopefully many victories.
Rhee Dae-Eun's first start of the year the following night lasted only 3 and 1/3 innings, but some late offense and shutdown pitching from our bullpen earned us the 5-4 win in game 2 of the series. Kiyota tied the game at 4-4 with a 7th inning single, and Shogo Nakamura drew a based loaded walk to force in the eventual winning run in the 8th.
Masuda's shutout 7th inning earned him the win and hero's honors, as he 4 other relievers combined for 5 and 2/3 innings of shutout ball. Fujioka served the long relief duties, lowering his ERA to 0.77 in 2 and 2/3 scoreless innings. From there, our late inning crew of Masuda-Uchi-Nishino each contributed a shutout inning. To date, the 7th-8th-9th inning combo has allowed just 1 run in 26 2/3 innings.
Our Marines completed the sweep of Rakuten with a Thursday night 9-2 victory on the back of Wakui, whose 6 innings of 2 run ball earned him his 4th win in 4 starts. 8 of our 9 runs were batted in by the lower half of the lineup, with Captain Daichi plating 2 on a 6th inning single, and Shogo Nakamura delivering his 2nd HR of the year with a 2-run shot in the 8th.
Following the sweep in Miyagi, Our Marines headed north for a weekend set in Sapporo. The first two games of that series are barely worth mentioning, with the one exception being Takahama's first career dinger in the first game. Lotte lost 13-3 on Friday night, with Furuya giving up 11 ER in 4 innings. We followed that with a 8-2 loss on Saturday with Ohmine on the hill, who fell behind early thanks to some sloppy first inning defense.
Our Marines bounced back to salvage a game in the series finale on Sunday, taking a 10 inning affair by a score of 5-3. Jason Standridge gave us his usual 7 innings (4G, 28IP, 2.25 ERA on the season to be precise), and Shogo Nakamura delivered a 2 run double in the 2nd resulting in a 2-1 Lotte lead heading into the 9th. Nishino gave up his first run of the year on a 1-out Kondoh single, as the previously perfect closer blew the save and just avoided the loss striking out Ichikawa with the bases loaded to send the game to extras tied at 2-2.
Nishino's teammates were there to pick him up though. Fresh off a game saving grab in the bottom of the 9th, Miki Ryo led off the 10th with a base hit to center, stretching the shallow-gap ground ball into a head-ups double. 1 out and 2 walks later, Takahama was due up with the bases full. Takahama delivered, lining a ball to right for the go-ahead single, 3-2 Lotte! Tamura added some much need insurance with a 2-out 2-run single to center, 5-2 Lotte!! Those insurance runs came in handy in the home half after we gifted the Fighters a run with 2 errors and 2 walks. Not to fear though, as Masuda came in to relieve Matsunaga and got the final out with the bases loaded to save the game 5-3!!! PHEW!!!