I missed the game report from yesterday's 6-2 loss to Rakuten, but I will include some notes/commentary in this post. I sat in front of the TV this afternoon with the game on, ready to write some about the last game and I just couldn't. Why? Budding ace Karakawa was on the hill, and he's just as riveting as can be to watch.
He's been either good or great all year, and today's pitching performance was a gem. This one was a complete game, 133 pitch, 11 K 6-0 shutout of Pa-league leading Rakuten to take the weekend series 2 games to 1.
How special is this guy? Last year he's drafted out of high school by the Marines, and a few weeks later he's not only on the roster, but winning on the road in Fukuoka. He spent about half the year with the first team and ended up with a 5-4 record – and he didn't even turn 19 until the summer. This year he's absolutely been the best starter on the roster – a 7/1 K/BB ratio, ERA of 2.25, and a 3-2 record that could easily be 5-0 with better support.
How cool is this guy? Let me describe Karakawa pitching in the third. Watanabe leads off with a double, which Karakawa follows with a swinging K of Kosaka, who looked foolish against a big slider. Kusano followed with an infield hit to 2B Lambin (who made a great play to stop a run from scoring and almost caught the runner at first). Karakawa still had the blank, baby-faced killer look on his face. Kawasaki walked next on a 3-2 pitch that looked like he swung at to load the bases – Karakawa still looked as emotionless as ever. He digs in, and with his wicked array of breaking balls get out of the jam, cool as ever, by inducing Nakamura into a shallow pop out. He got in to trouble, got out of trouble, and walked off the mound looking like he knew he would get out of it all along. Did I mention he's not even a legal adult until this summer?
He's also a marketing dream: Young area kid (he's from Narita) makes it big on the local team. He's got pins, towels, shirts – and his own Shirotan stuffed animal.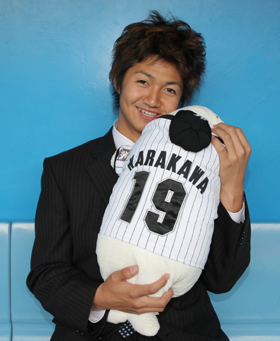 If you have yet to see him pitch you must. He's amazing to watch, and his stuff just baffles batters.
The game was won not only with Karakawa's pitching but also by a display of power hitting by the Marines bats. Iguchi had a line drive 2-run bomb into the Rakuten fans in the first. Chase Lambin followed with a solo jack of his own in the second, and Benny hit a big 2-run insurance HR in the 8th – not that Karakawa needed the insurance today.
One can contrast today's game with yesterday's, where Lotte held an early lead but was let down by some sloppy pitching from Ono late. If that game were won then Lotte would be in 4th — which to be honest says more about the state of the Pa-league than our guys' move up the standings. BUT: the opportunities are there, the team is only 1.5 games out of third, so perhaps buoyed by today's well-played result a move up is forthcoming.