I lied; there is no good news. How can there be good news when the pen blows a game to the hated Lions?
The pen didn't blow a lead, but they did blow a tie – twice – and the second time was unrecoverable as Seibu beats Lotte the second night in a row, 5-3. That guarantees the series win for Seibu and keeps pushing our Marines further behind in the chase for the third and final playoff spot.
Getting the start tonight was Shimizu, who's been pretty solid the past month or so with absolutely nothing to show for it (can't that be said for many Lotte players this year?) Facing Shimizu is ex-Yakult and ex-MLB pitcher Ishii. I wouldn't call the game a pitching duel, though both starters went deep and pitched reasonably well.
Ishii had the better start statistically as he only allowed 4 hits in 8+ innings of work, but fortunately for Lotte two of those four hits were homers, and a third led directly to a score.
Seibu took the lead in the top of the first as Kataoka drew a leadoff walk from Shimizu, immediately stole second, advanced to third on a ground-out, and scored on a Nakajima single. 1-0 Seibu.
Not to be outdone in the small ball sweepstakes, Lotte answered right back. Tsuyoshi led off the bottom of the first with a double, advanced to third on an Iguchi (batting second for the first time I can remember) grounder, and scored on a Saburo sac fly. 1-1 tie after one.
In the fourth Lotte made it 2-1, thanks to a big shot to deep left center by the inimitable Satozaki. Not much doubt about that ball as it came off the bat.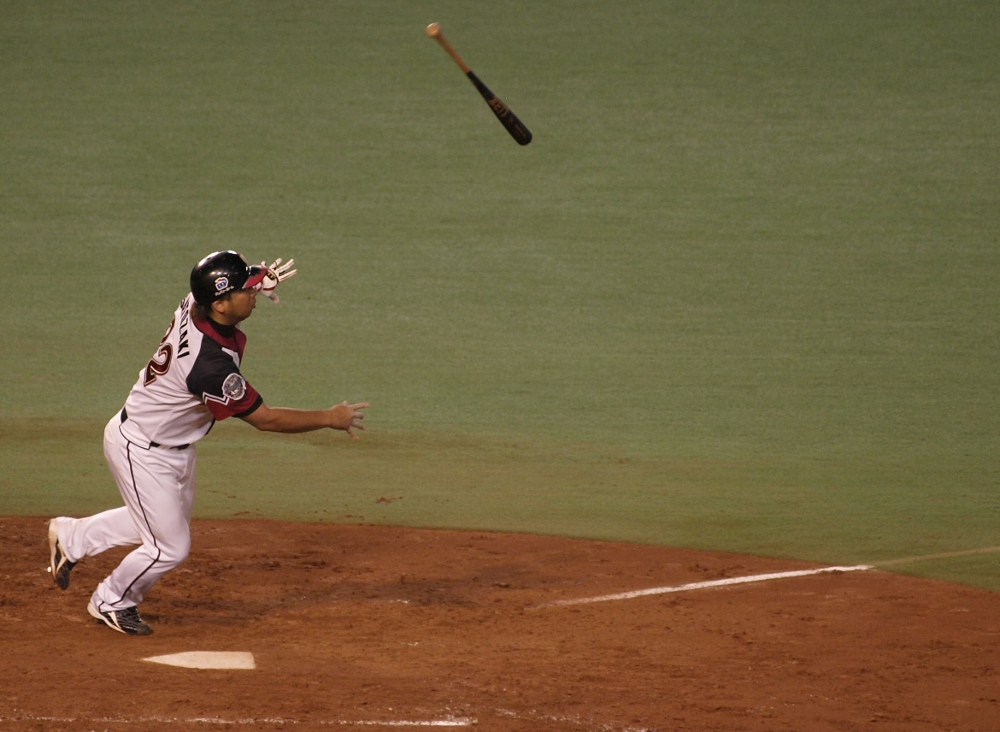 Seibu tied it back up in the sixth with a double by Kuriyama and an RBI single by the Meaty One, Nakamura. 2-2 tie.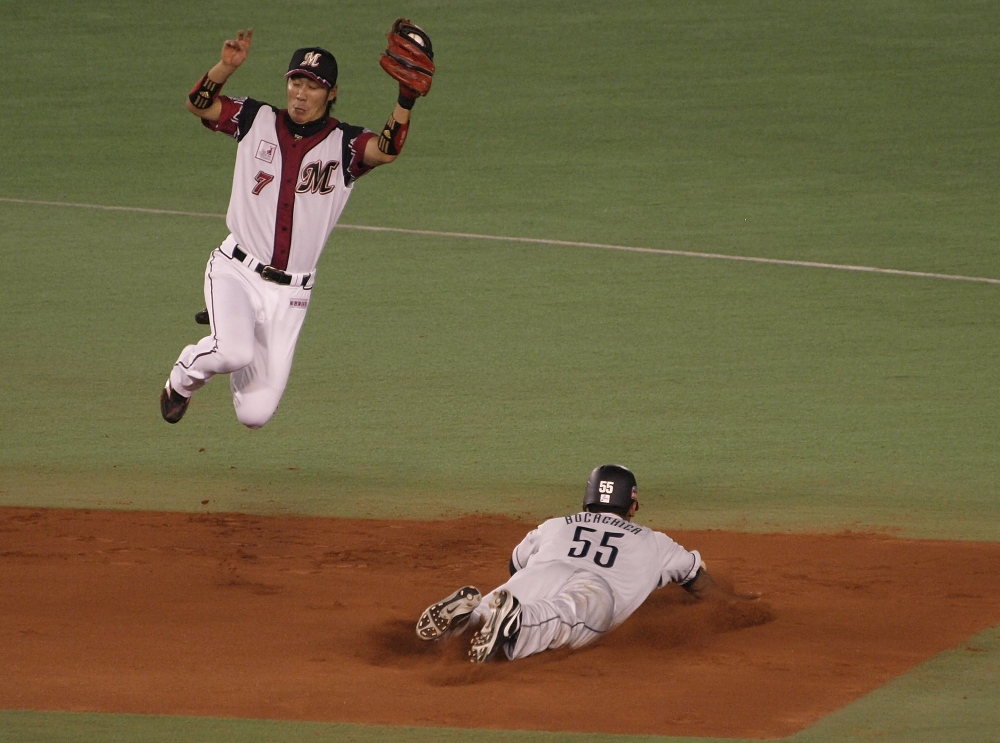 Shimizu comes out after 8, and Uchi is in. He gives up a one-out single to Ishii (Yoshihito), and Ginjiro sacrifices him to second. Bocachica smashes a liner to center and it looks to my eyes that Saburo is going to reel it in at the warning track — but he can't get there… Ishii scores easily, Bocachica's standing on second, Seibu's sitting on a 3-2 lead. Oy.
Ishii (of the pitching Ishiis) stays in for the 9th, and perhaps Saburo thought he should have gotten to that ball in the top of the inning too – he certainly compensates as he smooshes a ball deep into the right field stands to tie the game! 3-3, and on to extra innings.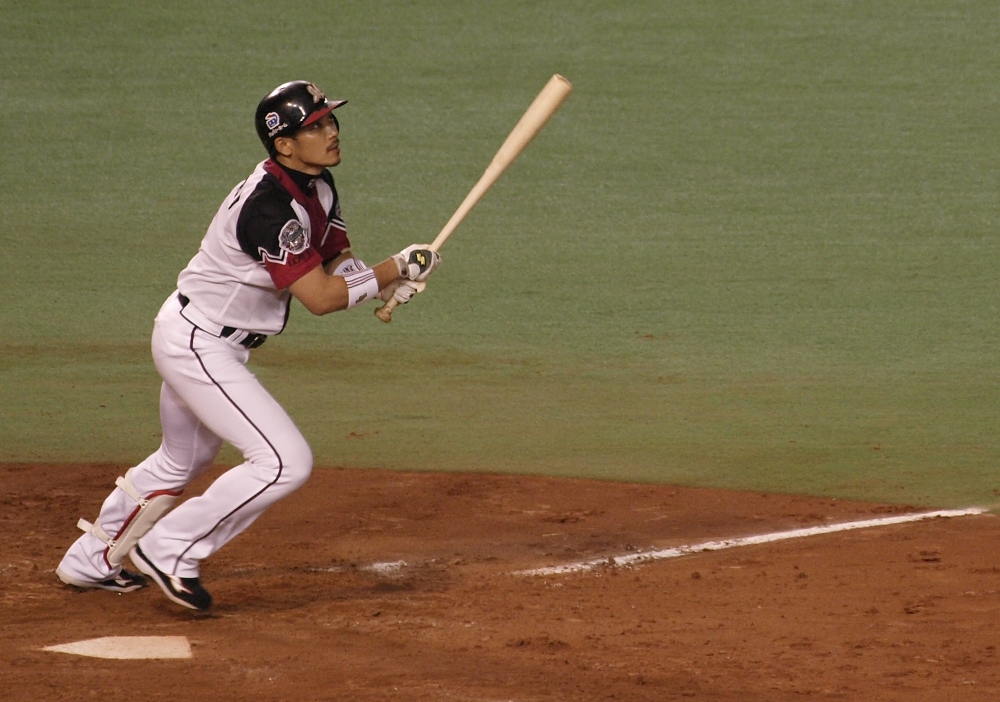 Sikorski handles the Lions offense in the 10th and 11th – in fact I think I saw a gun reading on the scoreboard of 156 for one pitch the 10th? The highest I see on the Yahoo tracker is 152 but several are missing speeds. Anyway, Brian gets the job done. Unfortunately, so does the Seibu tandem of Onuma and Onodera – it's on to the 12th.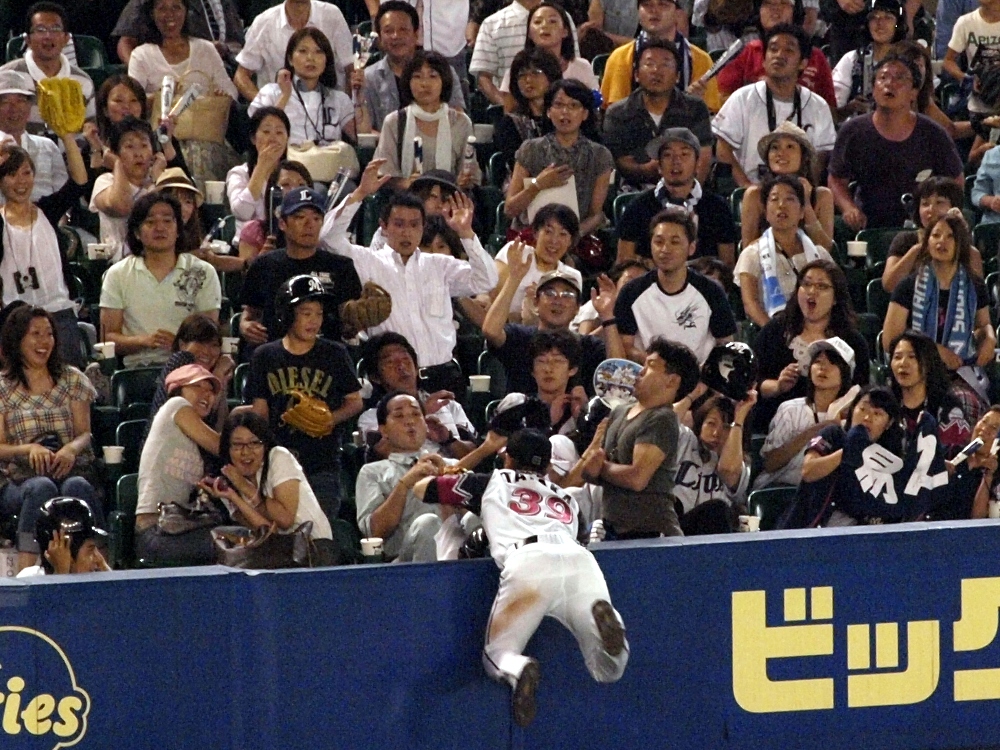 Ogino relieves Sikorski and uh-oh. Ogino is looking much more like recent vintage Ogino than early-season Ogino. After a quick out via the K, Ogino walks Bocachica, gives up a single to Kataoka, and Kuriyama puts a double down the line to clear the bags. That's all in just 14 action-packed pitches, folks. 5-3 Seibu. I don't know what the hell happened to Ogino – but he blew his first save when he was the closer back on 14 May (he had a 0.00 ERA for the season to that point) and he's been generally dreadful ever since.
No matter the reason, the guys are behind and need to mount another comeback to at least force a tie. Hashimoto hits a two-out double to make an effort of it but it's just not happening. Seibu takes the game in 12 5-3.
Losing is bad enough, losing to Seibu is worse, but losing twice to Seibu when they are really the one team we absolutely can't afford to lose to just puts the cherry on top. Well, I'm sure the team will keep on fighting and get back in the win column tomorrow!