A very intriguing game this evening. It was at times one of the worst games I've ever watched, at times one of the most exciting games I've watched, but it is in the end an 8-6 loss to the visiting Hawks.
Karakawa was on the hill tonight for Lotte, and he pitched three perfect innings. Unfortunately, he pitched those three perfect innings after three horrible innings. In the first Kawasaki tripled past a diving Fukuura and Jose Ortiz brought him home with a double. 1-0 Hawks.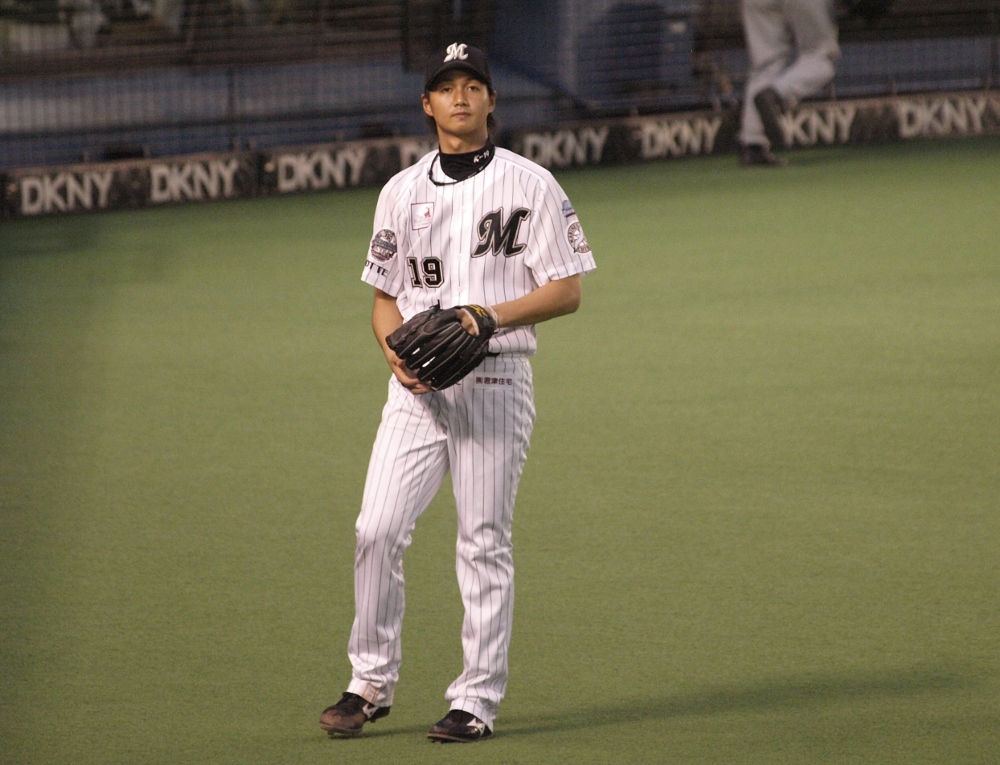 Daiei would score another run in the 2nd and two more in the 3rd to make it 4-0 after 3 innings. In those three innings Karakawa yielded 8 hits, 2 HBP and a walk for those 4 runs. To be fair, one of the runs in the third came off a Tsuyoshi error, but Karakawa was giving up plenty without any defensive miscues. That makes shaky starts 3 out of his last 4 outings, though after the first three innings he was back to his old self, shutting down the side in order in the 4th, 5th and 6th.
Meanwhile the Lotte offense couldn't do anything. The Marines actually loaded the bases in the first without a hit thanks to 3 walks by Daiei starter Ohba, but due to a lack of hits (and no more walks) they were unable to score. The only early hit for Lotte came off a 3rd inning double by Tsuyoshi, though nothing would come of it. The next hit came way in the 7th off a single by Benny.
The fans were truly listless after the early innings. I actually saw a few people leave in the 7th as it was really that bad to watch. Perhaps fittingly, NTT Flets had some sort of promotion going on and had their promotional character come out to push the ceremonial plunger to start the post-5th inning fireworks, but the suit was so ungainly the character couldn't waddle to the field quickly enough, so Mar-kun had to bring the plunger closer. It was that sort of evening.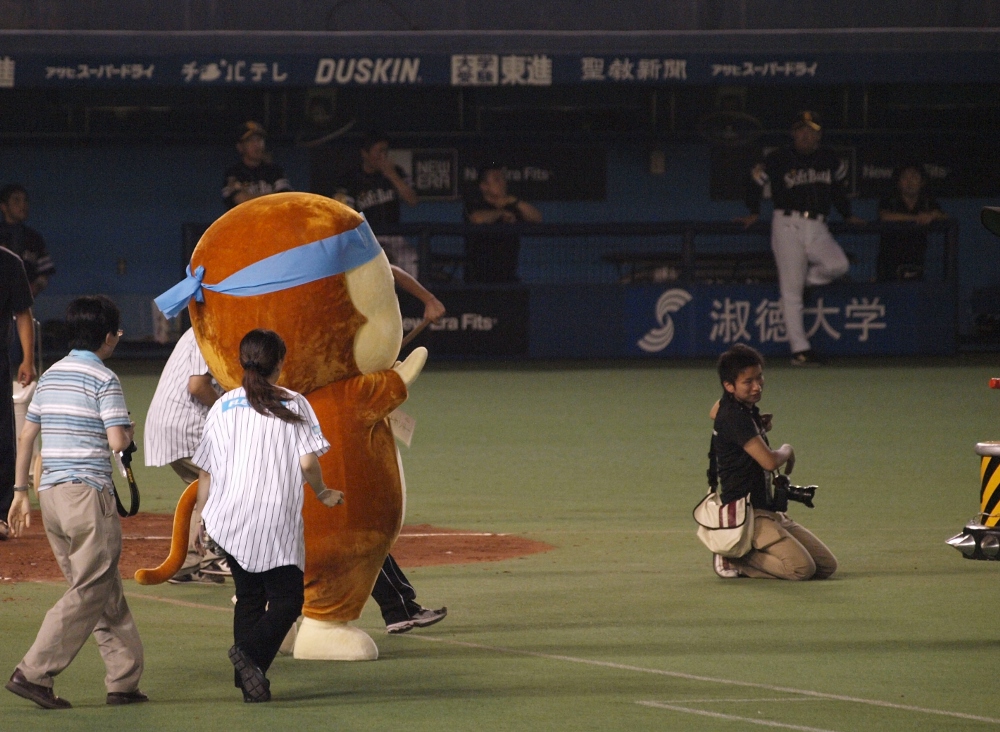 Karakawa left after the 6th for little-seen reliever Hashimoto Kentaro. It was only the second appearance of the year for Hashimoto, and he was quite entertaining to watch. He jittered around the mound full of energy, speeding through his pitches. With two outs he barely missed on a few closeout pitches to Kokubo, and you could see he was quite frustrated. He finally put one out over the plate and Kokubo smashed it just inside the left field foul pole to make it 5-0.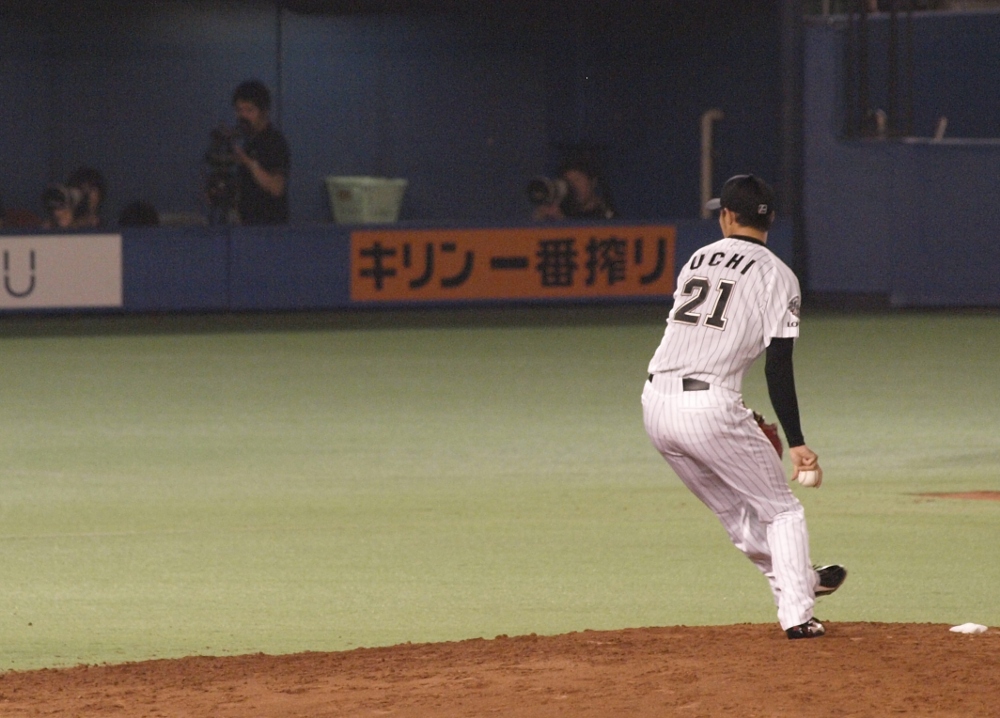 Uchi took over for the 8th inning, and it was in the 8th where the game went from awful to awesome. Uchi gave up a leadoff walk to Morimoto, who later swiped second. Uchi mowed down Tanoue and Honda with strikeouts but with two outs Kawasaki singled in front of Ohmatsu; Morimoto got the signal to round third and head for home. Ohmatsu charged the ball aggressively, picked it, and fired it to the waiting Satozaki. Morimoto raced around Satozaki and got his hand on home, but Sato had already applied the tag. Out at the plate, and another run saved to keep it at 5-0!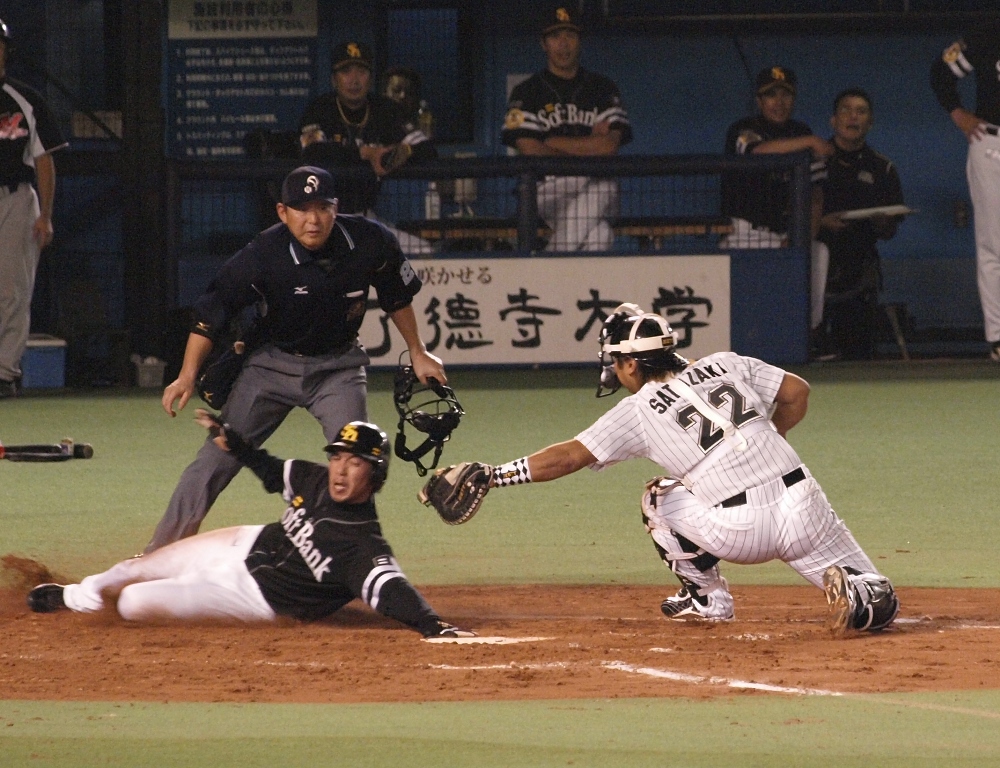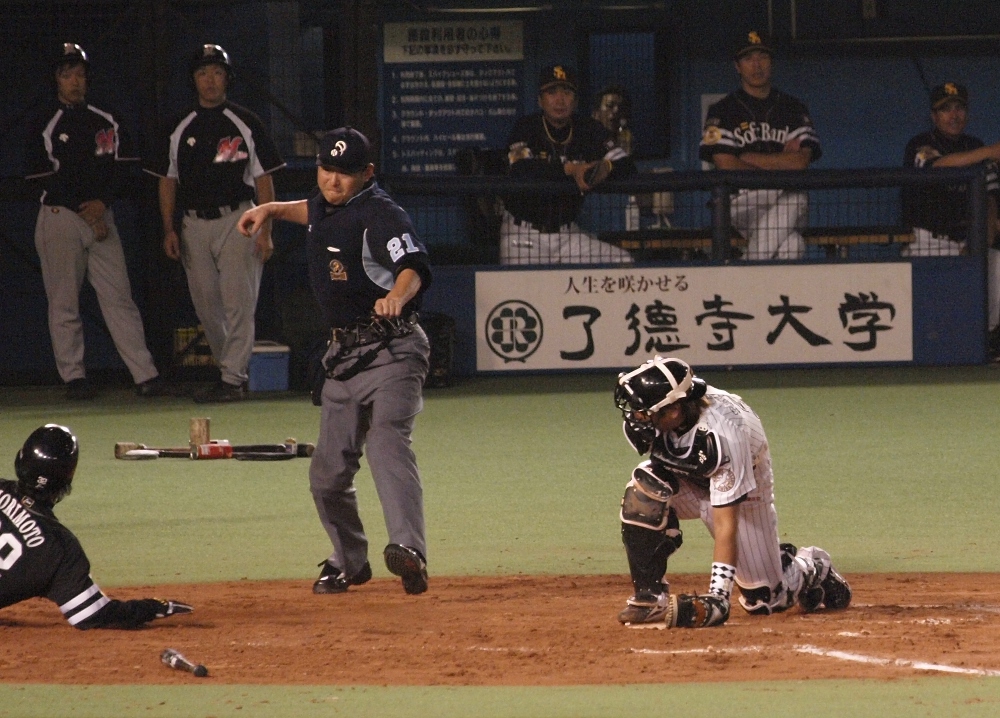 NOW we're all fired up! Here comes the bottom of the 8th, can Lotte do something with their second life?
It doesn't start well. Ohba strikes out Imae to start the 8th, but Iguchi draws a walk next. Ohmatsu is up next – he pounces on a 1-1 offering from Ohba and beats it into the right field stands! Only the third hit of the game, but what a huge hit! 5-2 Hawks.
Ohba is pulled for Falkenborg; he gets Saburo to chase strike three. Two outs now; Satozaki at the plate. On a 1-1 pitch he's swinging – connecting – it's going – gone! Into center left it goes, and the hopeless, awful game is now a very intriguing 5-3.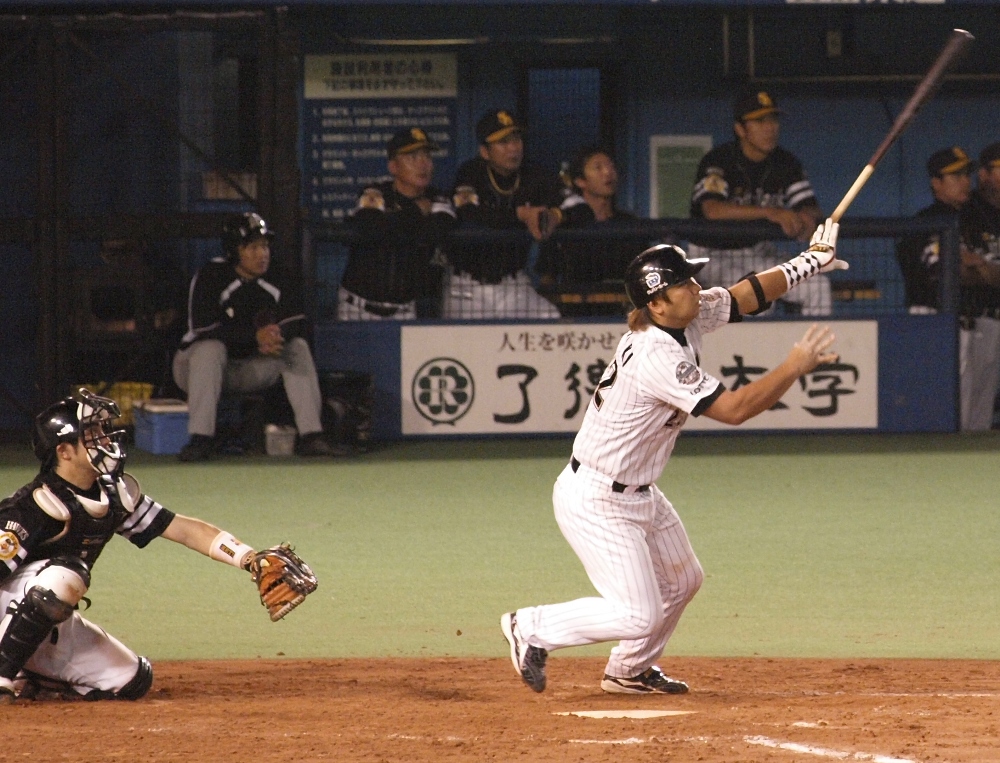 It's bedlam in the stands. It's Saturday night and we fans wanted some action, some fight, some drama and now we were getting all we could handle. The air was electric. Fukuura is up next – and he singles to keep the rally alive! Hayasaka comes in to pinch run, and Benny is back at the plate. He singles again! Hayasaka races to third, Hayakawa pinch runs for Benny, we fans are so hyped up we're about ready to charge the field. Up comes Burnham Jr – he got the start tonight after his hero performance on Friday, but so far he hasn't done anything. How will he do with the game on the line?
He destroys a 2-2 pitch! It's heading out on a line, but just misses going out off the top of the center left fence! Hayasaka comes in, Hayakawa streaks in from first, Burnham Jr races like a madman all the way to third! From the awful pits of a 5-0 deficit Lotte has stunningly climbed all the way back to tie! 5-5 in the bottom of the 8th. Oh, my!! Hashimoto pops out to end the inning but man! Who would have believed it?
I make a quick dash to the concourse between innings as Itoh comes in to hold down the fort and give the surging Lotte offense a chance to win it in the bottom of the 9th. He quickly induces a ground out by Ortiz but just as I am running back to my seat Matsunaka takes him deep, deep. Oh no. 6-5 Hawks… Some fans I was recently high-fiving stop me and say "Oh my God!!!" I say "Shinjirarenai!" "So so so!" Kokubo doubles next and Itoh is gone, in comes Kawasaki to stop the bleeding. His second pitch to Muramatsu is taken into right for a triple, Kokubo comes home to score. 7-5 Hawks. What is happening? The next batter, Hasegawa, lays down a perfect squeeze and Muramatsu streaks home, 8-5 Hawks.
Like the air coming out of a balloon, I tell you.
To the bottom of the 9th we go. We still have a chance – after the 8th everybody knows there's always a chance, but in strolls Mahara. He comes in with 16 saves on the year and he's always tough. Imae takes his first pitch into center, though! Another rally begins?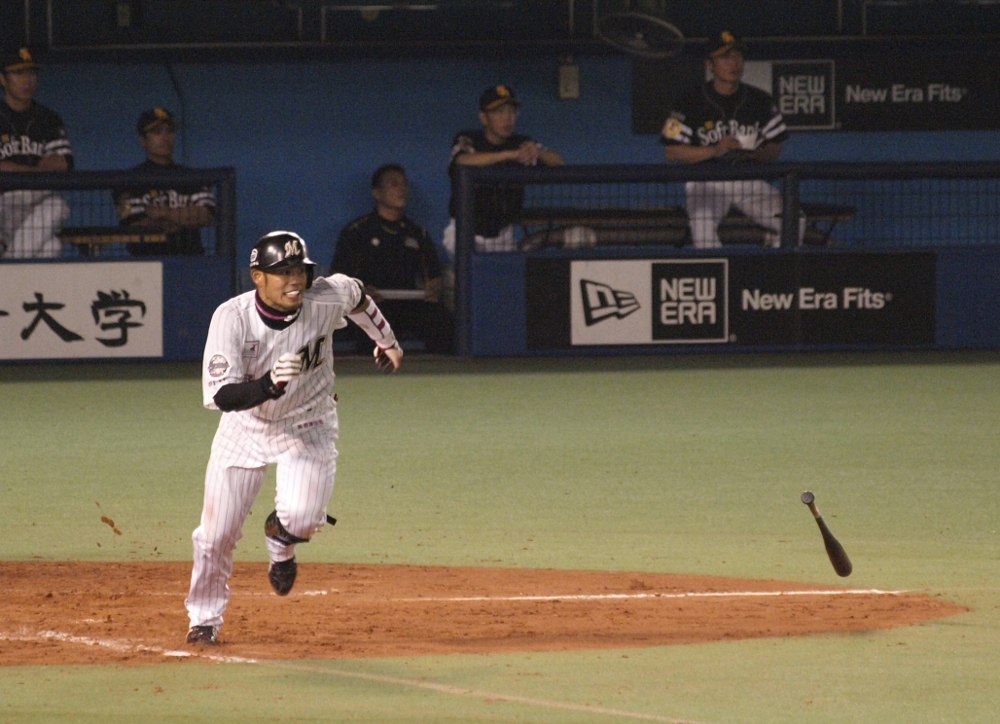 Iguchi steps to the plate against his old team with the chance to do some real damage – and he does! A double to center, Imae comes home, the gap is closed to 8-6!
Mahara takes stock of his life on the mound, thinks deeply, and remembers he's one of the best closers in the game. He gets Ohmatsu, Saburo, and Satozaki swinging to close it out and hand Lotte the loss.
It's truly disappointing the bullpen couldn't hold it together after the thrilling comeback but at least the ending was so exciting. It's a tough matchup on Sunday for the rubber game as Houlton takes the hill for Daiei against Ono for Lotte. Ono got beat up a bit last Sunday vs Nippon Ham but was stellar prior – I'm sure he'll give Lotte a great chance to win on Sunday!