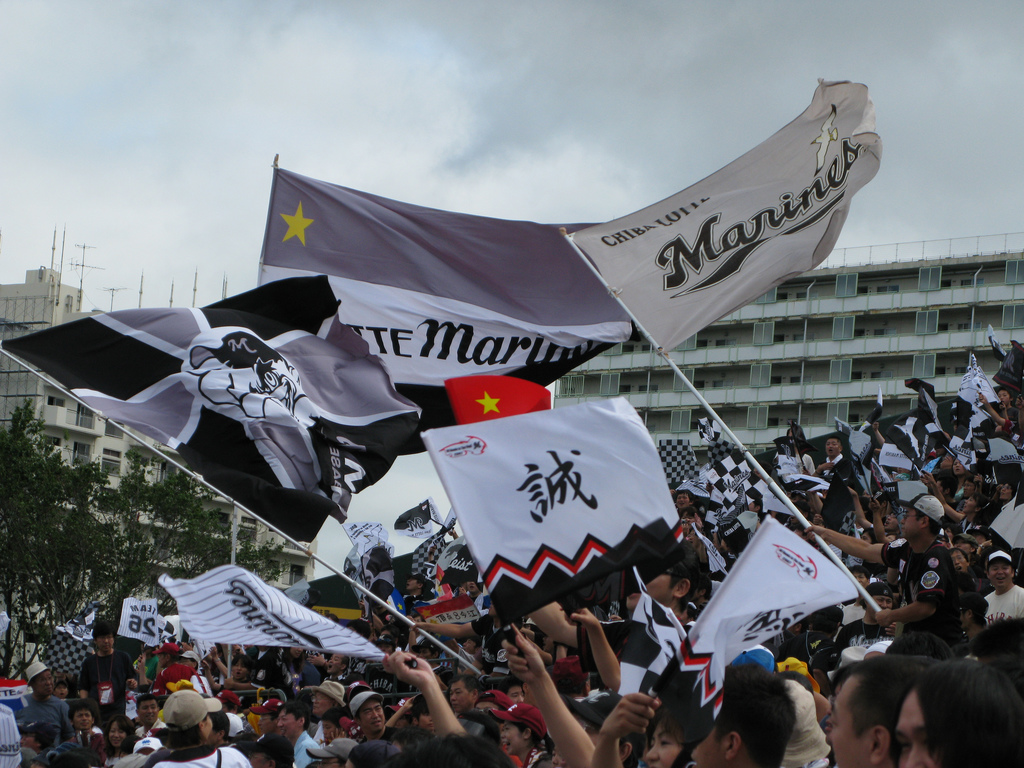 I must admit, my fellow Lotte fans, that there was a time in this game when I didn't think anything good was going to happen. Rakuten rookie starter Fujiwara was on fire. He carried a perfect game into the fifth inning and a no-hitter into the 7th. Lotte was down 2-0 and nothing was hitting the gaps. Rakuten – mired in a 7-game losing streak, 0-fer-July – looked like it might break through.
Then a funny thing happened – Rakuten got the yips. All of a sudden everything started to change. First, in the 7th inning, Lotte broke the no-hitter. Hori smacked a double into the right field gap, Miyade misplayed it and Koichi ended up on third with one out. Fujiwara plunked Iguchi, to make it men on first and third, and Ohmatsu hit into a inning ending DP. But wait – Kusano misplays the ball! Iguchi is safe at second, Ohmatsu safe at first, and most importantly Hori scores to make it a 2-1 game. Saburo drew a walk to load the bases as Satozaki came to the plate. The Lotte fans got a rousing "Skinhead Runnin" going. Sato makes contact – right back to Fujiwara, 2-3 DP.
Maybe it wasn't our night after all.
Lotte starter Naruse gave up both of Rakuten's runs to this point way back in the second inning off back-to-back doubles by Seguinol and Yamazaki (hit #1499 for Yamazaki's career). Since those hits he had retired 10 out of 11 batters on 5 Ks. In the bottom of the 7th, Teppei ended that nice run with a solo shot – the 2-1 deficit stretched to 3-1. Could Lotte bounce back against the hot Fujiwara?
The 8th didn't start well, as Fujiwara mowed down Takehara for his third K of the game. But Benny, the next batter, had other ideas – he knocks a double into the left field gap. Imae saw an opportunity and smacked a double of his own – Hayakawa (pinch-running for Benny) scores to make it 3-2 and Nomura-kantoku pulls Fujiwara to stop the bleeding.
Koyama is brought in to face Tsuyoshi, and Tsuyoshi immediately chases him too with a single. Runners at the corners, Nomura hits the pen again, this time for Arime. Bobby had announced Hashimoto to pinch hit for Koichi but he changes for Tanaka Masahiko once Arime comes in. Tanaka takes a 1-1 slider from Arime into the left field gap and over the fence for a ground rule double. The game is now tied at 3-3!
Rakuten's pitching is totally shaken now. In an inning the situation has gone from a possible no hitter to a 3-3 tie. Arime intentionally walks Iguchi to load the bases, then unintentionally walks Ohmatsu to give Lotte the lead, 4-3! Nomura has yet again seen enough so he goes to the pen again, this time for Fukumori. Fukumori has been watching the game slip away for Rakuten, so with the bases still loaded he walks Saburo as well to make it 5-3.
Bases still loaded for Satozaki, and he hits a deep shot to right – not deep enough to clear but plenty deep enough to score Iguchi from third – 6-3. Two outs now, and Takehara comes to the plate – hey, didn't we see you already this inning? Yes, yes we did. Familiarity breeds success, and Takehara takes full advantage of his second trip to the plate with an RBI single – 7-3 Lotte.
Rakuten makes it a bit closer in the bottom of the 8th off a 2-run bomb by Yamazaki (career hit #1500) off Ogino, but 7-5 is as close as they would get. Sikorski closes out the 9th 1-2-3 for the save, and Lotte wins their third in a row.
That's now 8 down for Rakuten, who are dropping quicker in the standings than burning bus from a high cliff. Lotte moves into sole possession of fourth and looks to solidify that position tomorrow as Watanabe Shunsuke takes the hill versus Rakuten's Kawai.