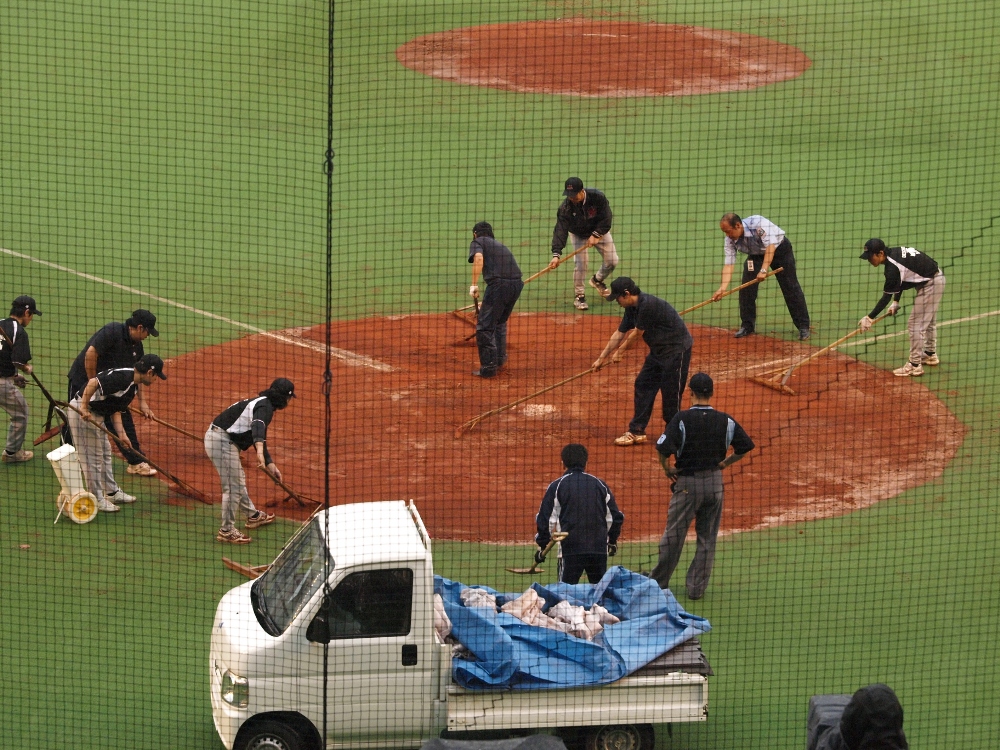 These guys above got the most at bats on Sunday, for sure. The weather wasn't cooperative but the Lotte offense was, doing just enough take a rain shortened, 6-inning 3-2 victory over Nippon Ham.
This was a fun game to watch, as I got to enjoy it from right behind home plate with Deanna from the Marinerds blog and Larry Rocca of the Marines. For us, the weather wasn't even a problem as we were in pretty much the only dry seats in the lower section of Chiba Marine – a good thing as I neglected to bring my rain gear!
The crap weather negated the awesome seats for photography purposes, so I *sigh* just had to enjoy the game instead of taking my usual 573 photos. It was great fun just chatting about baseball and life in Japan, watching the Marines take a lead, lose it, and get it back before the weather proved too much.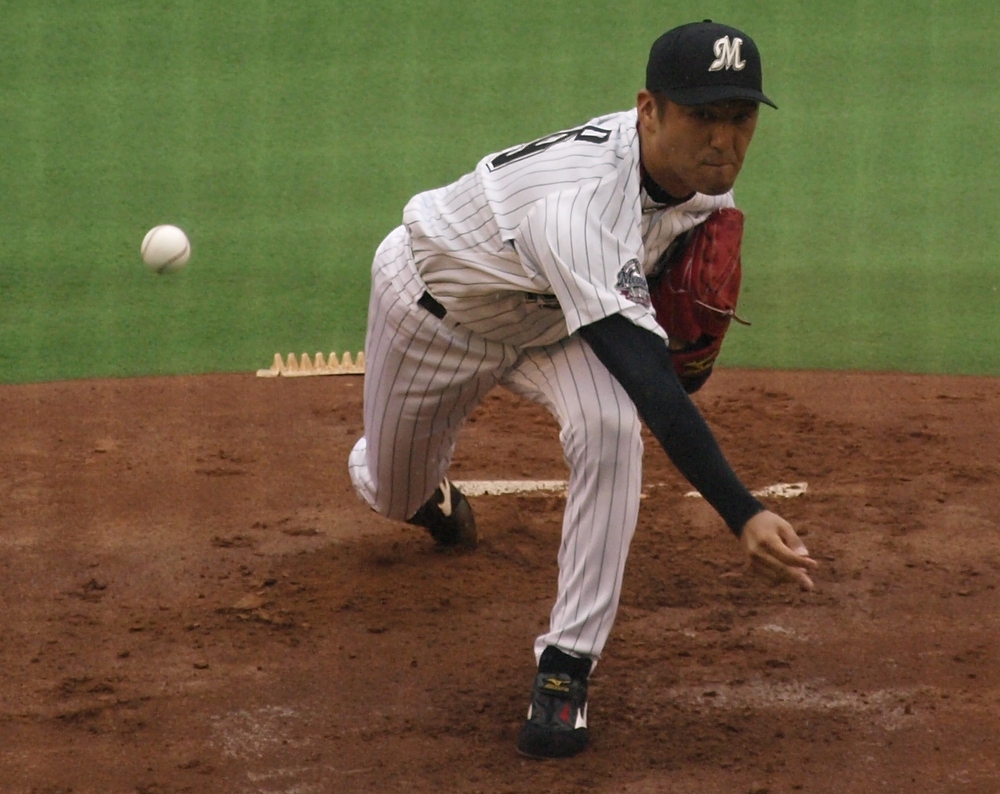 Lotte got off to a quick start in the second inning, scoring two off Fighters starter Brian Sweeney. In that inning, Saburo led off with a double, and Hashimoto plated him with a freakily bouncing single to right. After a walk to Benny and two more outs, Tsuyoshi brought home Hashimoto with a double down the 3rd base line to make it 2-0.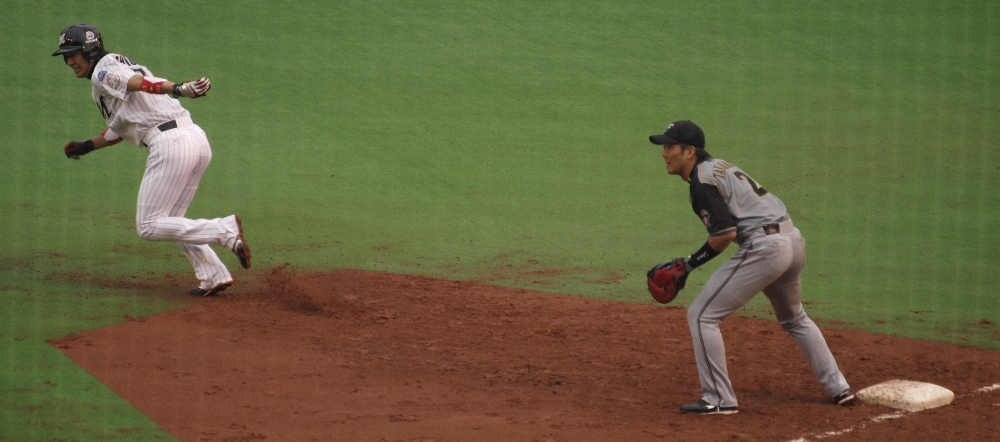 Sweeney looked great in the first – he started with a pair of Ks – but the conditions were brutal and he didn't have that good control in the second. Judging him by his family he's a great guy – we met his wife and kids prior to the game when his wife recognized Deanna from her blog (and she was very nice and friendly) – and I wish him all the best, just against some other team, preferably Seibu. No offense.
Ono took the hill for Lotte and was generally dominant – except for one pitch. That came in the 4th, where he gave up a lead off single to Hichori and followed it up with a very fat pitch to Inaba, who smooshed it into the right field stands. The rain was coming down harder and harder, and it was now tied at 2-2.
The rain caused long delays at the start of each inning as the drying agent and new dirt had to be brought out. Quite frankly, I'm surprised the game actually went past 5 innings.
It made it to the 6th, though – and in the 6th Lotte took the lead again. Benny led off with a great double- he really tore around the bases and slid before the tag could be applied. Burnham Jr grounded out next, which sacrificed Benny to third. Imae dropped down a lovely squeeze bunt to bring home Benny and put Lotte up 3-2.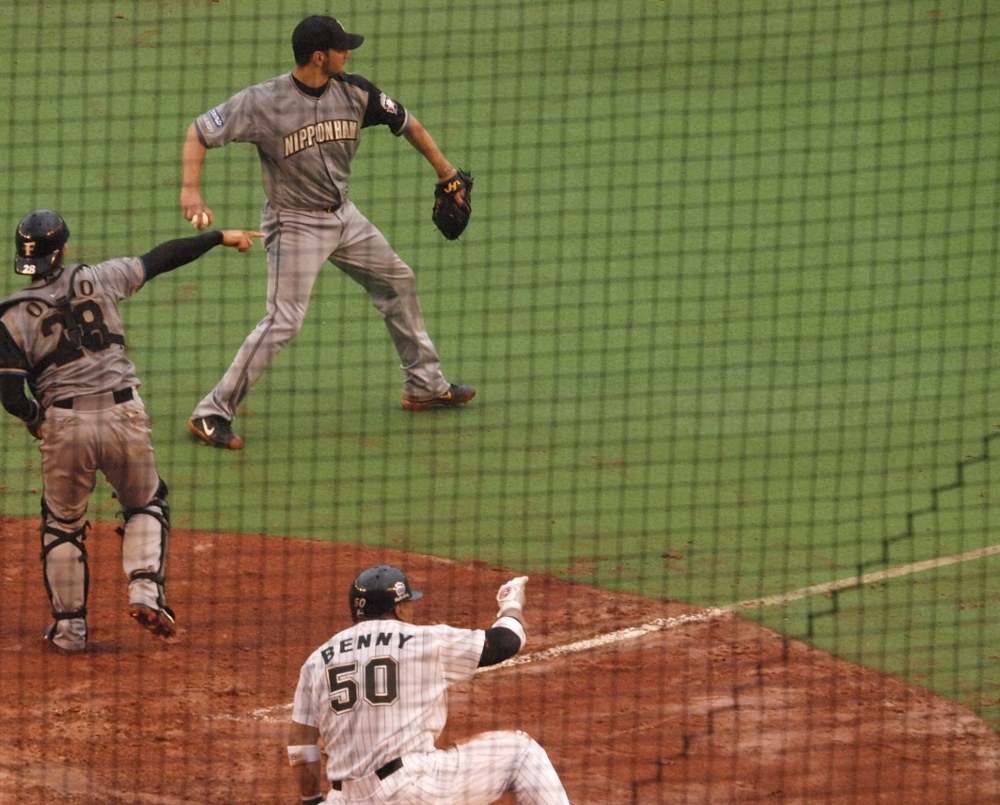 I was fiddling with my camera and leaning around the umbrella in front of me so that's the best shot I got of the squeeze.
The umpires called a delay – finally – at the top of the 7th. It seemed pretty clear that the weather wasn't going away, so nobody was surprised later when the game was called and Lotte took the 6 inning victory. As I mentioned after May's rain-shortened loss to the Fighters I think games that don't go 9 innings are a poor compromise, but at least in this case Lotte came out on top.
So it was a good day after all despite the rain, and Lotte avoids the sweep. Hopefully with the rainy season ending soon we won't see too many more of these rain games – but as long as we see Lotte victories I'm happy!