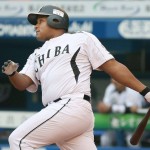 As difficult as the 2014 Chiba Lotte campaign was in so many ways, the play of several newcomers to the team really provided a boost to the spirits. Arguably the most exciting of those newcomers was Cuban legend Alfredo Despaigne, who in just 2 short months in a Marines uniform provided a year's worth of highlights with his immense power and ability to get on base. The great news is Despa is back at QVC for 2015 and 2016 thanks to great work by the front office, though he is still playing for his Cuban team Granma in the Cuban Serie Nacional and will not join Our Marines until late April.
Alfredo's always been one of the top players in Cuba – he holds the single season home run record with 36 and holds a career .346 batting average. This season has been truly special for Despa as he has made a serious bid for the triple crown. As of this writing, Despa is batting .401 (league leader by 32 points) with 16 HR (just behind his Granma teammate Urmari Guerra), slugging an insane .745 (next closest is Holguin's Yordan Batista with .589) and posting a .522 OBP. Those are Barry Bonds-like numbers.
Cubasi.cu's Joel Garcia caught up with Despaigne for an interview recently (as linked to by the wonderful Béisbol en Cuba site). I used to be reasonably proficient in Spanish many moons ago, and as Alfredo has made some nice comments about his time with Chiba last year I would like to take a stab at providing a quick translation of some relevant parts. Apologies in advance for any mistakes, my Spanish is quite rusty.
---
To what do you credit your excellent form? Have you thought seriously about the batting title?
I haven't done anything unusual. The physical trainer and the team coaches have really helped me. There is the possibility to be leading batter – at the end of this Sunday I have a .401 average – and I am going to fight for this title. Nevertheless, I am very happy with my performance to date.
Are you thinking a bit about taking the Triple Crown?
Yes, of course, I've thought about it and looked for it but with just a few games remaining it's very difficult, especially in home runs, as my team mate Urmari Guerra already has 20 and has had an excellent season. What's most important now is to play a good play off, which we have not reached for two seasons.
We've seen that you have easily made batting adjustments, both in the Caribbean Series and and the Serie Nacional. Is this related to your experience in NPB?
Japan polished me a bit more as a player. It's very dynamic, smart, and disciplined baseball. They take everything quite seriously both in daily practice and in each game. The team coaches (Chiba Lotte) worked a lot with me on feel1 and I am appreciative for that. Because of that I was able to make adjustments in technique as the pitchers adjusted to me. It's something that you learn in this type of baseball. I hope this year to return like I did last year, but I will not go there until I finish playing in this season's Serie Nacional.
1"Tacto" translates directly as touch but to be honest I am not sure if that is correct in a baseball context, so I've translated that as 'feel'
Is is possible for more players to join the Japanese leagues?
I hope that for 2016 we are not just us five (Yulieski and Lourdes Gurriel, Frederich Cepeda, and Héctor Mendoza) but that we increase the number of players according to the interests of each team. It is important to go there to play and be measured in that (type of) baseball, which is high quality, above all in the pitching and tactical thinking.
---
There's more to the interview, but that's the relevant section for NPB fans. It's great to see Despaigne's positive attitude, both for his time with Chiba last year and in his current season in Cuba. Honestly it's refreshing to see players who are appreciative of the different thought processes in other leagues, and who try to incorporate that thinking into their game. It's not always the case with import players, for sure (not with Lotte, of course – all of our foreign players are wonderful!) I can't wait to see him back in Chiba next month.