Yet again I am behind in my blogging. Who knew that going to games, coming home late at night, and working all day would leave you precious little time to blog these games?
For the last week in August Daiei rumbled in to town for a series with our beloved Marines. The Hawks were on a roll, having won 4 in a row and cut the lead of the first place Fighters (reeling from the New Flu) to just a few games. Our Marines had just come off of consecutive 1-0 losses at Seibu, so things weren't looking too favorable. Naturally, things didn't go according to schedule, which was GREAT news for our guys!
Tuesday's game featured Yuta Ohmine versus Daiei's Takahashi. Ohmine hadn't had a win since May and had only thrown once with the first team since June, so he was naturally a candidate for throwing a complete game. Of course, many pitchers would be candidates for throwing a complete game if they got 10 runs of support – Lotte takes game one of the series with Softbank, 10-5!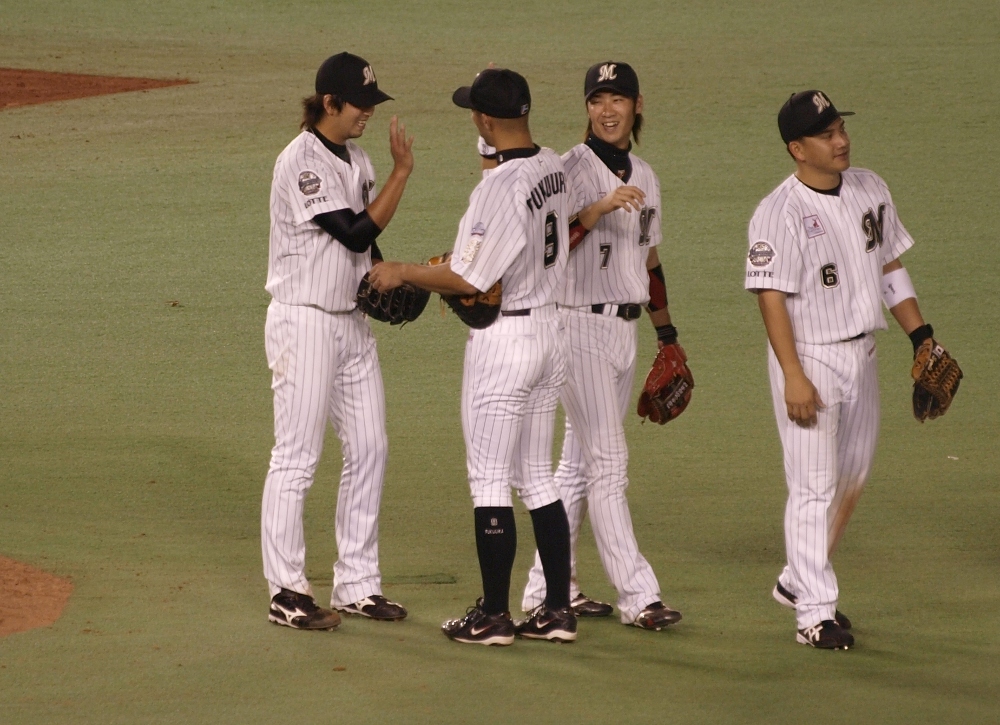 As you are a smart reader and can tell by the score, this wasn't a pitcher's duel, and in fact Ohmine was pretty shaky early and very, very shaky late but he had enough in the tank to go the distance.
Daiei got on the board first with an RBI single in the top of the first by former Lotte 2B Ortiz. Lotte came right back on the very first pitch of the bottom of the first with a leadoff HR from Tsuyoshi. Very nice. A walk by Ohmatsu and a double by the slumping Iguchi make it 2-1 Lotte after 2.
Daiei stormed back in the second with an RBI single by Tanoue, yet Lotte came right back in the bottom of the inning with a leadoff jack by Satozaki. 3-2 Lotte!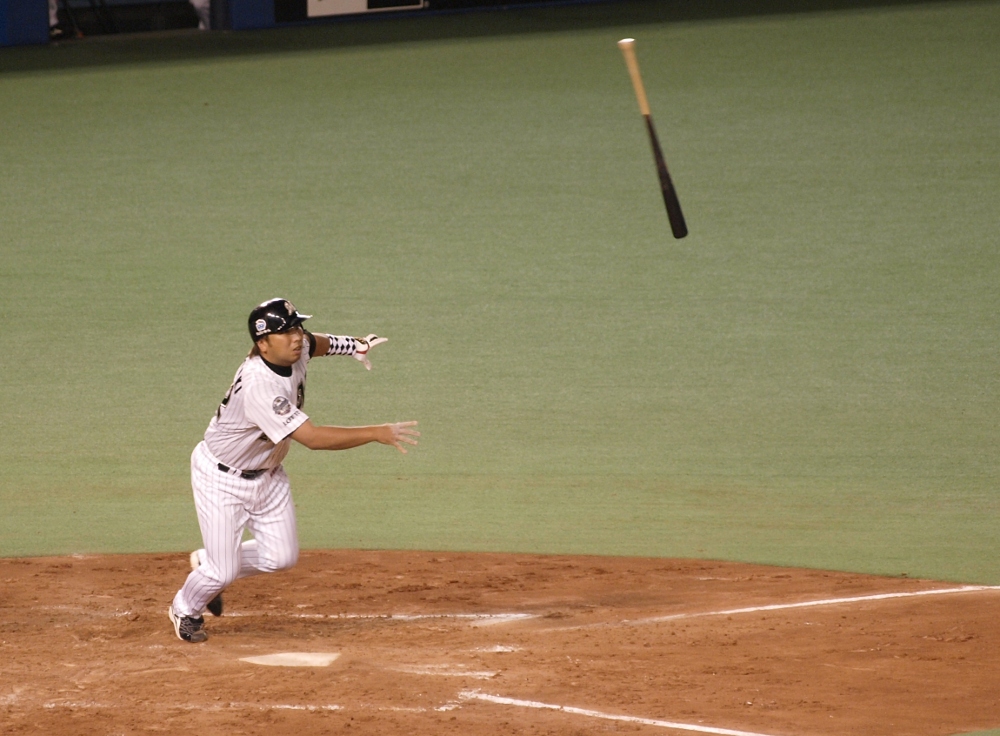 I went to this game with my friend Toshi – it was his first game at Chiba Marine. I was a bit worried due to the erratic nature of Lotte's play over the past, oh, 5 months but on this night the offense put on a show.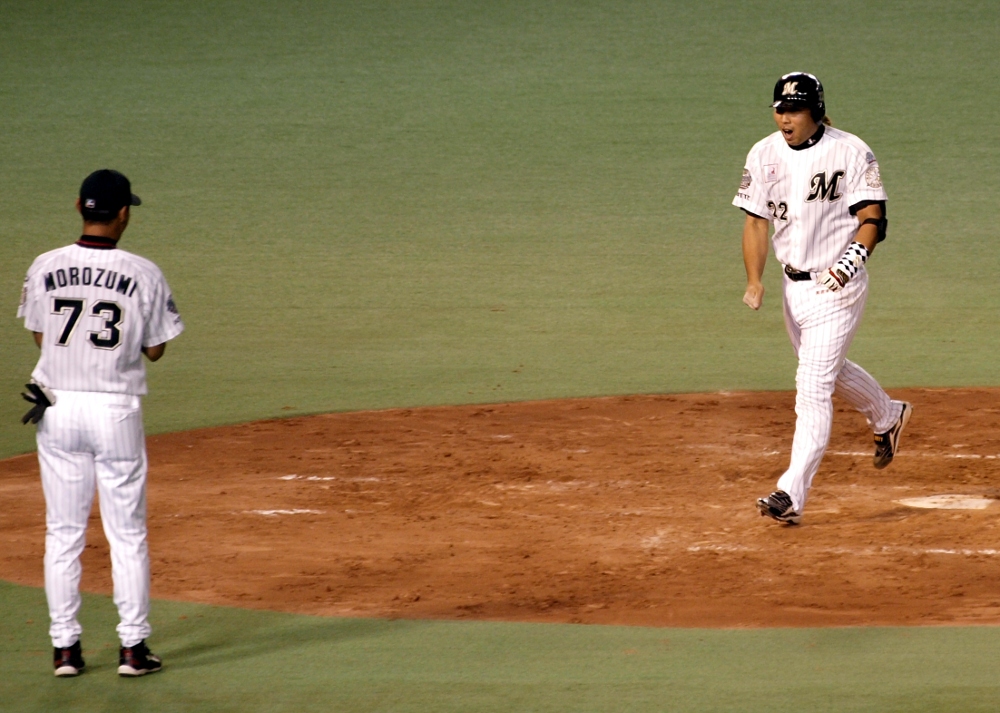 The Marines cracked this one open in the 4th – a bases-loaded double by Tsuyoshi and a 2-RBI single by Hayasaka score 4 runs and run the score to 7-2. Says Toshi, "Wow, this is great!" Yeah, you should have come for some of the other recent games, like most of them since June.
In the 5th things got ludicrous – a single by Fukuura scores one and a triple by Imae clears the bases – three more in, 10-2. There is joy in the stands, indeed.
Meanwhile, Ohmine went on cruise control after the early runs, scattering a few hits but letting Softbank get nothing going. That changed in the 9th when he basically fell apart after recording two quick outs. To consecutive Hawks batters he gave up single, double, double, single before finally getting the last out of the game on a pop. It wasn't a pretty finish – 3 runs with one out to go – but it was good enough to wrap up the victory. How nice to see him in the win column again! Now if we could just get Karakawa win…
Wednesday provided one of the most bizarre games I can think of. Lotte brought only 27 men to the plate, only recorded a single hit, yet won this one 2-1. How odd!
Hiroyuki Kobayashi pitched 8 strong innings, only giving up a solo HR to Akashi in the 6th, to lead Lotte to a 2-1 victory. Wait a minute – 2-1? How do we score 2 runs on one hit with only 27 baserunners? Simple, in the 4th inning Takehara drew a one-out walk, and Imae blasted a dinger to left to score 2. Tsuyoshi walked to lead off the game but was thrown out trying to steal, and Hayasaka drew a walk in the 6th. That's it!
The pitching staff did the rest – it's like the dead opposite of Saturday and Sunday's games versus Seibu where the Marines got plenty of men on but couldn't bring anyone home. It's about as efficient a win as could be had, and it guaranteed the series win. Fighters fans rejoiced at the Daiei loss as they pulled further in front of the Pacific League, and Lotte keeps their distance over last place Orix. Since a playoff chance is very unlikely at this point, we take the small victories.