I used Advanced Statistical Analysis® (ASA) to see into the Pacific League future. One cannot deny statistical trends – they are truth incarnate, as if history is already written.
Here's what we know after the first weekend of the Pacific League future; specifically, Our Marines's Future:
– We will win 96 games this year.
– Unfortunately, ASA® shows Orix will win 144. It's science, cannot be denied.
– Fortunately, Seibu will lose 96 games.
– Ohmatsu's 48 HR and .500 BA will lead to a new burger at Chiba Marine's Lotteria, but it will still not be as tasty as the now-defunct Bobby Burger.
– Kim Tae Kyun will strike out 336 times, including every time he faces Wakui. (Er, this better be a joke, heh heh heh)
– Rookie CF Takashi Ogino will continue to blow my mind with slick defense and sick, sick baserunning.
– Now 20-year old Karakawa, THE Baby-Faced Killer, will live up to his immense potential and make Pa-league batters look like fools. Pencil him in for 200+ strikeouts, says ASA®.
– Naruse will revert to 2007/late 2009 form and return to the top-flight of NPB pitchers, especially now that he's got that "Throw a game-losing fat pitch down the pike on a 3-0 count" out of the way.
– I will be damn entertained.
Everyone: The 2010 NPB baseball season is well and truly underway, and Our Chiba Lotte Marines went on the road and took two out of three from the hated Lions, on their turf. As far as season beginnings go it's not better than Orix's home sweep of Rakuten, but it's pretty damn good. Here's what happened:
Game 1 – Naruse vs Wakui, a great matchup of young aces and former high school team mates. Seibu Dome, lovely late-winter day threatening to turn into spring. As I mentioned on the day of the game, the place was jam packed well before the gates even opened. Don't believe me? Check out the line-up to get in in the lead photo (which is after about half the people in line in front of me already went in) or this one, taken 1.5 hours before the gates opened.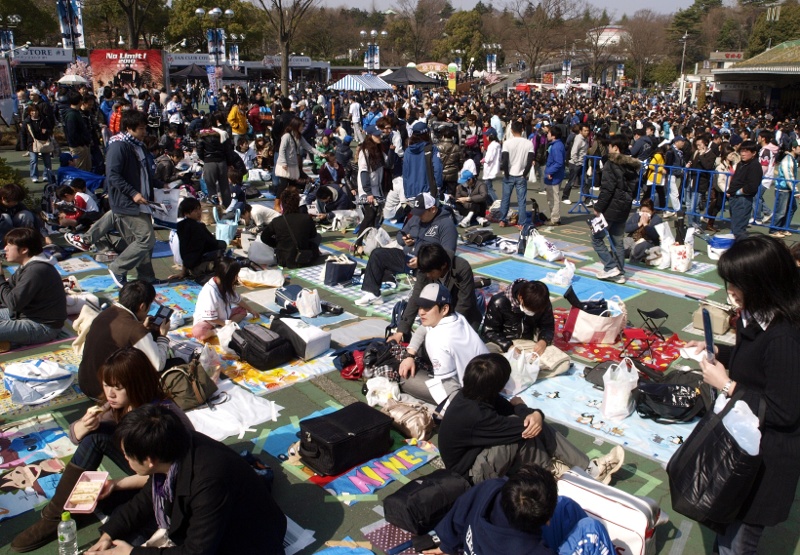 Zoikes!
Seibu Dome always strikes me as one of those places in the "Sounds like a great idea, horrid in practice" category. Take a ball park (check), put it in a lovely natural setting (check), give it super-convenient public transportation access (check), open it to the air so everyone can enjoy the beautiful setting in the splendor of nature (oops). It was 19-20 degrees and sunny outside and it felt like a tomb inside. That stupid semi-opaque roof knocks all the pleasantness out of the park, really. It also makes the dome a horrible place for photography, so I didn't take too many photos. (My camera revolted against the poor photo conditions, it took a header off the seat next to me and fell lens-first about 4 feet to the concrete below. Fortunately no damage other than some ugly cosmetic damage.)
The game itself was quite exciting with everyone in super-revved up ultra-fandom mode. Well, except many of us Lotte supporters as all – literally ALL – of the ouenka changed in the off season so a very low percentage of the fans knew all, or even any of the songs. The chap next to me with the copy of the new lyrics was popular indeed.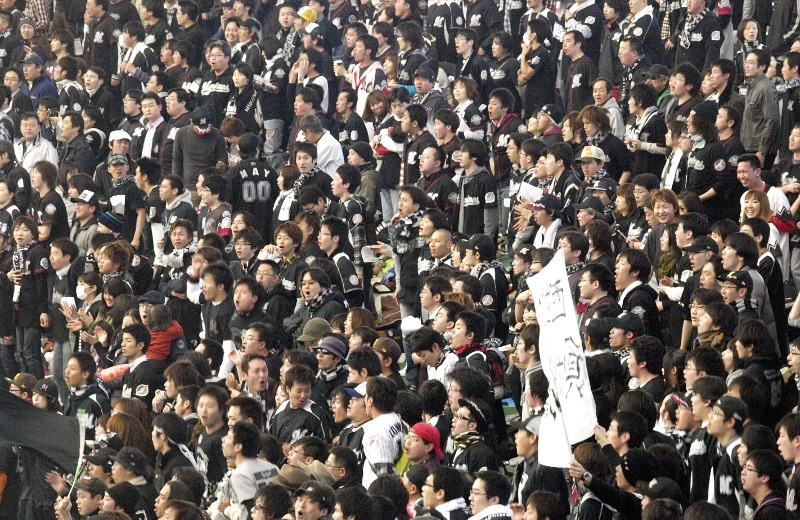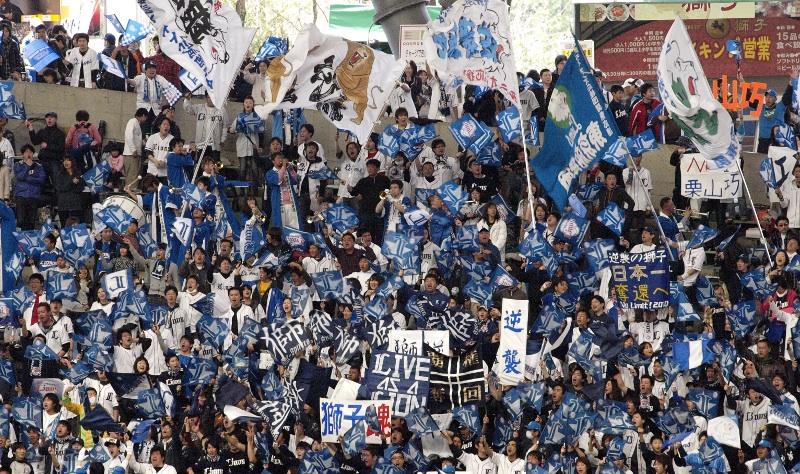 Naruse came blasting out of the gate, throwing the first 3 2/3 innings in perfect style until and error by Imae allowed a baserunner. Naruse kept the no-hitter until the 6th inning and only gave up three hits in total. He went 8 innings and rung up 8Ks. Unfortunately, 2 of those three hits…. Well.
Lotte got on the board first, though they blew a super prime scoring chance in the third with a bases-loaded, no out chance. Wakui is a mean and stingy dude when he's on the hill, though, and he got out of the jam with no damage. He didn't get away with it in the 5th, though, as Imae stroked a 1-out single and was immediately driven in by a red-hot Tsuyoshi, who dropped a double to left. It was a nifty bit of base running for Imae as he scored all the way from first very easily.
Naruse gave up a single in the first to end the no-no (as I mentioned), and he coughed up the lead when Nakajima destroyed a pitch to deep center in the 7th. It was a no-doubt smash and tied it up at one each. Two batters later, new import Dee Brown took a fat pitch over the middle on a 3-0 count and deposited it into the right field stands. Ergh. It barely cleared the fence, but barely is just bad enough – 2-1 Seibu.
That's how the game ended as Lotte couldn't get anything else off Wakui. To add insult to injury, ex-Marines all-purpose bullpen guru Sikorski closed out the 9th for the save. Ouch. It was a very entertaining game, though, despite the loss. Tsuyoshi (3-5 with an RBI) and Naruse were definitely the shining stars for Lotte. New and pricey import 1B Kim Tae Kyun, not so much – he went 0-4 with Ks in all 4 ABs. Surely it was just nerves, though, as this is the same slugger who beat up on the world's best in the WBC last year and hit .370+ in preseason action this year. The hits will come.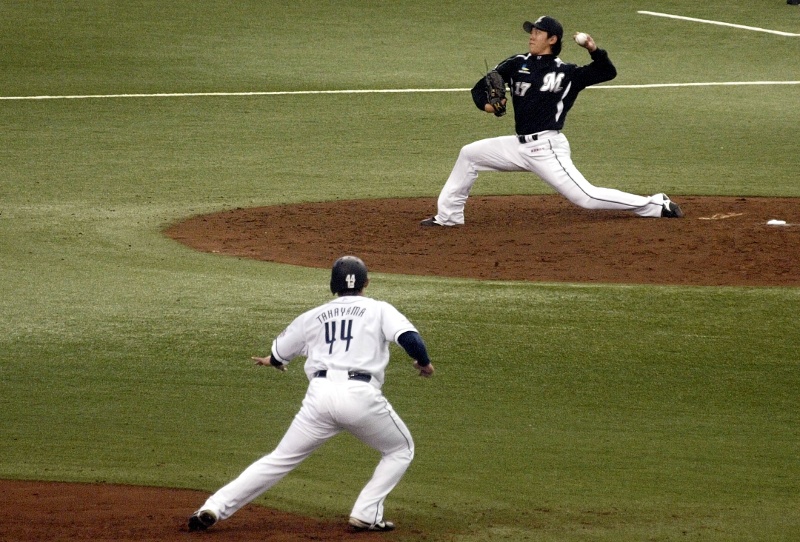 Game 2 – I already made a too-lengthy post about this game that I am sure nobody read all the way through (Totally unlike THIS too-long post that nobody will read all the way through. Totally.) Let's just remind you it was Lotte's turn for turnabout – a 2-1 victory with great pitching from Shunsuke, Hattori, and Yabuta and great clutch hitting from the inimitable Ohmatsu.
Game 3 – Ah, Game 3. The Baby-Faced Killer sneaks up on another unsuspecting team. He looks like such a nice young gentleman (Nay, he IS such a nice young gentleman – he put up with my repeated badgering of him during Spring Camp in Ishigaki, hanging around to chat and take pictures with me long after everyone else had left.) but on the mound he is an assassin of the deadliest stripe, a steely-eyed destroyer of batting strokes and lofty aspirations. His performance in his season debut was über-manly, an 11 K masterwork of speeds changed, corners painted, knees buckled and hearts broken.
Young Karakawa laid waste to Seibu bats with near-unerring precision. For the first 5 innings he was as dominant as a pitcher could be – 8 Ks and nary a baserunner on the paths. It was, statistically and emotionally, a perfect start to the season. The rest of his performance was merely great – 2 runs allowed on 5 total hits and a complete game victory.
Yes, victory. For unlike last year – where if you recall the Baby-Faced Killer faced cruel and unusual punishment from silent Lotte bats behind wonderful start after wonderful start – Our Marines gave Karakawa a cornucopia of offensive delights. The hits and the runs; they came in bunches, and they came all game. 13 runs in total on 16 big hits. It's the sort of offensive backing that a start of Karakawa's caliber deserved to receive.
Heroes were impossible to single out, there were so many. How about Fukuura's 2-4 with 3 RBI, incuding a solo shot to deep right for his 100th dinger of his career? Maybe Tsuyoshi's 3 RBI on a deep sac fly and a stand-up triple? Maybe Saburo with his solo shot in the 9th? Imaoka, dragged off the scrap heap and infused with new life, poking a single to left in his first AB and scoring a few batters later? Heiuchi with a 2-RBI pinch hit single? Sato's 2-5? Ohmatsu's 3-5?
No, for me the shining star on offense was rookie first round pick Takashi Ogino. He came into spring camp with the center field slot wide open. Hayakawa was gone, sold to the BayStars in the offseason, and Hayasaka looked primed to get the starting gig. Ogino beat him out for the role, though, and with this weekend's series he showed he was ready to shine.
On defense, he roamed center with big loping strides, seemingly never out of position and hoovering everything poked his way. On offense – on the basepaths – he showed he can be a true force.
4th inning, 2 outs. Ogino is in the box and the bases are empty. He pokes a single to right-center, maybe halfway between second and the fence. It's nicely hit, drops in easily. RF Sato picks it up efficiently, looks up – holy crap, Ogino is racing around first like he hopped on a dirt bike! He's going for two on a well-hit single to shallow right! And…. he's in, easily! I won't fib, I think the breath came out of my lungs in shock. It was a really audacious bit of baserunning to bite off that much with the game still in doubt. But victory only comes to the brave, right? It was the aggressive, confident play of a winner.
Who knows how rookies pan out. But my, what a nice debut! For the record, Ogino was 5-11 with a 1.007 OPS in the series. ASA® shows me if we get a goodly chunk of that production this year out of the top of the lineup we may really win 96.