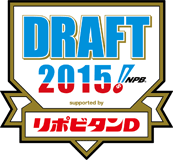 I usually write a draft summary each year, but I've never taken a stab at a draft preview. This year I am going to make myself look very foolish indeed by trying to speculate what direction Lotte will head in the 2015 Draft, which takes place tomorrow afternoon. As a quick reminder, the first round of the draft tends to be a bit of a free-for-all as any team can select any player, with the winner for the services of a player selected by multiple teams chosen by lottery.
There's a lot of strategy involved in the first round as if there is a big-name player appealing to many teams, some teams may try to avoid choosing that player to get someone they have a much better chance of getting. Historically Lotte has gone both routes, winning first round lotteries for players like Fujioka, Ishimine, and Ohmine, losing for Fujinami and Yuki Saitoh. Last year many expected Lotte to throw their hat in the ring to get a chance to select a big-name pitcher like Arihara, but instead made a surprise selection of Shogo Nakamura with the first pick. Since nobody else chose Shogo in the first round, Lotte was free to sign him.
Draft Needs
Clearly pitching is the burning need for Lotte. I don't feel the bullpen is in bad shape at all – it's filled with young, capable arms, and the season ERA for the pen was second only to Hawks in the PL. What is a problem is the lack of left handed pitchers, specifically left handed starters (though this is also a problem in the pen).
As of now the top 4 starters for 2016 are Wakui, Ishikawa, Chen, and Yuta. Young Futaki will also probably have a really strong chance at making the opening day rotation (though he has just turned 20). I believe Nishino should return to the rotation with Uchi taking his place as closer, though I am not sure if this will happen. If it did, the only LHP in the rotation is Chen. The only other viable option for LH starters are Fujioka, and it seems that the coaches are not inclined to let him start again, and Furuya, who is not a really reliable choice. Even in ni-gun there are very few options for LHP – perennially disappointing Kimura and the perpetually injured Kawamitsu are about it.
We're set at catcher for the foreseeable future with so many young guys plus Tamura looking like a budding star, so if a catcher is drafted anywhere above Ikusei I will be unhappy.
Infield is a big cause of concern for me, but one I am not sure what to do with. On one hand, the lack of power was terrible in the infield, with only Cruz providing power, though he is otherwise offensively challenged. First base should be the most productive spot in the infield but it was a pit offensively all year with only Fukuura providing any sort of consistency, and even that was nowhere near an acceptable level for an everyday first baseman. Obviously Aja or Aomatsu could be a good fit – Aja dominated at ni-gun again this year – but neither got any sort of chance in 2015. Miki and Takahama also show promise, but they have had little chance to perform, so it's hard to say what their long-term worth is.
In short, the infield really needs an upgrade, though whether that upgrade can take place with existing talent or not remains to be seen.
Outfield is the lowest priority by far, with established stars like Kakunaka and now Kiyota firmly in place, good contributors like Ishimine and OGINO available, defensive wizard Okada, young and talented Katoh, and promising young Wakimoto in ni-gun. Oh, and Saburo. I would be surprised to see an OF drafted high at all unless some miracle allows Okoye to drop into Lotte's lap.
What Will Happen, I Think
The draft previews seem to think that Lotte will likely go for Shinnosuke Ogasawara from Koshien champs Tokaidai Sagami, I'm not so sure. After the "three year rebuilding plan" that ended this season, I feel the team is going to be looking for someone to contribute pretty quickly to ichi-gun next year, and I am not sure Ogasawara fits the bill. There are a few older LHP that are possibly ready to contribute sooner such as Meiji University's Kenta Uehara or Komazawa University's Shota Imanaga, I think they might try to pick one of them with a second round pick, if possible, if not the actual first pick.
I think it's more likely that the team might go for a more talented position player like Sendai Ikuei's Taiga Hirasawa, and try to find that pitching value after the first round.
Some have thought that Lotte might try to pick up high school star outfielder Louis Okoye, but I think this is likely only if the first round selection does not work out.
I think the fact that 6 pitchers were not offered contracts for next year not including the departures of late-season signing Baek and long time reliever Carlos Rosa tells us all we need to know about the direction this draft will take. If I have to guess, Lotte will take a chance on Hirasawa first and fill in the next several rounds with arms. The hard throwing Ogasawara might be too much of a tempting option to pass over, though.