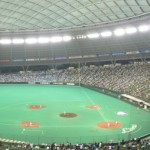 Series Preview
There just ain't a whole lot right going on for Our Marines right now. I argued in the last post that the most recent series was the low point of the season, and a few days later my assessment hasn't changed at all. Seibu and Rakuten are breathing down our necks, which isn't a bad place to be if you're in first or second, but we're in 5th.
This series could be an interesting one as our intriguing young pitchers go all three games – Ishikawa in game 1, Karakawa in game 2, and presumably Yuta Ohmine in game 3. Let's see if they can repeat their recent solid performances and more importantly, if the entire team can come together and bring in some Ws.
Game 2 - Lotte Loses 5x-4 (Click to Expand)
Lotte:
Ayumu Ishikawa (5-4, 3.14 ERA) @
Seibu:
Takayuki Kishi (7-3, 2.58 ERA)
By Steve Novosel Despite out hitting, out pitching Seibu all game this one went to extra innings. In the last moments, Our Marines took the lead only to fumble it right back and lose, sayonara style. A solid kick to the gut? Yeah, I gotta say that's exactly what we can take away from game 1 in Tokorozawa.
Let's get to the meat of the great news first. Rookie Ishikawa was generally quite solid – 7 IP of 3 hit, 5 K, 2 earned ball. "Generally, Steve? That sounds great!" Yeah, well, it is except for what I don't mention – 5 walks including one of the bases loaded variety, and a wild pitch that allowed another run to score. All that was in the third, though, and Goemon only allowed 2 more baserunners total over his next 4 innings of work.
And the pen? Masuda, Otani, Matsunaga, and Nishino allowed just one baserunner combined over 4 innings of relief work – that on a walk – and mixed in 3 Ks. Unfortunately, that's not the exhaustive list of Lotte relievers…
For 11.5 innings Our Marines were so resilient. Seibu got on the board first thinks to an unearned run after a Gori error (a lot of unearned errors lately, ne?), but Chiba stormed back with runs in the second (via Okada single) and third (RBI single by Braz). The 2 Seibu runs in the third left Chiba looking up from a hole, though – a hole they would climb out of thanks to a 2-out RBI single by Cruuuuuuz in the 5th. That knotted the game at 3 all, and that's what the score would remain for a long, long time.
How long? All the way. Chiba got two men on the sacs in the 10th with just one out, but neither Imae or Cruz could push one across. It really seemed that the game was likely to end in a 3-3 tie, but no.
Top 12 – Michael Bowden in for Seibu, Katoh Shohei (back at ichi-gun again, FINALLY) drives the second pitch he sees to the fence and is in with a double. Big chance! Huffman in next, and he watches strike three go by for out one. Pinch hitter for Hosoya – it's Chiba's favorite player Fukuura, and he drives a double off the right field fence! Katoh in, 4-3 Lotte! Walks to Braz and Cruz follow to load the bases up – let's break it open – but no, Daichi grounds to Bowden.
I hate to say it now, but I had a bad feeling about leaving the bases loaded like that. I had a worse feeling when I saw Itoh's next move – pull his closer Nishino, who threw a perfect 11th on just 11 pitches – for Rosa. Nothing against Rosa, but Nishino's the closer, and he most definitely can go more than 11 pitches.
I'm not gonna disgust you with the details, but three batters later the game was tied, and one later than that Seibu was jumping up and down at home plate. Sigh…..
Something's gotta break this slump.
Game 2 - Lotte Loses 10-5 (Click to Expand)
Lotte:
Yuki Karakawa (1-5, 6.75 ERA) @
Seibu:
Shota Takekuma (0-1, 2.70 ERA)
By Steve Novosel One thing can be said with certainty about this game - at least there was no late inning heartbreak. The offense was game, but the pitching gave up run after run, culminating in a lopsided 10-5 loss at Seibu Dome. That's 6 in a row if you're counting, and Our Marines have slumped all the way to 5th place, 10 games below .500
I need to point out at this time that there was a moment during the game where Our Marines actually held a lead. And not even a small lead – 3-0 at the end of play in top 2. How? First inning, three two-out walks in a row issued by Seibu starter Takekuma brought up Luis Cruz, and Cruz mashed a ball off the center field fence for a 2-run double. Saburo was thrown out at the plate for out three but no matter, 2-0 Lotte after 1.
The Baby-Faced Killer threw a 1-2-3 first. Top 2, Daichi led off with a nice single past a diving Morimoto at first, coming around to score via a double down the third base line by Katoh (see, told you he should have been at ichi-gun all along!). 3-0 Lotte after 1 1/2.
Aaand that's when it all went pear-shaped. Ernesto Mejia led off with a double – it looked like he might be stranded as Karakawa recorded two outs, but Ginjiro poked a 2-2 single to plate Mejia and Yuki, well, he just kind of broke. Singles by Kaneko, Akiyama, and Watanabe followed, and that 3-0 lead turned around in a matter of minutes to a 5-3 deficit. Oh boy.
Karakawa blasted through the third in style – a pair of Ks and a perfect inning – and in top 4 Luis Cruz launched a shot that looked like it would warp time and space. Instead, it landed all the way in the back of the Seibu Ouendan – now a 5-4 game.
Seibu's brutalization of Chiba pitching would not stop, though. After a pair of singles in bottom 4 pushed across another run, Itoh went to Ueno in the pen (3 1/3 IP of 7 H, 6 R (5 ER) ball for Karakawa. Eek!) And while Ueno pitched reasonably okay-ish (2 1/3 IP, 1 H, 0 ER, but 3 BB) his wildness led directly to another unearned run.
The scene – Kuriyama led off the 5th with a walk. He attempted to steal on what ended up a wild pitch – Yoshida blocked it and fired to second but winged it over Daichi's head. Kuriyama kept going, rounded third after a casual retrieval of the bad throw by Katoh, who fired an on-target laser to Yoshida at the plate. Yoshida had the plate blocked, and Kuriyama blew him up with a forearm to the upper body. Not only did the run score, but Yoshida was knocked out of the game with what is a potentially serious ankle injury. I thought it was a very dirty play by Kuriyama – he did not have to go through Yoshida to score, much like Murton's play at Jingu last year that injured Tanaka.
Still, it was just a 7-4 game, and Lotte had plenty of opportunity to get back in this one. 7th inning – Daichi and Huffman singled, and with one out Katoh belted a liner off Seibu reliever Williams, who made an amazing reflex grab preventing a sure score. And in the 8th inning Iguchi and Braz led off with a single and a double respectively – Hosoya (PR for Iguchi) scored on a Cruz grounder, but that was it.
Meanwhile both Kanamori and Matsunaga got beat up for 3 combined runs – there's your 10-5 final.
Chiba is now 6 games out of THIRD and a shocking 13 games out of first. The team is nothing but improved over last year's squad that was A-class all year and in first place for much of it, yet Itoh can't seem to get any sustained performance out of the team as a whole. In the last 4 games the team has committed 3, 3, 2, and 2 errors, with unearned runs scoring in all 4 games. Game 3 is Thursday back at Seibu.
Game 3 - Lotte WINS 7-6 (Click to Expand)
Lotte:
Yuta Ohmine (0-2, 4.02 ERA) @
Seibu:
Ryohei Fujiwara (2-2, 2.78 ERA)
By Steve Novosel Despite facing a vast 5-0 deficit after the first inning, Our Marines stormed back to take the lead, holding on for dear life and a desperately needed 7-6 win at Seibu Dome. The 6 game losing streak is finally over.
More to come!