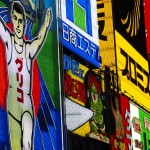 Series Preview
Two series wins in a row, and against the top two teams in the Pacific League. The Baby Faced Killer? Back, and looking strong. The pen, also strong. This is all lovely.
What's not so lovely is the currently-sitting-in-the-last-A-class-spot Fighters have lost just two of their last eleven, so the deficit is the same as it was a series ago. We can't control that.
It's actually quite simple – don't worry about Hamu. Lotte's just gotta win some games. There's 30 games left for Our Marines, 33 for the Fighters. Assuming no ties, that means if Hamu maintains its season winning percentage of .509, Chiba's gotta go 22-8 in these last 30 games to overcome. Can it be done? Sure, why not? 7 of the remaining are vs those same Fighters (all in Kanto), and 13 of the remaining are vs the nothing-to-play-for Lions and Eagles. Why not win a whole lot of those games?
The final push of the season starts now.
Game 1 – Lotte Loses 8-0
Lotte: Takuya Furuya (7-4, 4.09 ERA) @ Orix: Takahiro Matsuba (6-1, 2.64 ERA)
By: Craig Roberts
Our Marines got crushed Tuesday, finding themselves in an early 4-0 deficit and eventually falling 8-0. Lotte did manage to reach base nine times on eight hits, but still suffered their 11th shutout loss of the season.
Continue Reading
So goes Furuya, maybe so goes the Marines. His re-emergence last year was a saving grace for our post-season run. Since joining the ichi-gun team in late June the New Lefty Ace proved to be our most reliable arm, leading the team with a 9-1 record and 2.73 ERA in 2013. This year through July 22nd he had a 7-2 record and a 3.79 ERA, which included some ERA-inflating bullpen appearances during inter-league. Since then though, Furuya is 0-3 in 5 starts and a 6.04 ERA. With Lotte falling in the standings since then as well, it seems much of our fate the past 2 years has been, albeit likely coincidentally, tied in with the success of Furuya.
Furuya just lasted 2 1/3 innings tonight, being pulled after a 1 out walk in the 3rd. It was a 4 run 2nd that buried him though, with a 2-run double by Kawabata, Ito squeeze bunt RBI, and Hirano bloop RBI single accounting for the runs. The inning did feature a nearly amazing play by Katoh in right, failing to make a catch when crashing into the wall, but still holding T-Okada to a single on what was a near home run. The kept a run off the board, but unfortunately only temporarily. With the bases loaded and 0 out, the runs came next.
Lotte did show signs of life in the 6th, still only down 4-0 thanks to 3 shutout innings by Yuta Ohmine in releif. With the top of the order leading off, Okada and Daichi got aboard with a pair of no out singles. Orix went to the pen after Kakunaka made the 1st out on a fly out to left. Relief man Higa benefited from a fine play at short for a force out at 2nd on an Imae ground ball for out 2. Iguchi then grounded out to 3rd for out 3.
Orix added 4 more runs off the Lotte bullpen after that, a pair of runs allowed each by Hattori and Ueno. Three of those runs came by way of the long ball, a Kawabata solo shot off Hattori (originally not ruled a HR but a triple, reversed on review. Pretty clearly a homer, actually) and Shunta 2-run jack off Ueno. Fighters won tonight, so we now fall 7 back for 3rd.
Game 1 Digest from Pacific League TV
Game 1 Box Score in English
Game 2 – Lotte Loses 7-3
Lotte: Takahiro Fujioka (6-8, 4.30 ERA) @ Orix: Daiki Tomei (4-5, 3.82 ERA)
By: Steve Novosel
12 hits? GREAT! No shutout, either. Wonderful. But luck? Timely hitting? Solid pitching? No, not so much of that. Another loss coupled with another Hamu win? Yeah, yeah that too. SIGH.
Continue Reading
There was really nothing in this game to recommend for the Lotte fan. Many hits, but not really any strung together so plenty LOB.
A bigger problem is the big hole the bats had to dig out of. The first Orix run was unearned thanks to a Cruz error, and the second run might as well have been unearned as German scored on a delayed double steal that Tamura was fooled on. The third run scored off a Pena bloop single with two on. Fujioka was by no means good this evening – 10, 4 ER, and his typical absurd pitch count (123 in this one) – but it's easy to see a possible game where he escaped those first three frames with no runs allowed.
Imae chipped into the lead with a solo shot in the 4th, but back-to-back RBI singles by Hirano and Adachi in the bottom of the inning stretched the lead to 5-1 Orix.
Our Marines clawed back a bit with a lovely 6th inning RBI double by Tamura and a PH 8th inning RBI single from Iguchi, but a horribly slumping Ueno gave both those runs right back in bottom 8, and that was that.
Fujioka hasn't won a game in a month – 0-4 in August – and his ERA is almost double what it was in his June glory days. Why is that? Good question – I saw a tweet from @ikumaisaac that hypothesized an effort to reduce Fujioka's walks has resulted in him getting hit harder. It is true he's going deeper into games later in the season, though his walk totals are still high. I'm not sure, but something is wrong with the last two months of Fujioka.
As for Furuya? Turns out he's injured and will be taken off the roster. Not a whole lot of healthy arms left in the stable, it seems.

Game 2 Digest from Pacific League TV
Game 2 Box Score in English
Game 3 – Lotte Loses 4-0
Lotte: Hideaki Wakui (5-10, 4.71 ERA) @ Orix: Chihiro Kaneko (11-4, 1.78 ERA)
By: Craig Roberts
Orix completed the sweep Thursday evening at Hotto Motto Field, handing our Marines their 2nd shutout loss in three nights and 12th shutout loss of the year.
Continue Reading
Kaneko is having the best year of any pitcher in Japan, so obviously we were going to have to seize on any opening provided to us if we hoped to scrounge together enough runs to win. It looked like we might find ourselves with an early dumb-luck chance when the speedy Okada worked a full count and nearly beat out an infield single to lead the game off. Instead, he was beaten to the bag by a 1/4 step. That would be the best chance we'd get for a while, with the door closing after that and our 1st hit not coming until the 5th inning.
Meanwhile, Wakui. 102 pitches in 5 innings, 52 of them strikes. At one point, it was a nice even 50 balls 50 strikes. 7 walks in those 5 innings, 4 in the 4th and 3 in the 5th. Wakui had his patented single inning meltdown, allowing 3 runs on 1 hit in the 4th. Yep, that's 3 runs scored on 4 walks, 2 sac flies for RBI's, and an RBI T-Okada double. Wakui did manage to escape the 5th after walking the bases loaded, with the score still 3-0.
Our Marines finally got not just one, but back-to-back 2-out singles in the 5th by Katoh and Takahama. Tamura struck out to end the inning though. Katoh got another 2 out hit in the 7th, with the young man accounting for 2 of Lotte's 4 total hits.
Shunta had his 2nd home run of the series, a solo blast to right off Kimura to make it 4-0 Orix in the 8th. Meanwhile, Our Marines mustered only a Daichi walk versus Satoh in the 8th, and a Cruz 1-out double off Kishida in the 9th. Thus ends a series where we were outscored 19-3, but just outhit 28-24.

Game 3 Digest from Pacific League TV
Game 3 Box Score in English