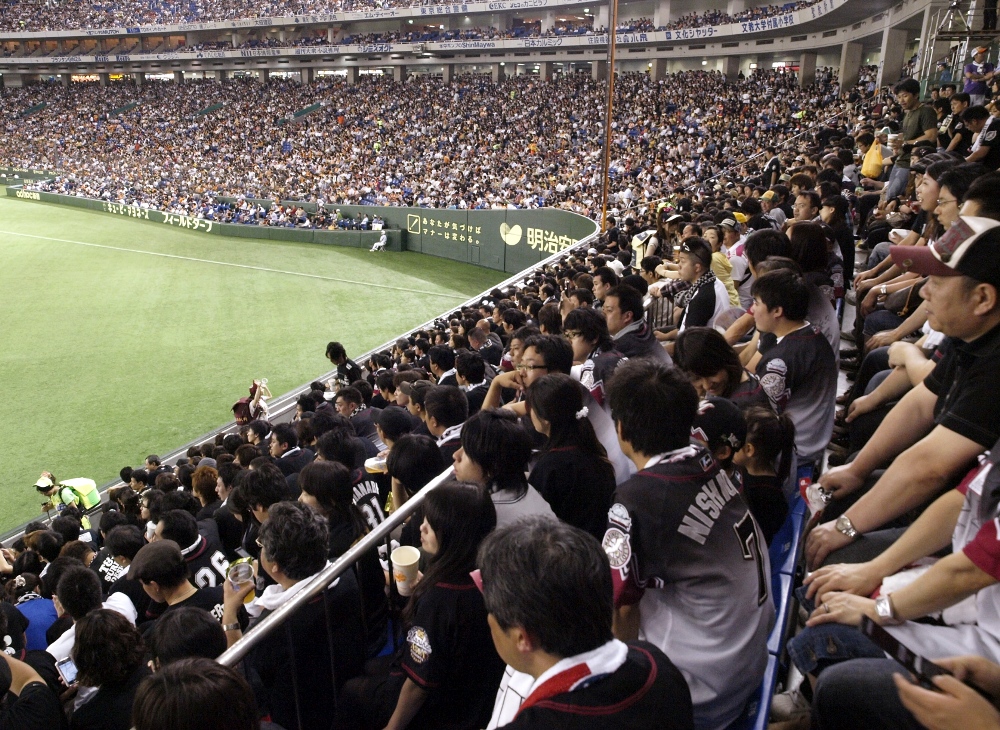 Though the blog title typically means an inning where the batters are retired in order, today it also has a deeper, sadder meaning – after three consecutive wins last week, Lotte has now dropped three in a row including today's 5-2 loss to the hated Giants.
Lotte came out with guns blazing as leadoff batter Hayasaka smacked the first pitch of the game from Yomiuri's Greisinger into left. The next batter, Fukuura, also singled and the fans smelled blood. Fly outs by Ohmatsu, Iguchi, and Satosaki ended the Lotte scoring chance, though. Iguchi in particular hit a very deep ball that would have gone out if just a wee bit flatter.
Yomiuri wasted no chances in their half of the first. Lotte starter Watanabe was beat up from the very beginning, surrendering a liner off the left field wall to leadoff batter Sakamoto, and three more hits (leading to three runs) before even recording an out.
Sitting in the Lotte outfield, I leaned over to John and said "Hey, at least it couldn't get any worse than that." Yeah, that makes it feel better. Yomiuri would tack on another run via a shallow sac fly before the inning was over to start the second up 4-0.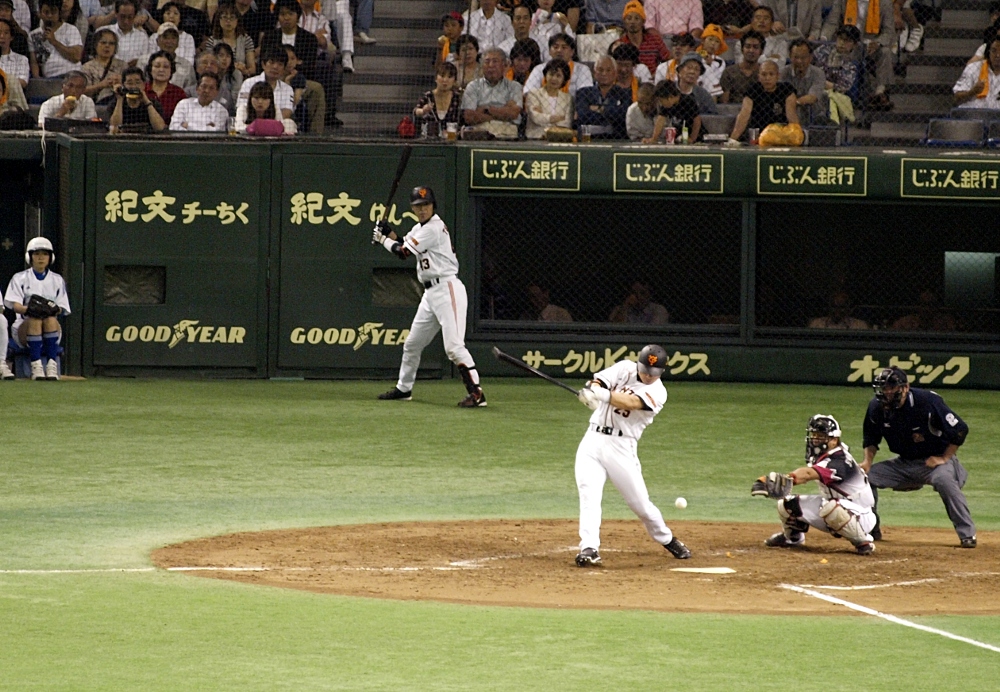 Lotte had another great chance to score in the top of the second. Saburo grounded out to start the inning, and Benny beat the hell out of a ball, sending it on a rope off the top of the right field fence… for a single. One meter higher it's a homer, a little more under it and it's a double. Imae popped out to third, and Watanabe helped his own cause with a single that slipped through the right side. Yet again Lotte couldn't capitalize, though, as Hayasaka grounded out to end the inning.
Watanabe settled down a bit after the awful first, sending down the Yomiuri lineup in order in the second. In the third, ex-Lotte slugger Lee Seung-Yeop had no interest in sentimental reunions with his ex-teammates as he positively destroyed a Watanabe offering, bouncing it right below the lights mounted to the wall in upper upper upper right field. The scoreboard said it was a 145m HR, but that can only be true if it is 145m on a line from home to that exact spot on the wall. In the open air, that ball would have traveled a good 50m more than that, at least. 5-0 Yomiuri.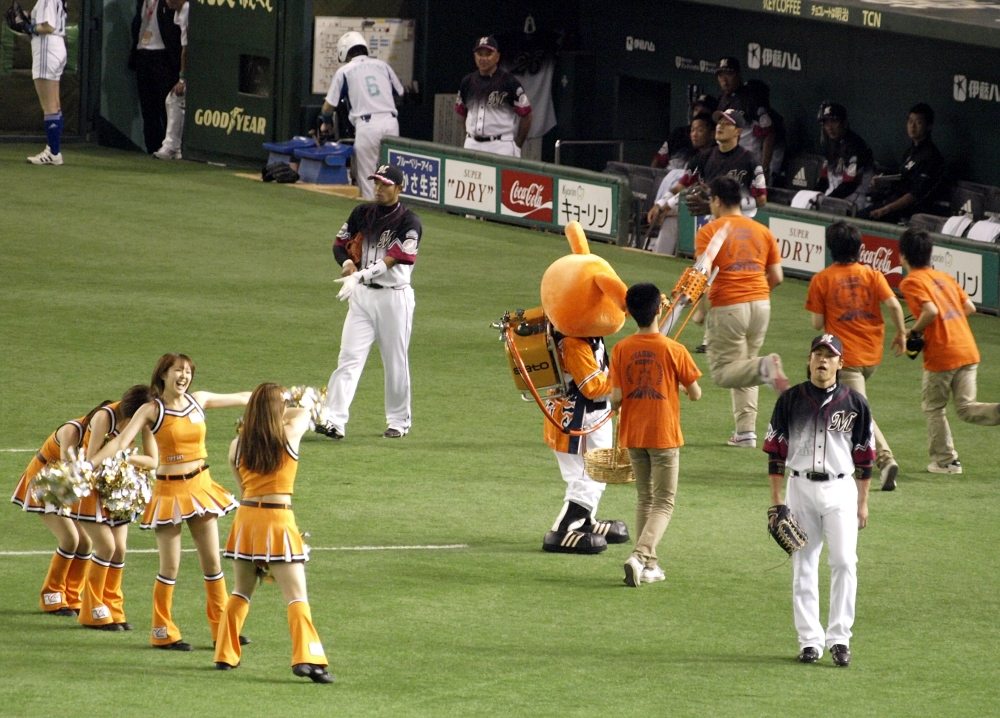 Yomiuri's Greisinger really put the muzzle on Lotte bats for the next four innings, sending down the side in order in the 3rd-6th innings. He did yield the first Lotte run of the game in the 7th on a double to Saburo, who was brought home with a timely hit from Imae. I suspect it was the power of We Love Marines inspiring the Lotte Fighting Spirit. 5-1 Yomiuri.
As the Giants sang their theme for their 7th inning, the Lotte fans booed heartily. It was completely classless and of course I was joining in as loud as I could. As I mentioned before, this blog is a 100% Anti-Giants zone, and that extends to game time also.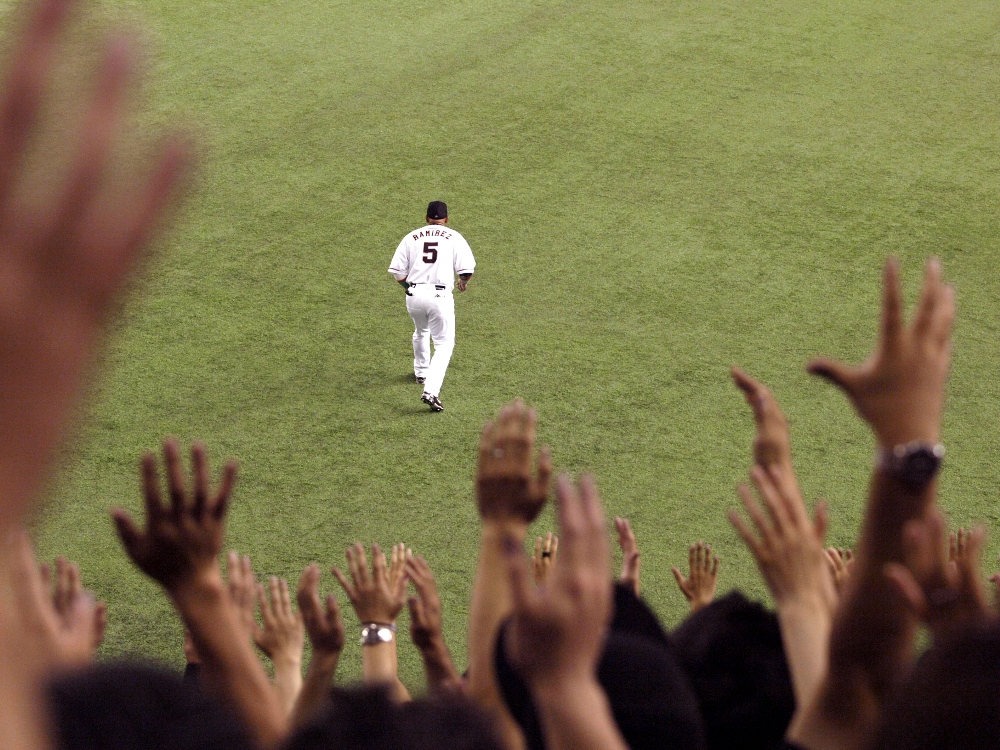 Yomiuri players tried to fight for their pride, getting two hits of Lotte reliever Kawasaki but ultimately scored no runs to keep it 5-1.
In the top of the 8th, Lotte struck back. Yamaguchi relieved Greisinger and promptly got jumped. Hori pinch hit for Hayasaka and got a single to lead off the action. He advanced to second on a wild pitch, and scored on a Takehara single to make it 5-2. Tsuyoshi pinch-hit for Ohmtasu and dribbled a ball to third which he beat out for a single. That was it for Yamaguchi, sadly, as Giants skipper Hara brought in Ochi to stem the relentless Lotte attack. Ochi did his job too well, inducing Iguchi into a DP and Sato into a grounder to end the inning.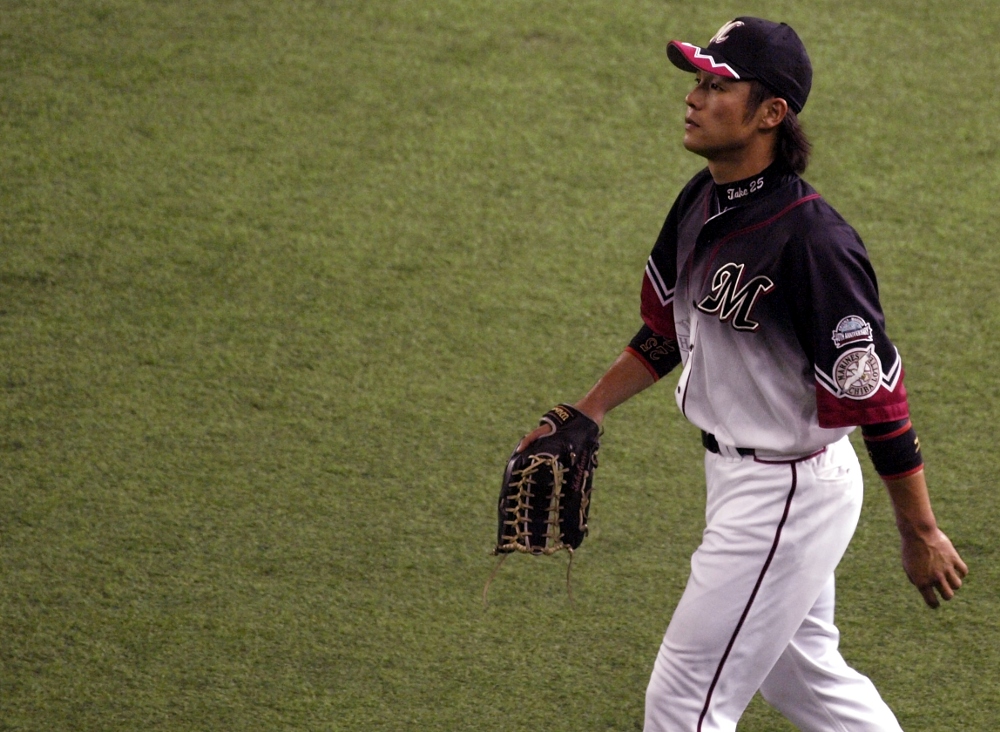 In the 9th Lotte couldn't really get anything going, so the game ended in a 5-2 defeat.
On the plus side, former first round pick Uchi made his first appearance at ichi-gun in three years and only his 20th in his career. He came in as a reliever in the 6th inning and pitched about as well as humanly possible – three strikeouts looking on only 10 pitches. Dominant. If he continues to pitch anywhere like that he'll be staying up for a while. Also in good news, Heiuchi was sighted warming up the outfielders by the dugout (though he didn't play). He took a pitch so hard off his leg on Thursday that he needed to be carried off on a stretcher, so it's good to see him not in a wheelchair. That's one tough hombre.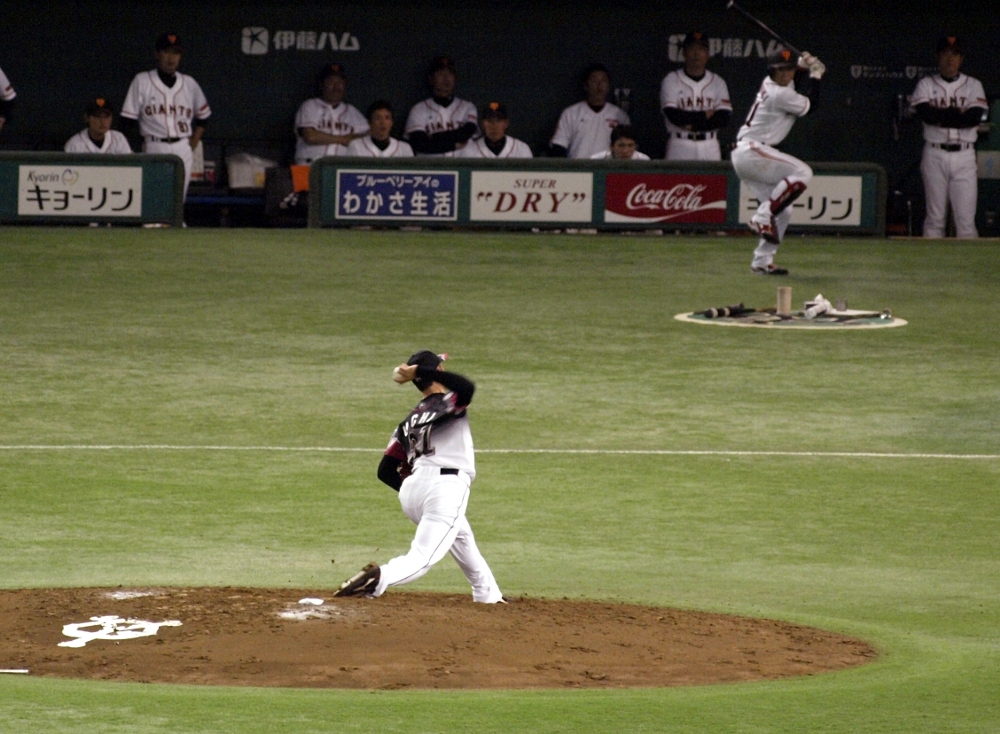 Interleague ends tomorrow with the final game between Lotte and Yomiuri. I don't want to give too much away, but I feel a huge Lotte win in the offering tomorrow. Of course, I am both biased and usually wrong, so make of it what you will.