I made a road trip last weekend to see our guys play at Koshien, home of the Hanshin Tigers. I haven't yet gotten around to writing up that trip (maybe tomorrow? How long have I been saying that?) but it didn't work out so well, either for the team or for myself as it was rainy and dismal. Lotte dropped both games to the Tigers, then beat up on Hiroshima 9-1 behind 4 HRs (2 by Iguchi) and a lovely 11-K performance by Bill Murphy. Still, Hiroshima bounced back the next night behind the great pitching of current Central League best pitcher Kenta Maeda.
We needed to come home.
Amidst threats of rain and still more injuries emerged some truly superb pitching, both by the starters and the pen, and Lotte finished off the visiting Yokohama Bay Stars via consecutive shutouts – 5-0 on Saturday, 1-0 on Sunday. That home cooking sure must have tasted good.
For Saturday's game I scored some nice field level seats but the lighting was just awful the whole game thanks to the heavy clouds in the area. I fought my camera settings all day and ended up going pure manual settings – still, I took my usual ton of pics (as you can see below), but it wasn't easy. For my fellow photo nuts, I brought an old manual Olympus 300/4.5 lens to the game and gave it a go. It's a manual focus lens, which isn't as bad a problem for action photography as you'd think as you can just zone focus and anticipate the action, but the low light made focusing very challenging. Still, I took a couple of decent pics – see the final three pics at the bottom of Saburo, Murata, and Tsuyoshi.
Anyway – back to baseball.
Game 1 was on paper not a great matchup – Bay Stars castoff Yuji Yoshimi pitching against his old team and perennial ace Daisuke Miura. The sneaky part of this matchup was that our Yoshimi – welcomed to the starting rotation thanks to injuries to Karakawa and Ono and ineffectiveness by Ohmine – pitched great in his first start of the season last week and Miura is now 36 and in the midst of arguably the worst season of his career. The Lotte offense had to compensate for the loss of Takashi Ogino for 2 more months – and believe me his absence has hurt mightily already – but as of late Tsuyoshi has been out of his frickin' MIND. He's up to a batting average of around .360, took a 22 game hitting streak (snapped on Sunday) and has an OPS just a smidge south of 1.000… from the leadoff spot!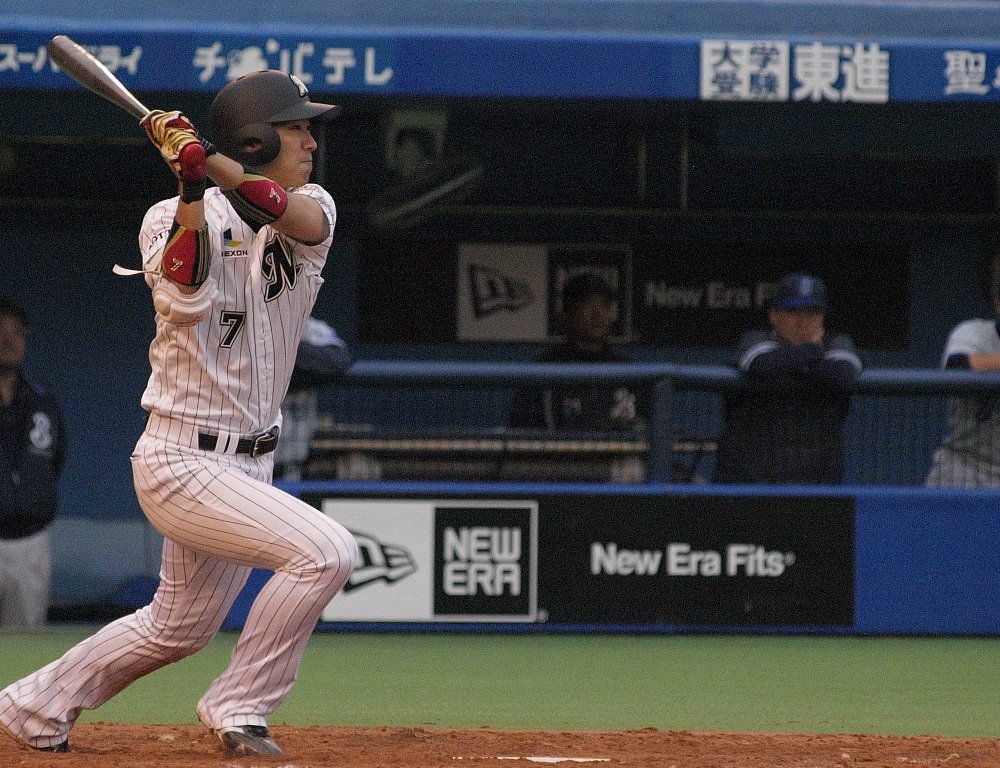 Yoshimi was just superb on Saturday. He really had the Yokohama bats confused all day. His outing was quite short – for some reason Nishimura pulled him after only 72 pitches at the top of the 7th – but in that time he gave up only 3 hits and no runs.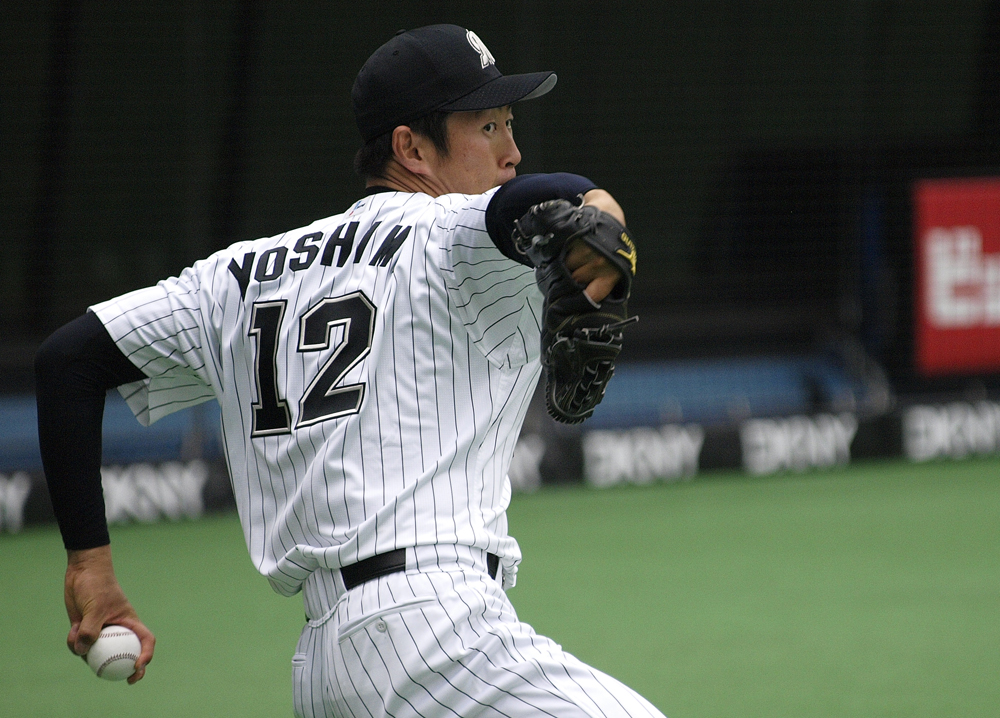 I think perhaps Nishimura wanted to give the pen some work as the setup-setup-closer combo hadn't been used in quite some time. Itoh struck out two in his one perfect inning of work while Yabuta gave up a leadoff single but struck out the side afterwards, and Kobayashi mopped up the 9th without giving up a run to seal the victory. As much as I run down Itoh (and believe me, I do all the time at the stadium) he's been quite good at holding a lead in these situations.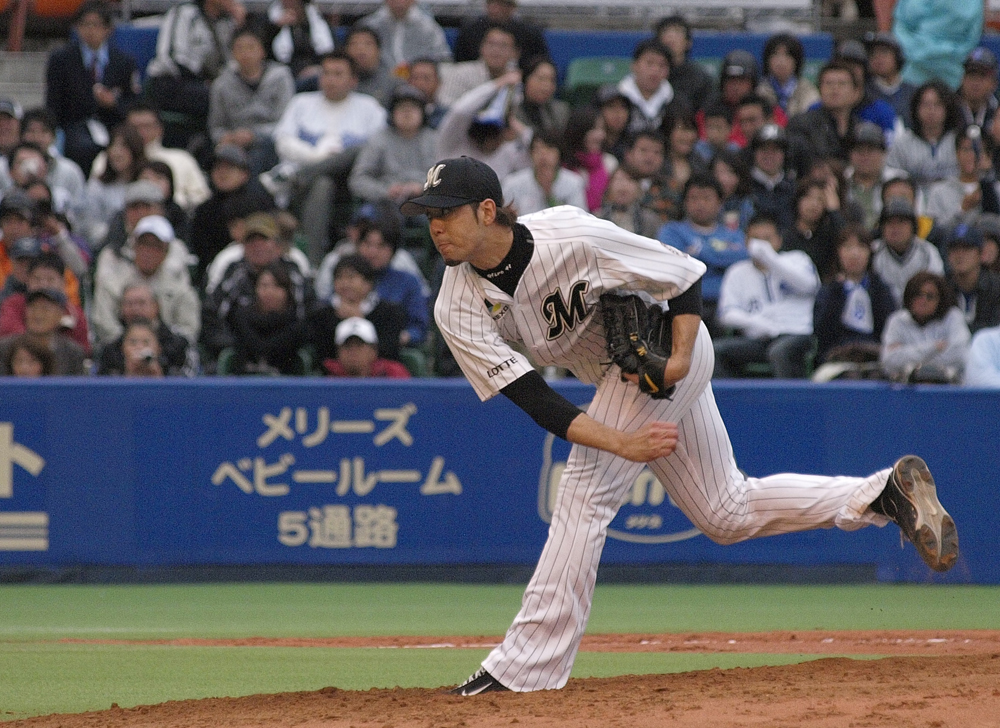 On the Bay Stars side, Miura certainly wasn't awful but he sure was worse than the Lotte staff. He loaded up the bases in the second on a walk, a single, and a bases-loading plunk of Satozaki. The stage was set for Imae – he pops one right at Castillo in right, but Castillo breaks the wrong way, and by the time he recovers the ball drops in at the warning track, 2 runs are in, and Lotte has a 2-0 early lead.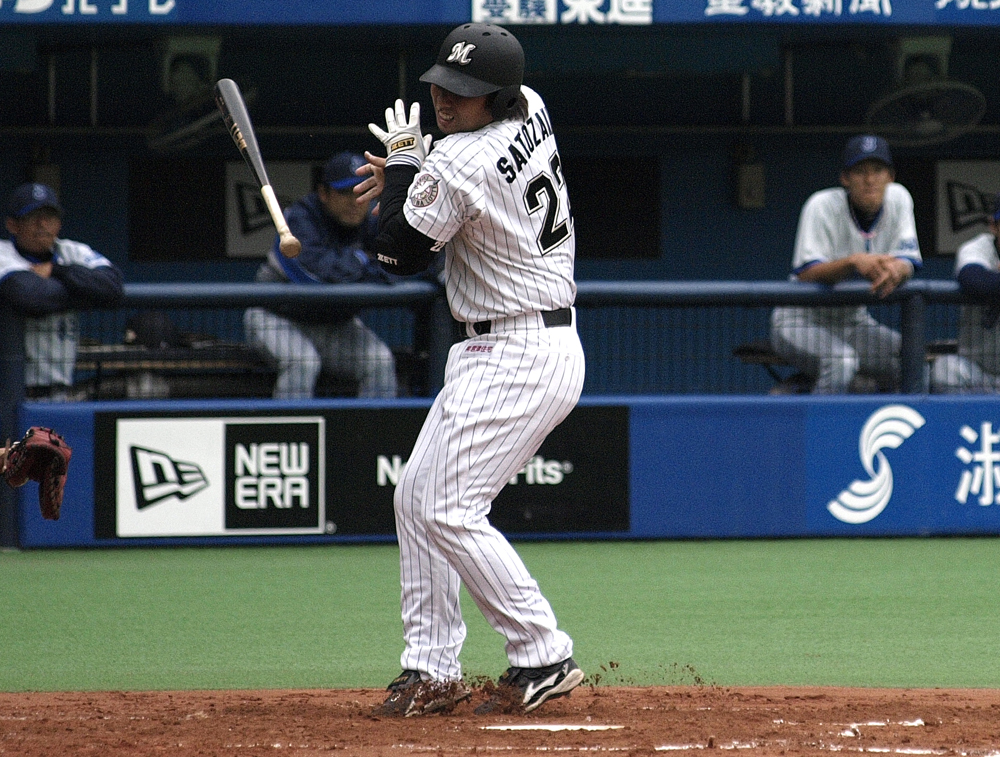 On a day he was honored for his 1000th hit, Saburo decided to stretch the Lotte lead a bit. In the 6th, he cranks a solo shot to make the score 3-0! With that, Miura is gone after the inning.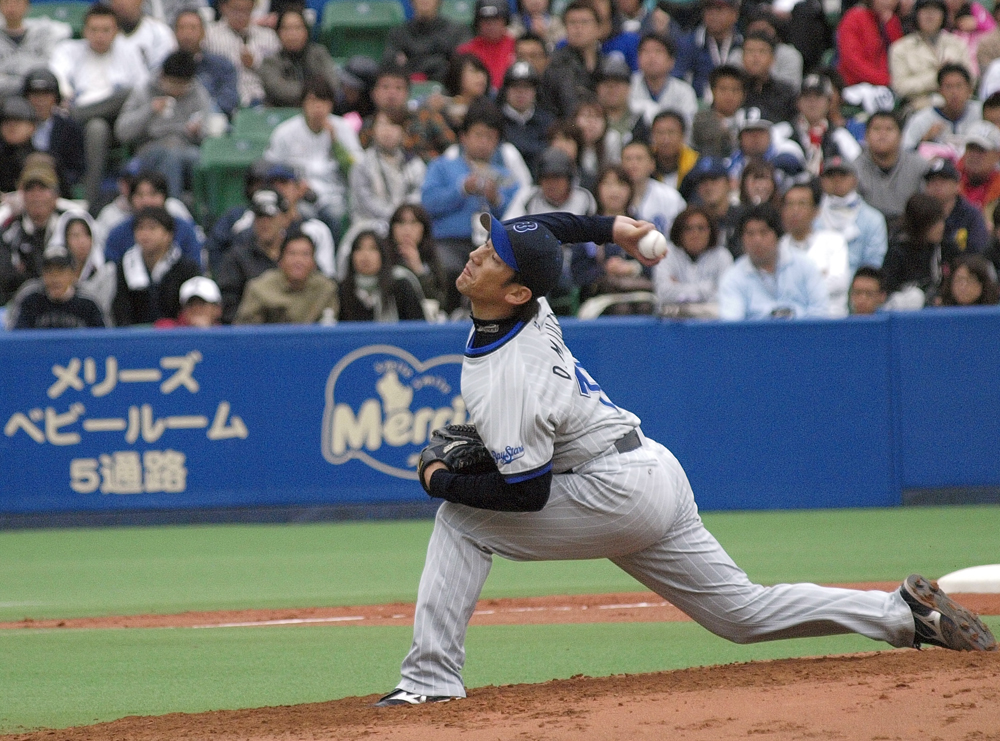 In the 8th, Fukuura continued his hot May with a big 2-run blast to right! This time there's no video controversy, just jubilation.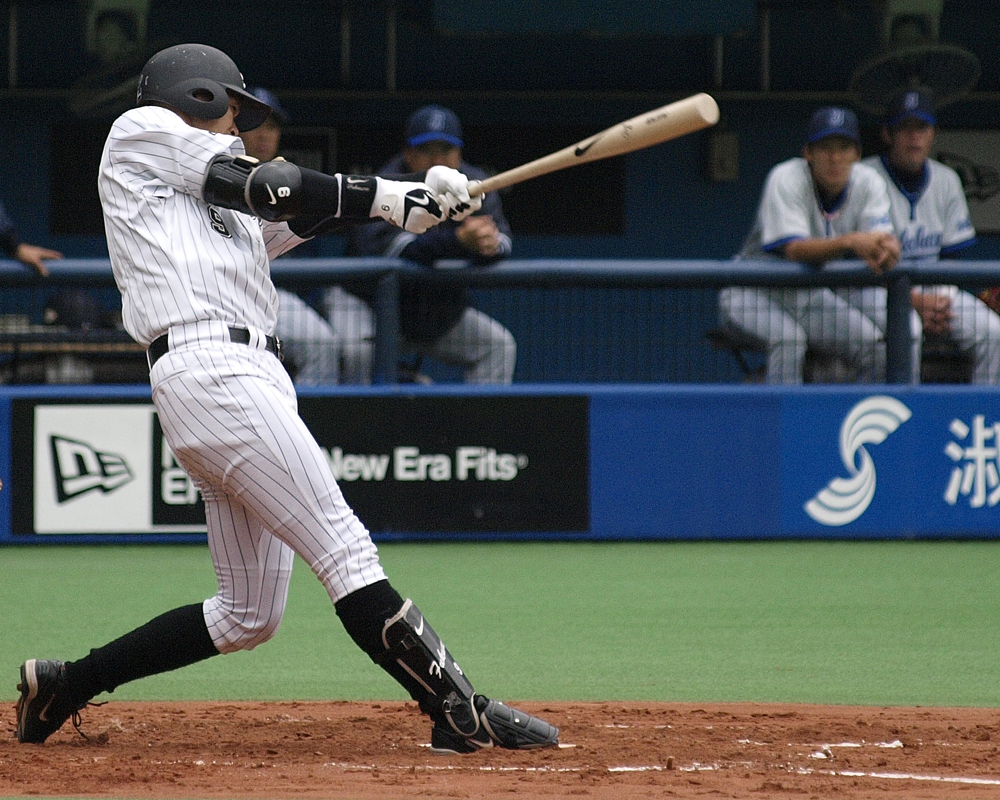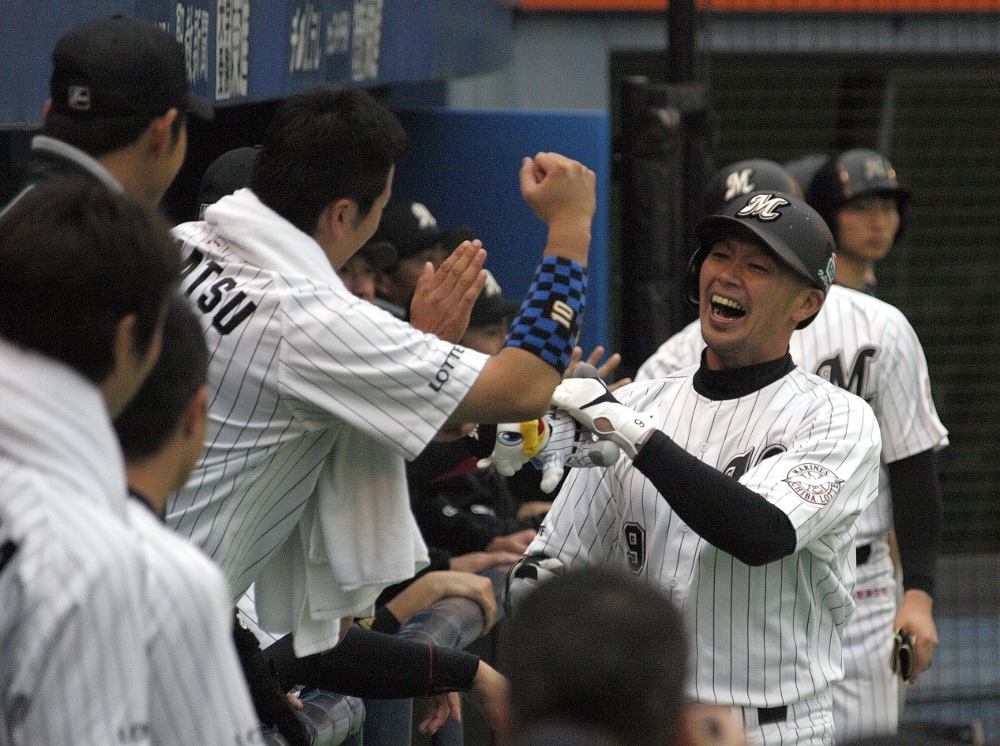 It looked like Tsuyoshi would have a hard time continuing his hit streak as of the 7th he had grounded out three times, but he got on in fine fashion with a 7th inning double. He added another hit and a stolen base in the 8th for good measure.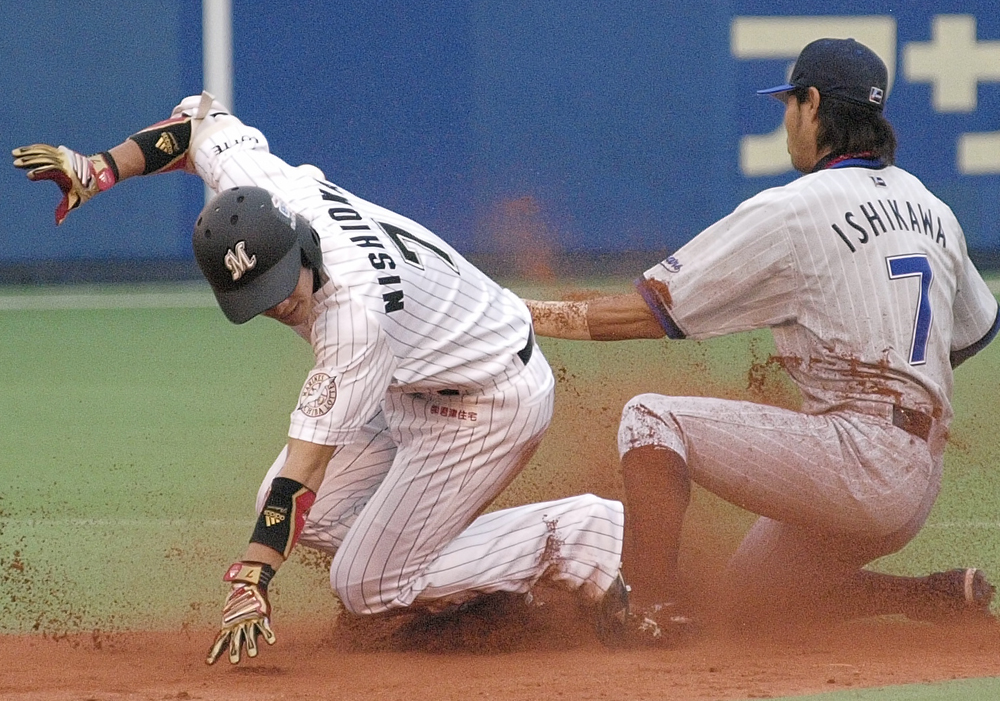 For Sunday's game, believe it or not I didn't so much as take my camera out of the bag. It was a much nicer day for photography but I was in the mood to just cheer – loudly – and enjoy the nice day. I ran into my upstairs neighbor at my train station, she was meeting a friend at the stadium so we chatted on the way there. I also met on the platform a guy visiting from Korea for work. He spoke excellent Japanese, much better than mine, and wanted to see how his countryman Kim Tae Kyun was doing. I was surprised that he knew so much about Japanese baseball, not just the Korean players in the league.
My neighbor asked me if I often sit in the field seats as I did on Saturday. I said "Nah, not really. Why, did you see me there yesterday?" "Yes, you were on TV." Of course I was. I'm up to a confirmed 6 or 7 times on TV this year and it's not even June yet…
Sunday's pitching matchup starred the inimitable Watanabe against Yokohama rookie Kaga, who quite honestly I wasn't familiar with at all (as I really don't pay attention to the Central league aside from the occasional Yakult or Hanshin game). Both pitchers were exceptional – Kaga went 8 giving up no runs on 4 hits, while Shunsuke was even better. He had a very dodgy outing last time out at Koshien (again, I need to write that up!) but on this day he had just brillant command of his pitches. I don't think I've seen him that strong ever, actually. He went 9 innings, gave up only 4 hits. He was perfect the first 3 innings and had only faced the minimum through 6 (thanks to a single/pickoff in the 4th). With both staffs so strong, it was inevitable that the game would be decided in bonus time – a super-sized game, if you will.
Yokohama got two baserunners on in each of the 9th, 10th, and 11th innings but thanks to the great pitching of Watanabe, Kobayashi, and Yabuta they were unable to plate anyone. The stage was set for the bottom of the 11th. With one out, Satozaki ripped a huge one deep into the right field stands for a sayonara HR! We just went CRAZY. The team rushed the field, the fans fell all over each other in glee, and we sang song after song after song. Great times.
So with that dramatic finish, Lotte and Yokohama finish their season series with Lotte taking all 4 games. The Marines are a perfect 6-0 at home in interleague play and are tied for the top of the interleague table. With Seibu's loss to Gomiuri on Sunday night we are also just 0.5 games out of first. Given the emergency ward look of the roster now, that's a great place to be.
Speaking of emergency ward – I've already lamented repeatedly the absence of Takashi Ogino. I also mentioned Ono (out for at least another start) and Karakawa (out for a few more weeks). This weekend we also got news former closer Tadahiro Ogino underwent surgery on his elbow (though he hasn't pitched this year anyway) and during this game Takashi Ogino's replacement, Hayasaka, apparently wrecked his knee when he tried to steal in the 4th. It was a pretty frightening play to see live – he went hard into the bag, was tagged out, and writhed on the ground in obvious pain until the stretcher came very quickly onto the field. It looks like ligament damage so he might be out for some time.
But the team is playing well as a team, so I believe they'll be able to overcome these injuries and continue to play strongly.
As I mentioned I took a bunch of pics, even with the crappy light on Saturday, so here's some more views from Saturday's action.