On Saturday, John and I drifted down to Chiba Marine Stadium for the first of 2 weekend clashes vs visiting Softbank. Going into this game we were one game ahead of the Hawks — coming out of it, we were tied.
The problem, same as all season, was the pitching. On the mound was the Marines's ace Shimizu. He got himself into trouble right off the bat in this one. After a ground out by leadoff hitter Honda Shimizu served up consecutive walks to the Hawks's Kawasaki and Matsunaka. He loaded the bases up by hitting cleanup hitter Kokubo, and #5 hitter Hasegawa made him pay with a 3-run double. Tanoue single directly after, and the Marines headed to the plate at the bottom of the 1st already down 4-0.
For this one John and I were sitting on the 3rd base side in a sea of Hawks fans. It's always a bit depressing to sit amongst a group of your team's opponent's fans, but we decided to compensate by cheering extra loud for Lotte!
Shimizu knuckled down nicely after the bad first, scattering 5 hits and giving up no more runs over the next 4 innings. He was pulled for the 6th inning, but the Marines had come back to tie the game at 4 by then.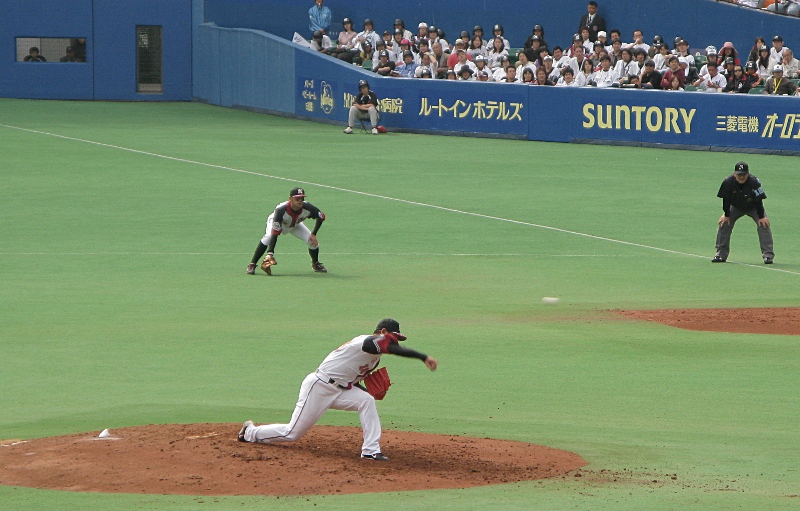 Saburo got the Marines's first run with a solo HR in the second. Iguchi drew Lotte closer with a 2 run jack to dead center in the 3rd, and Nemoto tied it with a sac fly to right in the 4th.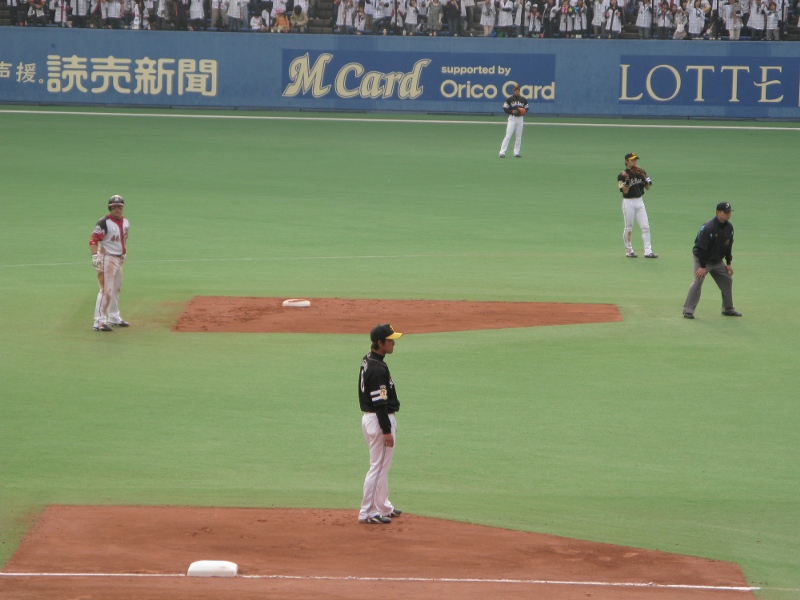 The score stayed 4-4 until the top of the 9th thanks to the great pitching of Komiyama, Takagi, and Itoh. Unfortunately, Kawasaki took the hill in the top of the 9th and promptly gave up 3 runs, effectively ending the game as Softbank could trot out ace closer Mahara.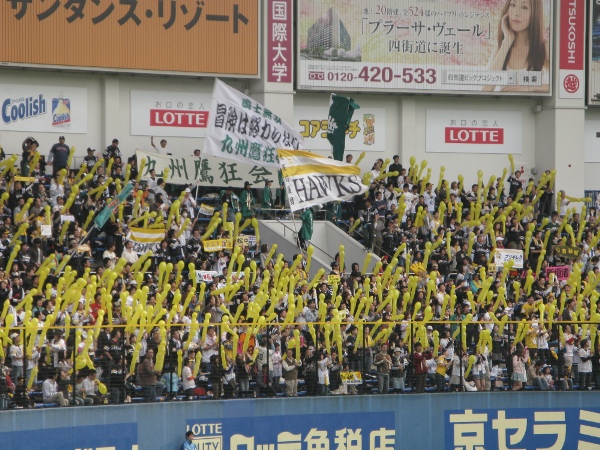 I have to say I groaned very loudly when I saw Kawasaki take the field. He's on the team so we have to use him eventually, and he's had two good seasons in 07 and 08, but he's been getting beat up more than the fat kid at recess this year. Don't believe me? Look at his stats through his 5 appearances through Friday:
5 app, 3.1 innings, 6 earned runs, 20 batters faced, 8 hits, 2 walks, 2 K's
Absolutely brutal. That's an ERA north of 16! It sure looks like he needs some extra work with ni-gun right now. I really hope he is just playing through an injury and hasn't lost something off his pitches.
Sunday is another day, and Lotte is still tied for 5th with the Hawks. Hey, that's all the positive spin I can muster!