Friday's first game in the Seibu-Lotte series was a washout (though for some reason various publications reported the score as 'Seibu 18, Lotte 0', which is a really odd thing to report for a rainout.  I guess we'll just look past it as if it never happened) so Saturday Lotte was looking to recover their winning ways from last week.  Storms rumbled through the area, lights had to be turned on in th 7th, but the rain held off – and the Marines held off the Lions for a 6-4 victory.
Shimizu took the hill tonight trying to use the same effective form he showed in last week's victory.  He was not nearly as effective tonight – 9 hits, 4 walks, and 4 ER in 6 innings of work – but he did enough to keep the team in the game and have a chance for victory.
I (mercifully) didn't have the chance to go to Friday night's game so Saturday's game was my first to visit in over a week. John and I got to take our normal outfield spots – I got reserved tickets because I figured a weekend series with Seibu would be quite full. It wasn't full at all, surprisingly – I suppose for reasons having to do with the weather. Still, the fans were in good form, cheering the team to victory. Unfortunately my camera battery was dead so I couldn't take any pictures of my own.
Lotte got on the board early with 2 runs in the first and a third in the second, but it could have been a whole lot more runs as the bases were left loaded both times. Seibu started Hoashi was very, very wild in the first especially – after a leadoff single by Benny and another single by #3 hitter Saburo, Hoashi walked Iguchi on four pitches to load the bases, and then walked in a run by walking Takehara on 4 straight pitches. Satozaki took two balls to start his at bat – 10 balls in a row – and the fans took joy at the possibility of another run on a walk. Satozaki knocked a slow bouncer to the infield which could have easily been a double play, but he really hustled down the line so the Lions defense could only record one out, and Lotte could score another run.
Lotte loaded the bases again in the second on a walk to Lambin (starting at short instead of Nishioka), another single from Benny (2-4 with a walk for the game to bring his average to .343), and a single from Hori (starting at second for his first game of the year). Saburo brought Lambin home on a single to left center, but that's all the Marines could manage in the inning.
As always seems to happen against the Lions, their powerful bats came to life. In the second the Lions made it 3-2 on the strength of a double by Nakajima (4-5 with 3 doubles), another double by Nakamura, and a single by Ishii. Seibu tied it in the 5th on a solo shot to left by Kuriyama and took the lead on another solo shot in the 6th by extremely light-hitting backup catcher Ginjiro (he of the .168 career batting average and 5 career HR). The Ginjiro HR actually bounced right next to where John and I were sitting, and the fan who caught it on the bounce was encouraged to throw it back, but to no avail.
Shimizu was pulled for the 7th inning for Kawasaki, who continued his May renaissance with another solid inning of relief. Itoh took over for the 8th inning and pithed well, as usual.
In the bottom of the 8th, Lotte made its charge, just as we knew they would. Walks to Iguchi and Satozaki got two men on, Tsuyoshi made an appearance as a pinch hitter for Imae (more on that on Monday) and almost hot a 3 run jack – smacking a really, really hard hit ball of the left field boxes. He got out on a fly ball, and Fukuura walked to load the bases. Chase Lambin sent the crowd into a frenzy with a huge smash off the top of the left field fence scoring two (and narrowly missing a grand slam). Lotte scored another run on a passed ball to Benny and ended up the inning with a 6-4 lead.
Ogino came in to settle things in the 9th, and he did so in typical fashion, shutting down Seibu, preserving the win for Itoh, and sending Lions fans home to cry in their tea.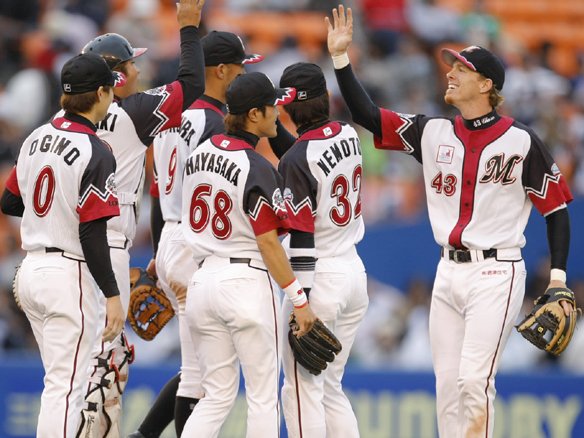 Chase Lambin got the hero interview, and danced a happy little dance as the ecstatic fans sang his ouenka in his honor. I dance a little dance myself, bouncing up and down while singing with the MVP guys in right. A good victory in a well-played, fun game to watch.