After Tuesday's extra-inning heartbreaker and yesterday's tantalizing-comeback-that-fell-short Lotte entered tonight's game needing a strong performance to avoid their second straight series sweep at the hands of Orix. Would Marines ace Shimizu Naoyuki (0-2 with a 9.20 ERA in '09) be able to shut down the power-hitting Buffalo bats? Would the erratic Lotte offense be able to muster enough clutch hits to bring a victory to the beleaguered fans?
Yes, and yes!
A well-pitched game where both teams scratched for runs went to 11 innings tonight, and was won on a towering 3-run Sayonara blast to center by the none other than Mr Clutch himself, Marines 2B Iguchi.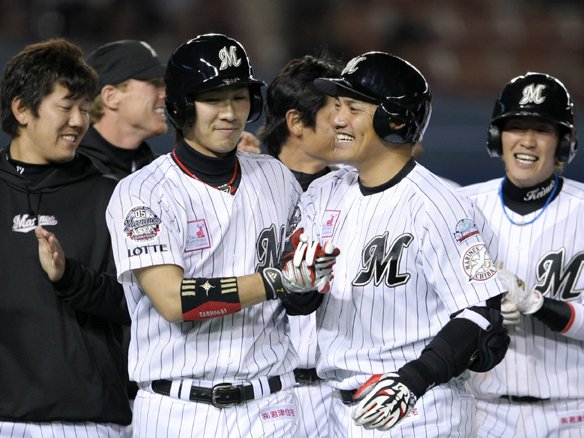 Shimizu pitched quite effectively in this one, not giving up a hit until the 4th and only allowing two runs, only one earned, on 5 hits (though with 4 walks) through 8 1/3 innings and 121 pitches.
Third baseman Imae got the scoring started in the bottom of the 2nd with a 2-out double to center scoring Satozaki from first. Imae got caught trying to stretch the double to a triple and was tagged for the third out. Orix tied it up in the 5th on Tsuyoshi's error and went ahead in the 6th on Shimoyama's leadoff HR to right.
Lotte wasn't done scoring, though – Hashimoto was brought in to pinch hit for Takehara in the bottom of the 8th. After a single to left, Hayakawa then pinch ran for him and was sacrificed to second by Imae. Gary Burnham Jr, pinch hitting for Chase Lambin, stepped to the plate and smacked a liner to right on a 3-1 pitch to tie the game. A single by Benny (who was 2-5 in the game) put runners at the corner and gave the chance to go ahead, but no further damage could be done.
Sikorski closed out the 9th for Shimizu, and Itoh battled through trouble in the 10th and 11th to set the stage for Iguchi's heroics. Fukuura lead off the bottom of the 11th with a single and Tsuyoshi followed suit with another. Iguchi then absolutely crushed a 1-1 pitch to the deepest part of the park to send the fans into a frenzy. It's the 4th Sayonara victory at home for Lotte this year in 6 wins total, and the second on an extra-inning Iguchi blast. That's a trend I could live with.
How good have the Marines's off season acquisitions been so far? Lambin hasn't had much playing time so far, but both Iguchi and Burnham Jr have been unquestionably great to this point. Iguchi batted .373 with 4 HRs and 19 RBIs in April, and Burnham Jr is batting .421 with a HR and 6 RBIs in only 38 ABs. His OBP is well north of .500 as well. Check out Burnham Jr's last 5 games:
25 April – 1-1
26 April – 2-3 with 2 RBI and 2 BB
28 April – 1-3
29 April – 2-4 with 3 RBI and an HR
30 April – 1-1 with an RBI
That's 7-12 with 6 RBI and an HR. What a tear! What a nice victory for Lotte today!
As a side note – a banner in the outfield tonight read "26 WAKE UP". The battle continues?