It's the top of the third of Monday's holiday day game between the visiting Fighters and the Marines. I'm going to try a little live blogging of this one to give my impressions of the game as it unfolds.
Lotte is trying for its first win against the Fighters this year – the Fighters took the first two games of the season in the second series of the year back in the second week of April. Back on the hill for revenge is Ohmine for the Marines, who gave up 7 runs in a no-decision in the first series.
Ohmine has gotten off to a really bad start in this one – he gave up 3 runs on 3 walks and two hits in the first. In the second he gave up a fourth run to put Lotte in a 4-0 hole.
15:10 – In the bottom of the second, Lotte gets closer to even with a walk by Iguchi-senshu, a second walk by Ohmatsu, and a 3-run line drive HR by Imae into the left field bleachers! It's only Imae's second HR on the season, and couldn't come at a better time.
15:20 – Ohmine-senshu had a much better top of the third, retiring the side in 3-up, 3-down fashion.
15:45 – After a scoreless frame for Lotte in the bottom of the third it's all gone pear shaped for Ohmine in the 4th.  He got repeatedly shelled but the Fighters bats – 2 leadoff walks led to a 2-run double by Morimoto, an RBI single by Sledge, and Ohmine getting pulled for Komiyama.  He proceeded to give up a RBI double to Takahashi and make it 8-3.  Obviously, not good.
16:00 – Lotte gets back on the board in the bottom of the 5th.  Chase Lambin led off with a double to right to lead off.  He was sacrificed to third on Hayakawa's grounder and brought home on Burnham Jr's single to center – "Shin gaikokujin combo!" yelled the announcers.  Tsuyoshi walked next, and Iguchi lined to center to load the bases.  Hashimoto brought home Burnham Jr on what looked to be a sure double play ball, but he beat out the play at first through pure hustle.  The play couldn't have been closer – and unfortunately Hashimoto goes out injured and is replaced by Satozaki.  Saburo had the chance to bring home more but grounded to short to end the inning.  It's now 8-5 going into the 6th.
16:20 – Unfortunately, the hits keep coming for Nippon Ham, too.  Inaba just clubbed aHR down the right field stadium entrance to make it 9-5.  Komiyama is chased, and in comes the resurgent Kawasaki.  It's almost time for me to stop making fun of Kawasaki – after his scoreless performance last night his ERA is now south of 10!
16:40 – No more scoring to this point.  Kawasaki has now gone 1.2 innings without a run (with a hit and a walk). Nice performance so far – maybe his season is turning around?  Now if only the bats would come around today to get us back in it!  Lambin did have a triple in the bottom of the 6th, but nothing came of it, unfortunately.
16:50 – 2 hits in Lotte's Lucky 7, but no runs.  Deep fly balls from Saburo and Iguchi, but the wind is strongly blowing in, so not much chance to go out.  Need some timely hits!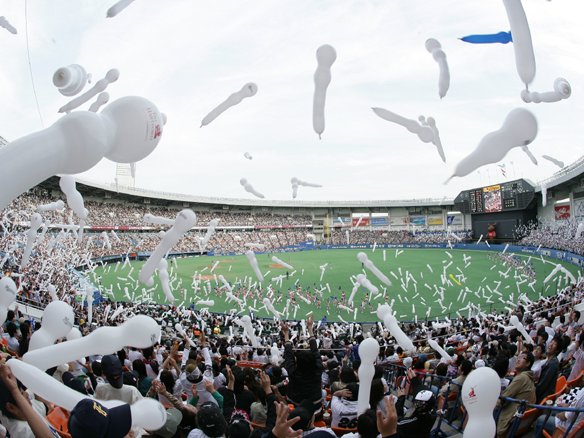 17:05 – Another run by Nippon Ham, coming on a bases loaded sac fly.  Pretty high comedy at least – Takagi came in to relieve Kawasaki, walked Koyano, and then plunked Sledge on the right arm.  Sledge took a few steps toward Takagi as the benches emptied.  I'm not sure what Sledge was trying to accomplish – he was cramping the plate and the 23 year vet backed him off.  Sledge is a beefy guy guy Takagi looks like he could definitely take him in a fight.  Alas, we didn't find out for sure.
17:28 – 2 runs in,thanks to a timely double by Burnham Jr, but Iguchi leaves 2 men on with a grounder to third to end the inning.  It goes without saying (though I will anyway) that that's a chance we're likely going to regret letting pass.  10-7, going into the 9th – and Ogino comes in to pitch!  Fukuura takes over for Burnham Jr at 1st.
17:45 – Two hits off Fighters closer Takeda, but again no runs.  That's a 10-7 Fighters victory.  Lotte had numerous opportunities to pull ahead in this one but couldn't get it done, despite outhitting Nippon Ham in this game.  We're now 10-16 on the season, still 6 behind Rakuten.  The team really needs to put together a run and get back in this!