Last week certainly was a week to forget – a rainout in Sendai, losses at home to Orix and two to Daiei, and a Tokyo Dome loss to Rakuten. Thank goodness for the win in Koriyama!
Lotte really only got manhandled in one of the games, the loss to Rakuten on Tuesday. I didn't get a chance to go to that game as it seemed sold out ahead of time (though apparently it wasn't) and I was going to make a little 2-day Koriyama/Sendai swing (good thing I didn't) but I did catch the bookend games of the week, Sunday's heartbreaker to Orix and the weird loss to Daiei on Saturday. This last week was certainly nothing to get too upset about, as the week before was a 5-0 week and Lotte still sits in first as April runs out of gas. Not so bad, eh?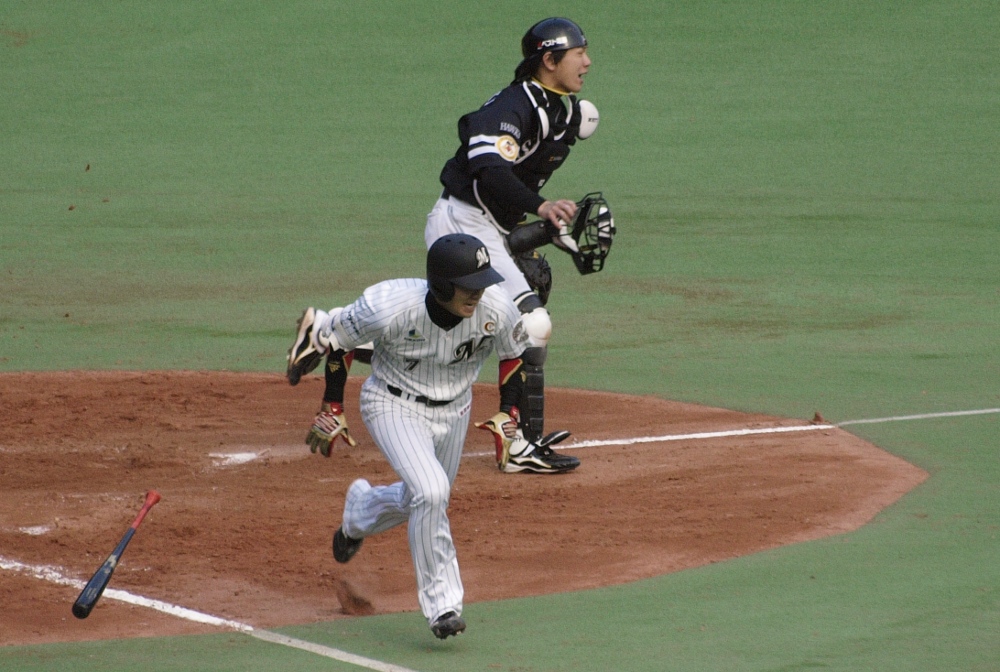 Some trends are bothering me a bit – the main one is Kim Tae Kyun's issues in the cleanup spot. He's played nice defense and is second in the league in walks (Iguchi has a considerable lead) but given the OBP of the guys in front of him – Tsuyoshi at .393, Ogino at .368, Iguchi at .508, and if you want to roll it to the 9 spot, Imae at .362 – he's only got 18 RBIs on the year (and 2 HRs). If this keeps up he's going to have to move down in the lineup.
Take Sunday – down 3-1 in the 9th Ogino smacks a double to score Tsuyoshi and make it 3-2. Iguchi draws a walk with two outs, Tae Kyun has a great chance to tie or even win the game, and he hits a weak liner to short to end it. Hmm. Saturday – 4th inning, 2 out, bases juiced. Tae Kyun hits a pop to second. 6th inning, one out, bases loaded again. Tae Kyun hits a deep ball that stayed in easily (but did score a run). He's second in the league in Ks (he had three on Friday). As successful as the team has been this year, I can't help but wonder how much more successful could we be if we had some pop in the 4-spot?
One who has not been slacking off is Ogino, who continues to terrorize catchers once he is on base. But here's my other complaint: since he's batting second and Tsuyoshi has been getting on at a good clip, Ogino has been asked to sacrifice far more than anyone else in the league – he has 15 sacrifices already this year. With a guy batting .327 with super disruptive speed (12 steals) , do you really want to take the bat out of his hands like that?
I've been talking up Ogino all year, and on Saturday he has a sequence that showed yet again why he's such a dynamic playmaker. In the third Ogino reached first on a fielding error by Kawasaki. I, my friends, food vendors, everyone knew he was going to try to steal. Sure enough, early in Iguchi's at-bat he's off. Yamazaki knows he has to get it there quick; you can see how well he did with that in the banner pic. Ogino tears into third, with big bat Iguchi at the plate a run seems sure. But Iguchi grounds a reasonably hard hit ball to Kawasaki at short. Ogino makes his break on contact; Kawasaki is coming home with the throw. Not even close, Ogino turns the earlier error into gold. How great is that?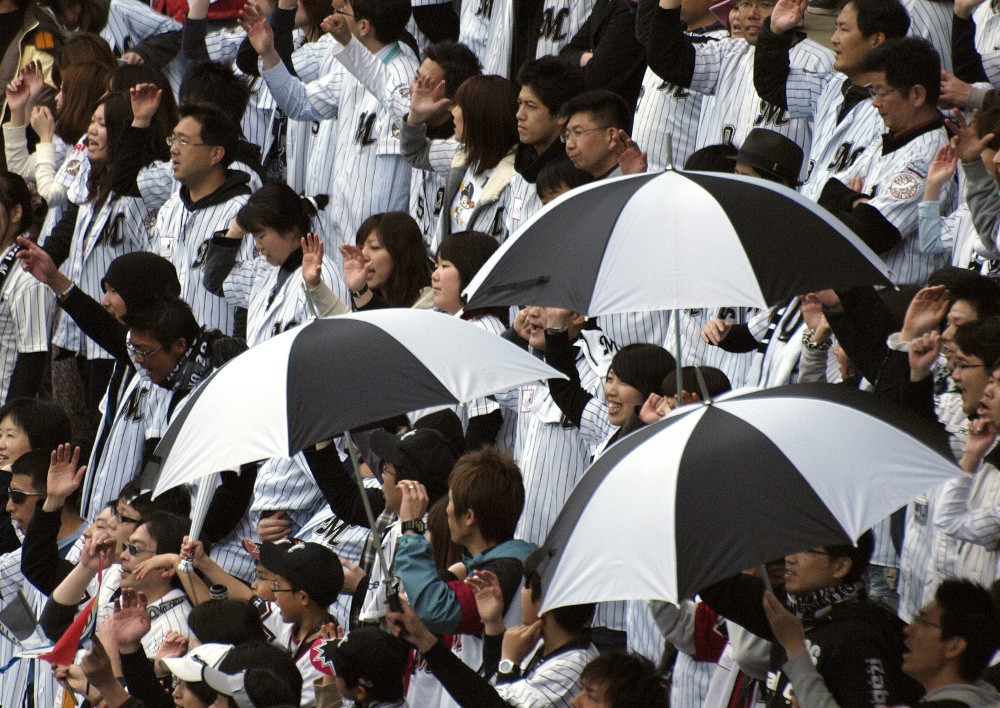 Naruse took the loss on Saturday but I really don't think it was his fault. He gave up a game-tying HR in the 5th to Tamura but was victimized by weird defense. With a man on Matsuda hits a smash to Imae at third, but the ball caroms high off the bag where Imae can't make a play. It should have been a DP, but instead it's two on, nobody out. Hasegawa singles to load the bases and Naruse gets Yamazaki and Kawasaki to strike out to get it to two outs. Even though there are two outs and the bases are loaded, and even though Naruse is a fly-ball pitcher, the outfield is playing way in, as if they were protecting against a single in the bottom of the 9th. The predictable happens, Honda lofts a ball over the very, very speedy Ogino's head for a three run triple. I bitched about that alignment for the rest of the game, but if the outfield is playing normal depth at that time the inning is over. Fitting end to the week, perhaps.
I didn't get a chance to go to Sunday's game but I did watch it on TV. Ogino was our first round draft pick in 2009, Sunday was our second round draft pick's chance to shine. Kawagoe got the start against Daiei but had to leave in the second due to injury. In comes our rookie pitcher, Tomohisa Ohtani. He pitches 3 1/3 in emergency relief in only his second appearance in ichi-gun (his first was only on Friday) and pitches well enough to get the 5-3 win.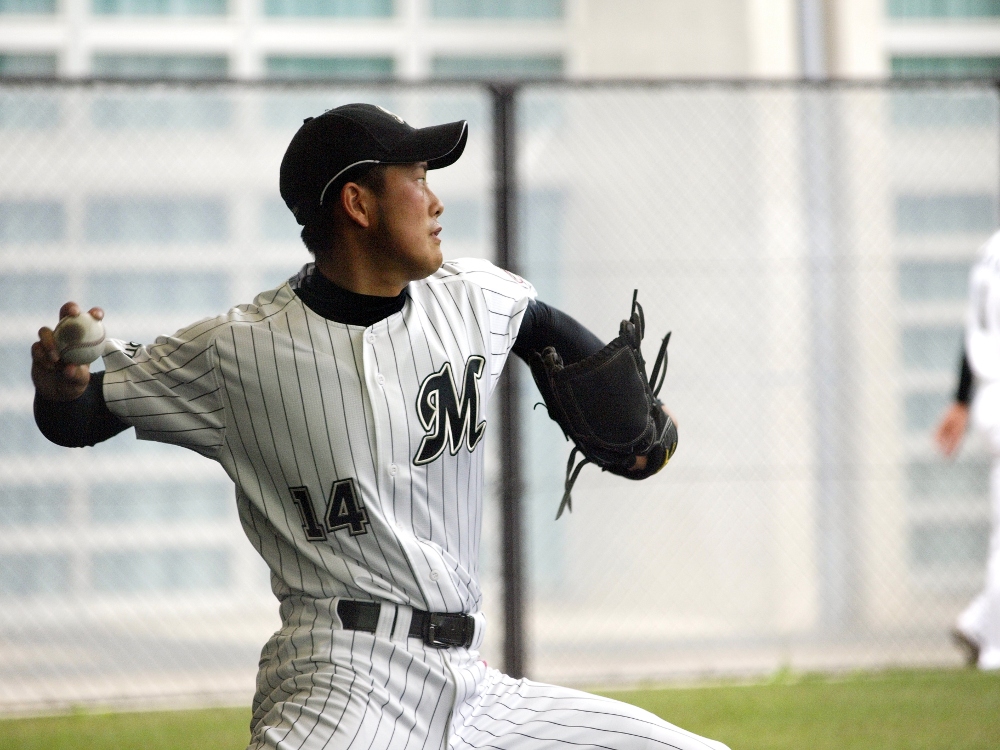 So it's easy to forget last week with a nice start to this week like that. Lotte is off on a 6 game road trip starting Tuesday in Seibu. The Kitty-Cats have played very solid baseball lately and sit only one game back in second. A nice road series solidifies the Marines position at the top of the Pacific League.