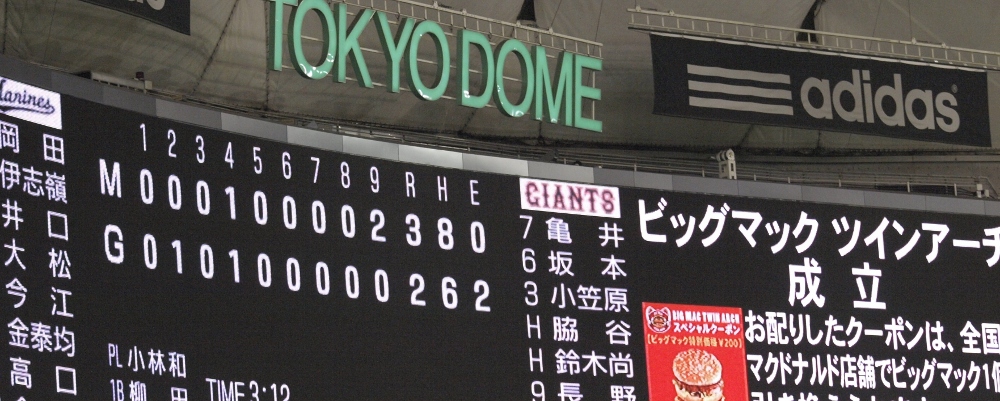 This week Lotte went to Tokyo Dome to avenge the loss (and tie) against the Kyojin at Chiba Marine Stadium Field presented by QVC. It wasn't the most elegant of set of victories but victories they were, as Our Marines came back at the last possible moment in both games to sweep the 2 game set. After a craptastic start to the interleague season Our Marines have found themselves on a nice little roll.
I couldn't make it to game one so I watched (most of) the game on TV. Tomohisa Ohtani was on the hill for his third start of the season, and much like the first two he pitched great but came away without a win*. 7IP, 6 Ks, no walks, only a single run off a first inning Ramirez double (more on him in a minute).
*It sounds a bit odd but there's something a bit Karakawa-ian about Ohtani – odd because Karakawa's a full 4 years younger but is the veteran. Great control (5 BB in 32+ IP), doesn't give up homers, doesn't make huge mistakes, and absolutely rotten luck. Karakawa couldn't buy a win in 2009 (and has had better, but still bad luck this year with that) despite pitching solidly. Ohtani now has given up 3 ER in 18 2/3 IP as a starter and not only has he not won a game, he's 0-2. Not fair, man, not fair!
Lotte snagged a run back off a bases loaded 1-out single from the warming-up Fukuura to tie it up. Ohtani, Uchi, and Yabuta kept the Giants from making too much of a charge but the offense couldn't break through. A great chance was missed when Lotte loaded the bases in the top of the 9th thanks to walks by Satozaki and Okada and an infield single by Ishimine (2-5 with a stolen base) but Iguchi flied out to end the opportunity.
The game went to the 10th where the scorching hot Ohmatsu led off with a double. Minami is in to pinch run – a sacrifice bunt and a walk later; Kim Tae Kyun at the plate, and he crushes a liner to deep center! Chono (grr) makes a fantastic catch to prevent two runs from scoring, but not one run as Minami tags and scores easily. Yabuta pitches his second inning in perfect style to save it – a 2-1 Lotte win, their third in a row!
I did manage to make it to game 2, and it was a cracker of a game. I was slack about getting tickets for the game (always a mistake if you want to sit in the outfield for a Lotte game at Tokyo Dome) but fortunately my buddy Taka came through with a seat. As I was running a bit late (I thought) for the start of the game I fairly sprinted between Tokyo-Keiyo line and Tokyo-Marunouchi line*. Turns out I didn't need to, I made it to my seat fully 45 seconds before the first pitch.
*I'm still amazed with how they can get away with calling those two stations the same station. They are almost 1km apart!
Another great pitching match-up on Wednesday, for us. Naruse (our best) vs Tono (their worst this year). Naruse was more than a little bit shaky his last outing, though.
We're really into it early on, of course – the jam-packed road outfield stands always brings out the loudest in Marines fans. Tono is really into it too, he retired the first 11 Lotte batters before allowing a runner – a walk by Iguchi. Naruse had gotten into trouble at this point – trouble in the form of one A. Ramirez. Leading off the second Ramirez pretty much committed a war crime against a Naruse offering. The ball went screaming straight over my head* for the first run of the game. Chono followed up with a hit of his own, and Abe belted a liner deep into the right field gap. Okada and Ishimine gave chase, Ishimine pulled back as he wasn't getting it but Okada plowed hard into the wall and made the snag, definitely saving a run. Wow. (Video at the end of the post, for narrative reasons 😉 )
*I had no doubt from the second it left the bat that it would be screaming straight over my head. I was in the 7th row and I didn't make a move to prepare myself for a potential ball arrival. It was 20-30 feet above my head and would have kept going for hundreds of more feet had it not been for the concrete back wall.
The walk to Iguchi looked like it could open the flood gates – Ohmatsu drew a walk right after Iguchi and Imae stroked a sweet double to bring home #6. KTK flied to center, but not deep enough to make it interesting – 1-1.
I've mentioned it before but the Tokyo Dome outfield is the flimsiest outfield around. You've never seen so much flex in concrete as the in floors under the seats. When we bounced bounced bounced (as we are prone to doing) it felt like walking on the Tacoma Narrows bridge as it collapsed must have felt. And they are saving energy right now (a good thing) by not really air conditioning the place (not a good thing). By the end of the game everybody I saw was fairly drenched in sweat. They were also saving energy by keeping the lights so dim as to make photography impossible. I don't mind this at all, actually, though I did bring both my compact camera and my big SLR. I gave up on the SLR really quickly when I could only get 1/100 at 1600 ISO. OK, enough camera geekery.
Big Mr Smacky-Smacky Ramirez was at it again in the 4th – he belted a Naruse pitch above my head again, this time into the upper deck. If you saw the HRs on video you might not believe me based on where they ended up but the first was a much bigger shot than the second. That's not to say the second wasn't big, that was in praise of that monster shot in the second inning.
Our Marines kept getting to Tono but could plate anyone. 2 runners in the 5th, 6th, and 8th but no runs to show. Ohmatsu continued his torrid hitting with another double and a single. Iguchi and Ishimine couldn't get anything going at all – yet. Naruse settled down a bit as well, basically keeping runners off the basepaths thanks to some truly fantastic glovework from the Lotte Nine. Okada had two more gems – one that we fans in left couldn't see at all because it was right on the wall, and another in the right center gap. Here's the video (pointed out by Gen at Yakyu Baka):
Very sweet. We went oh-so-crazy. He doesn't have the biggest bat but damn if he doesn't have one of the best gloves you'll ever see. Because I wasn't posting earlier in the season I didn't post this other catch he made. It's a bit out of context now but I could watch it on infinite loop, I think:
How many CFs even get to that ball, let alone catch it?
Giants Lucky 7 – the Lotte fans were well prepared with venom. Most everybody booed as the Giants' flag was raised, and quite a few middle fingers were flung aggressively towards right. I was booing too, of course, and I was getting my camera ready to take a video…. aaand it didn't record. Maybe next year.
So it's the 9th. We're still down 2-1, and we are riled up. We want to beat the hell out of these Kyojin and take the season series 2-1-1. Satozaki is up first – he laces one to left, yeah! Minami comes in to pinch run, which is not good as Matoba started the game so we're out of first and second string catchers. Masato Watanabe is in for Naruse, but he's just called on to drop a sac bunt. He does, right back to Giants pitcher Albaladejo, who fumbles it, flips it – right into right field! Watanabe – safe. Minami – safe, and at 3rd! Okada is up – it's the best chance you can ask for. We have the chance theme going good and strong, really strong. Okada chops one back to Albaladejo. He fields it – Minami is holding at third, Albaladejo flips to second and Minami bolts for home. The play is coming to the plate now; it looks like Minami will make it easily. Abe gets the ball, Minami is iiii- out. Crap. It REALLY looked like he was in. And of course there were no replays to be found online….
That let the air out of the balloon big time. From runners on the corners and nobody out to runner on first, two out. It's Ishimine's turn. I mentioned before he's got a new song now. It's great! It's based on one of my favorite songs (though it took me 10 listens to pick it up), "Shimanchu Nu Takara", a classic from Ishigaki-based Begin (Ishimine is from Okinawa). Here's us singing it at Tokyo Dome:
So we get that going. Ishimine hasn't done anything yet tonight, though as I mentioned the night before was solid and of course he was the hero of Sunday's Carp game. What can he do? How about crush a liner right into us Lotte fans! Yeah, he can do that! 2 runs in, Lotte comes back from near-defeat to take a 3-2 lead!
Man! I LOVE this guy!
We scream until hoarse and sing every song we got. The happy song comes out, rare before the end of a game. Heck, we tried to sing the original "Shimanchu Nu Takara" complete with everyone swaying back and forth. How could it get any better? Oh yeah, they announce due to a special promotion from McDonalds everyone gets a free Big Mac as both teams hit homers. We had a cheer for that, too!
Dum-DumDum-DumDum
Bi-gu Ma-ku!
Dum-DumDum-DumDum
Bi-gu Ma-ku!
Dum-DumDum-DumDum
Bi-gu Ma-ku!
Ronald McDonald gets his own ouenka courtesy of the Lotte gaiya. Omedetou!
Yabuta comes in to close it out, though everybody knows it's already over. Funnily enough as part of the Big Mac promotion they tried to show some families enjoying the game, but the cameramen put the lens on a family of Giants fans that collectively looked like someone stole their Big Macs. They should have shown some Happy Lotte Fans!