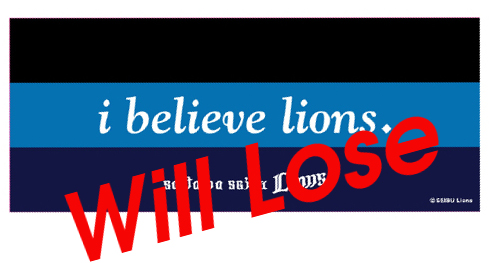 The Pacific League Climax Series First Stage games featuring Our Men of Lotte versus the despised Seibu Lions take place this weekend, 9-11 October, at Seibu Dome (or, as Deanna calls it, Seibu Dump). All games are at 13:00 and are hopelessly, impossibly sold out. I think they must have sold out in minutes.
I managed to get tickets to the first game through the magic of auctions (shh!), but my was there a premium on the tickets. The nice thing is the Marines have arranged for a public viewing of the game at Chiba Marine Stadium on the game days. Here's the info (in Japanese).
I suspect there will be quite a turnout given the feverish nature of a rabid fanbase that hasn't sniffed playoff action in three years – plus, it's a holiday weekend. The gates open at 11:30, seating is first come, first served, and there will be food and drink vendors. I'm planning on going to the public viewing for Sunday's game if anyone wants to meet up! I'll be at Monday's game in the outfield if we haven't broken Seibu's will in two games.
I'm a silly optimist, but last time we went to the Nippon Series we played Seibu in the first stage and went on the road to bead Daiei in the second stage. Sound familiar?