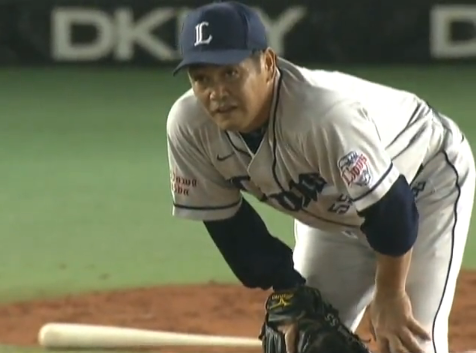 It's really quite nice that a successful organization like the Seibu Lions allows older folks to work with the younger crowd, and in critical positions, too! I especially like it as a Lotte fan – nothing like a 47-year-old reliever, released last year after YOKOHAMA thought he was washed up, coughing up a fat pitch to cushion the pain of blowing a 2-0 late inning lead.
And that's just what just what Kimiyasu Kudoh did – I thank him heartily for it.
The story: Shunsuke Watanabe pitched 6+ innings of 5-hit shutout ball and left with a 2-0 lead (earned thanks to an error by Seibu starter Ishii and a run-scoring single by scorching hot Iguchi). Shingo Ono took over for The Low-Throwing One and mopped up the 7th by getting a DP ball, but got rattled in the 8th to the tune of 2 runs on 3 hits and a HBP, only getting bailed out by yet another DP ball.
Meanwhile, Lotte had a golden chance in the top of the 7th with a bases loaded situ and only one out, only to see Kim Tae Kyun ground into another inning-ending DP. Honestly, other than the continued injury absence of Ogino (Ta-Ka-Shi!) the only real black spot on the current run is the continued profound slump of our number 4 hitter. He's batting around .230 with RISP and is 4-22 on the season with the bases loaded. I seriously think Nishimura-Kantoku needs to move him out of that 4 spot until his confidence and stroke come back. Fukuura would fit nicely in there.
SO it's a 2-2 game. Seibu is feeling the pressure of a 4 game streak with Our Marines and Daiei hot on their tail. They want to hold that score where it is until their big bats can take the lead. To accomplish this strategy, they need something special in this critical spot – in comes Kudoh. Bless you, Watanabe-Kantoku! After Fukuura grounds out to lead off the 8th, Saburo sees the aforementioned fat pitch and sends a reminder into the left field stands that Lions fans shouldn't expect it to be easy. Just like that, the quick turnaround is reversed again, and Lotte has a 3-2 lead going into the 9th.
Kobayashi closes it out, and looky here – 28 games remain, Lotte sits a mere one, teeny-little game out of first. Yes indeed.
Lotte makes their move on the top spot tomorrow with the Baby-Faced Killer (I have my Karakawa towel already packed in my bag for tomorrow) up against a member of the "Inexplicable Announced Starter When You Desperately Need a Win" Department, Fumiya Nishiguchi. He's older than me and hasn't posted a sub-5 ERA in about 3 Prime Ministers. Should be a fun one.