There are two basic kinds of blowouts. There's the sort where one team beats the crap out of the other in the first, then sits in the dugout drinking wine and relaxing for the next day's game. I went to the quintessential example of this sort of game two years ago in Nagano – Seibu kicked my Marines's teeth in in the first inning and was up something like 10-0 early in the second. Here's the box score for illustration's sake. We Fans sat in the outfield (on a nice grass slope), drank beer, and socialized. It was pretty fun once you realized your team had no chance.
The other type of blowout is the sort where it stays nice and tight for a while, then one team says "Screw This!" and blows the door off the other down the stretch. Quite satisfying to be on the winning end of this one, IMO.
This weekend's series with Seibu had both sorts of games – games the Chiba quite conveniently won. How nice!
Note 1: I am rather conveniently forgetting the game Saturday as I wasn't there. If I didn't actually see it with my own eyes, the loss doesn't really count, right? Right??

Note 2: A warning that's much too late as if you are reading this, the page has already fully loaded. I went a bit crazy with the pictures this weekend and cut it down to my favorite 30 or so. I was sick all last week and was in no mood to blog, so I am making up for it all at once!)
Friday – Lovely evening for a game of baseball, as the young'uns say, especially with Lotte ace Naruse on the hill facing his opening day counterpart Wakui. On opening day Wakui got the best of Naruse, who was quite good, as the Lions won 2-1. Friday was the chance for revenge – could Naruse take Wakui down?
It's the bottom of the first, and Tsuyoshi has struck out to lead off the inning. Ogino pokes a single to center, and Wakui walks Iguchi and Kim Tae Kyun to load the bases (incidentally, after 18 games this season, Iguchi and Kim are 1-2 in walks in the Pacific League.) Ohmatsu comes through with a 2-run double to left! Saburo comes to the plate with two men still on, and he singles in Kim to make it a quick 3-0! Fukuura is up next in the DH role, he fouls a ball off himself and has to leave the game. Coming in in relief is young Kohbe – he's not warmed up at all, what could he possibly do? How about a HUGE three run blast to right center? Yeah, how about that! That hit was one of the HRs that left no doubt at all where it was going. Kohbe is over the moon as he runs the bases – he's hopping up and down, practically dancing his way home. Who can blame him? As he crosses the plate he runs the score to 6-0 with one out in the first vs the best pitcher in the Pa-League last year. He strikes a sumo pose by the dugout for emphasis.
For the record, this is one of the first sort of blowouts. It's only 6-0, but 6-0 with Naruse on the hill is just a guaranteed win. In fact, Naruse wasn't really all that hot by his standards on Friday (7 2/3, 3 ER, 5 Ks and 10 hits) but it was still way more run support than he would need. In fact, they blew a ton of fireworks to celebrate before the game was even close to over.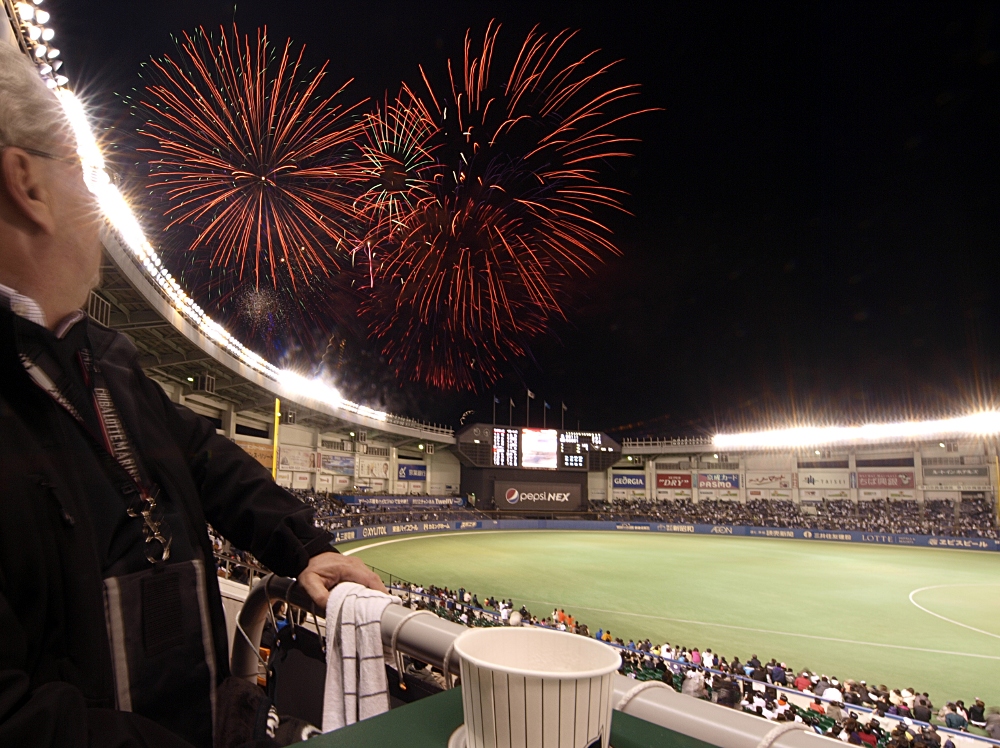 (OK, maybe those were planned ahead of time)
So with 8 innings left we got to enjoy the atmosphere at the ballpark after a hard week at work. Wakui, well, he wasn't enjoying much of anything. In the third as Kohbe came up to bat the second time, Wakui drilled him with a pitch. Oh sure, he tipped his cap to say he didn't mean it, but nobody was buying it. Benches cleared, bullpens cleared – it all looked Quite Serious.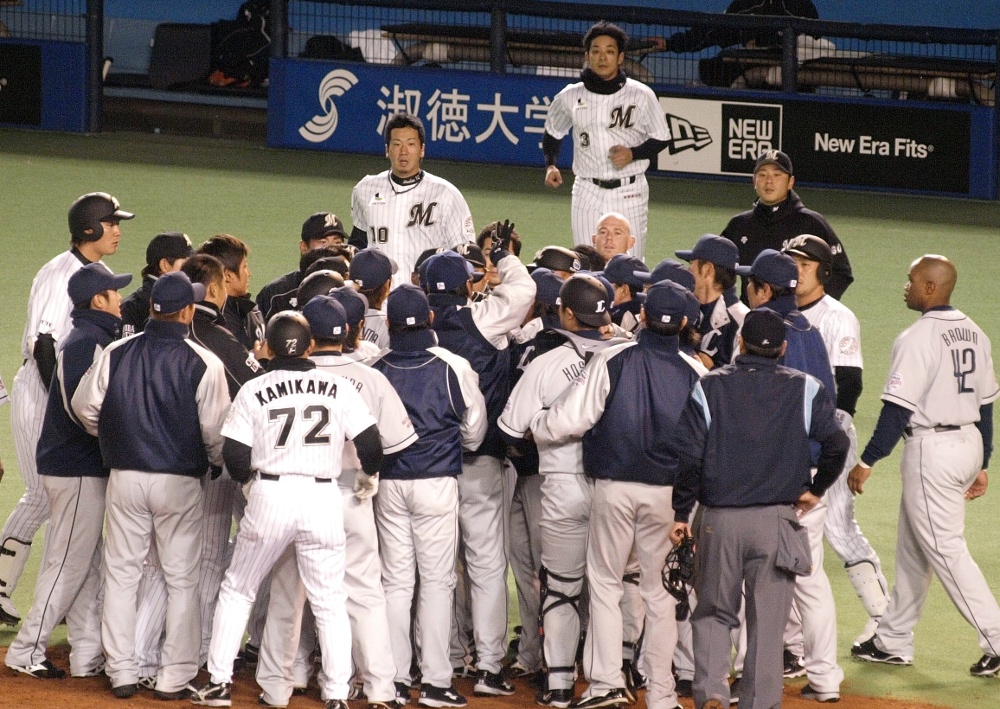 A whole lot of jawing went on without any punches thrown. The acrimony was plain to see for any any casual observer.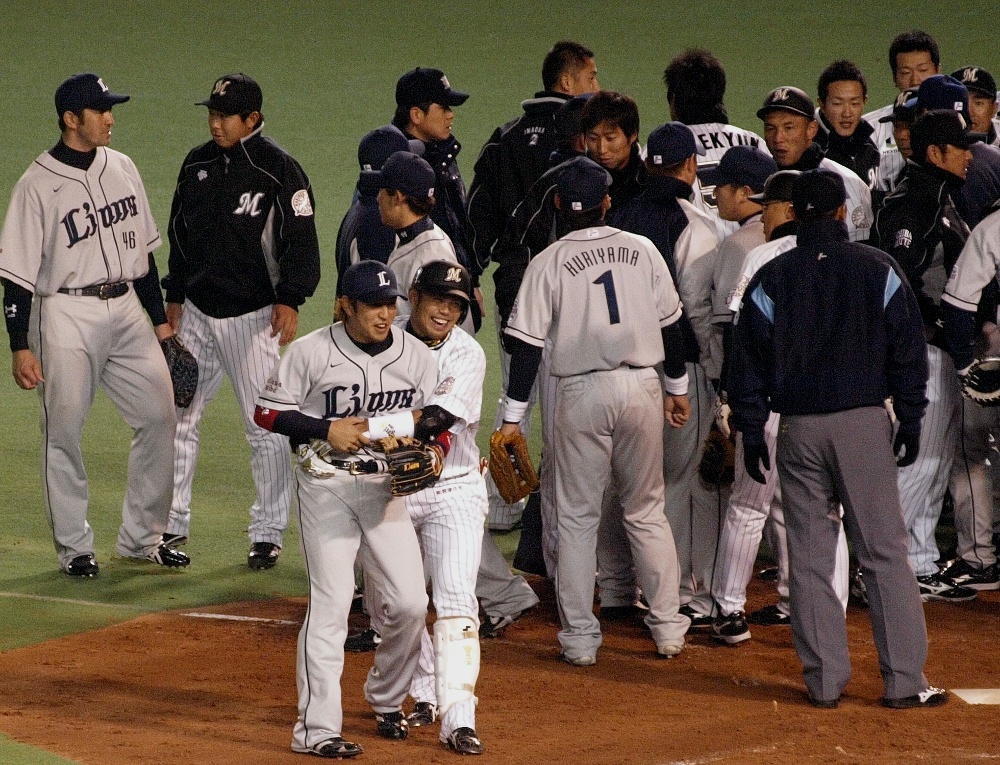 Maybe not so much.
Seibu eked out runs in the 3rd, 4th, and 5th to make it look like they were competitive, but Ohmatsu took one back with a solo smack to right in the 6th and Ogino (Ta-Ka-Shi!) knocked in another in the 8th (for his third hit of the night). That made it 8-3 Lotte, and that's how it would end.
After Ogino's RBI in the 8th Seibu reliever Yamamoto popped Iguchi with another ball, leading to the benches clearing yet again. Yamamoto would get his comeuppance, too – sometime during…
Sunday – If Friday was a great day for baseball, Sunday was a day sent from the gods. Just 10 days ago I was writing about how damn cold Chiba Marine was during the winter – lo and behold, a great sunny day that would hit 22 degrees (71 for you Americans). I had scooped a pair of Field Wing tickets of Yahoo Auctions for a song, so I had great seats for another Lions/Marines tilt. Shingo Ono was on the hill for Lotte versus Hoashi. Ono was not at his best – by far, he allowed 7 walks on the day – but he only allowed 3 hits and most critically, NO runs at all. I don't like the 7 walks but quite frankly he can load the bases every inning for all I care as long as he keeps runners from plating.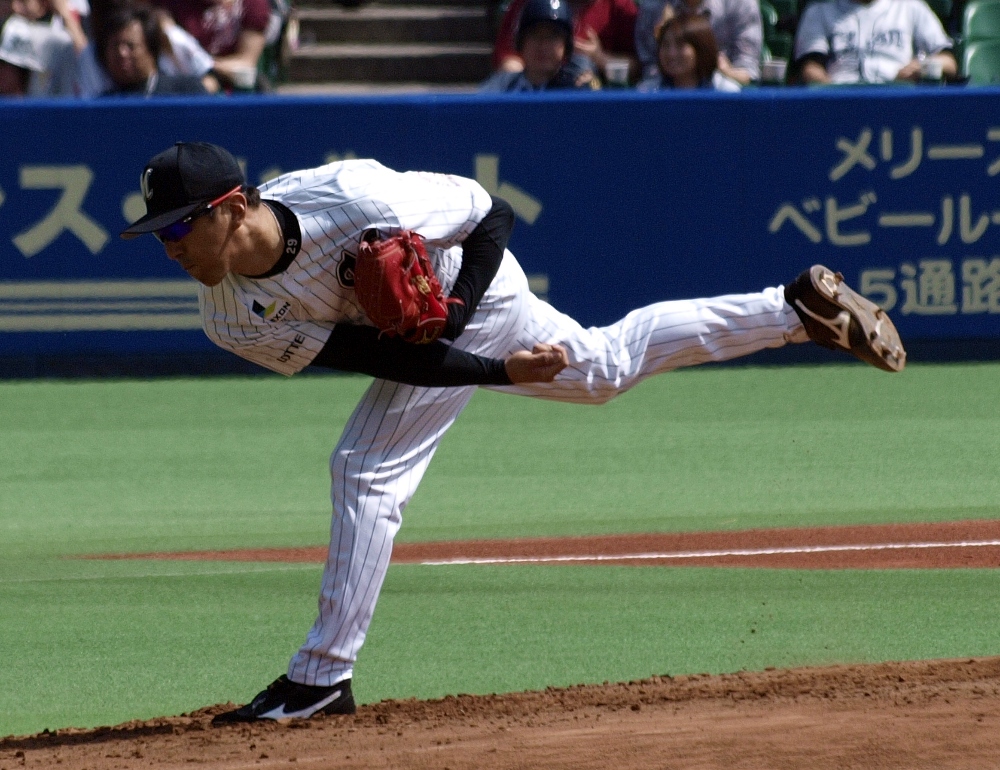 Second inning – Kim Tae Kyun has singled and so has Ohmatsu. Saburo grounds into a fielder's choice – runners on the corners, 1 out. Imaoka is at bat, he hits a slow roller off a broken bat to Nakajima, who for some bizarre reason tries to gun down Tae Kyun, who is racing home, easily beating the throw. Nakajima had no chance on that play, not sure why he didn't go for an easier DP. Anyway, the run is in and Lotte takes an early 1-0 lead.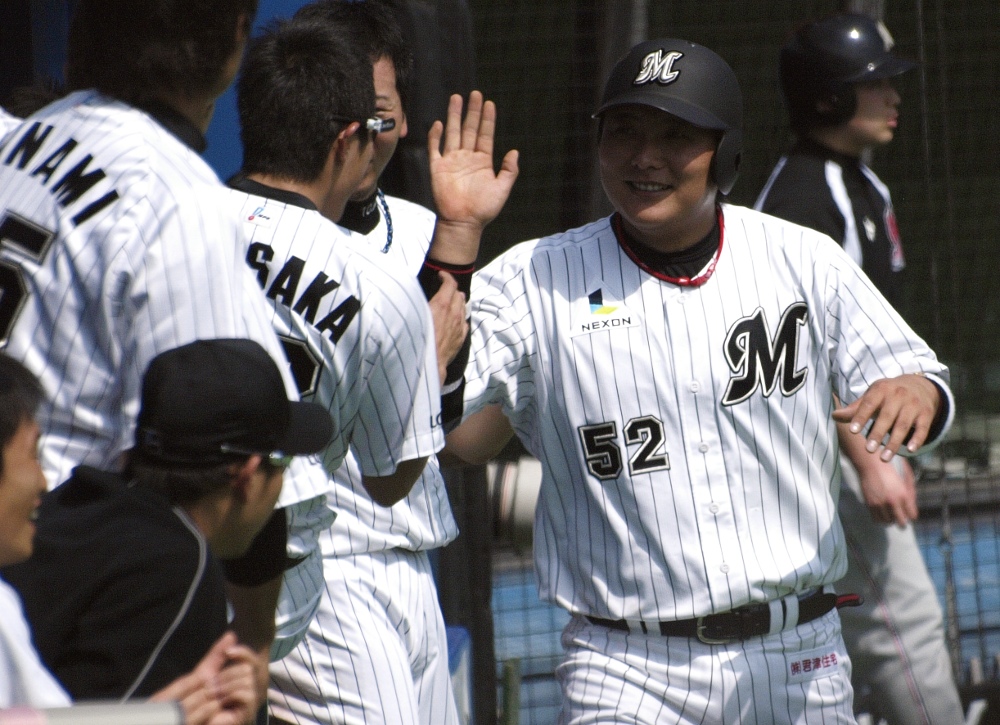 Third inning – Tsuyoshi singles and steals second, Ogino singles him to third, and Iguchi brings him home with a clutch single! Hoashi uncorks a wild pitch allowing Ogino to score – 3-0 after 3 innings.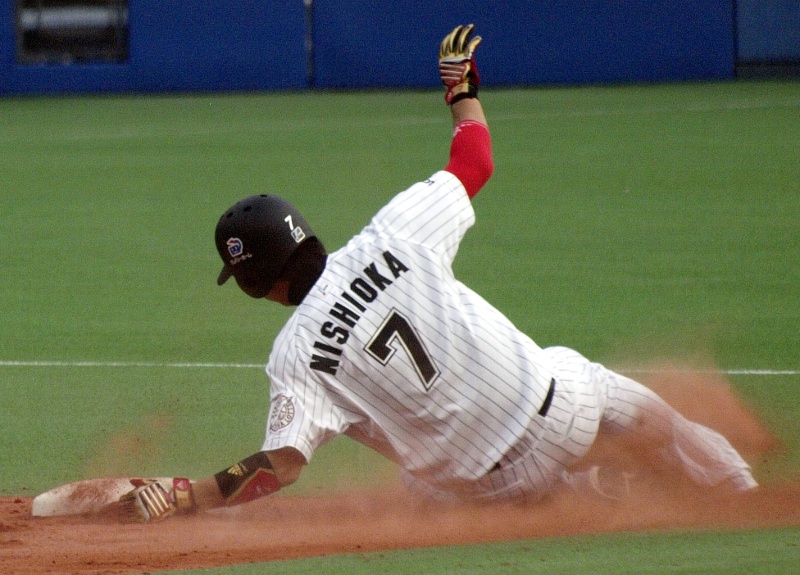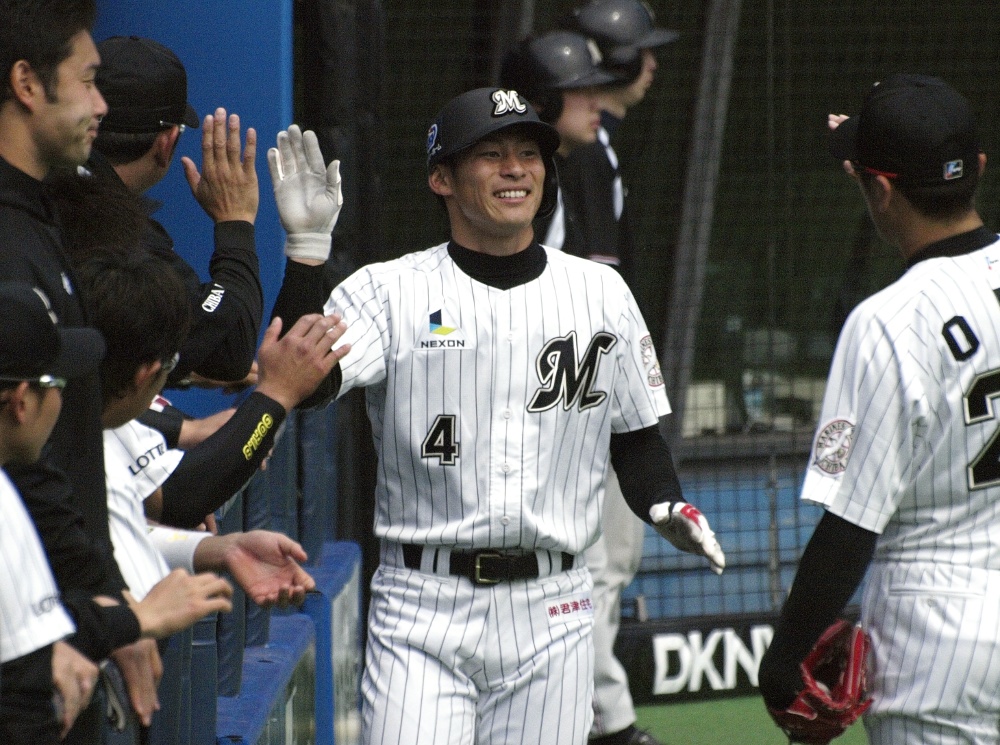 In the fourth Imaoka runs like hell to try to beat out a throw from short – he dives into first and is out, but what nice hustle.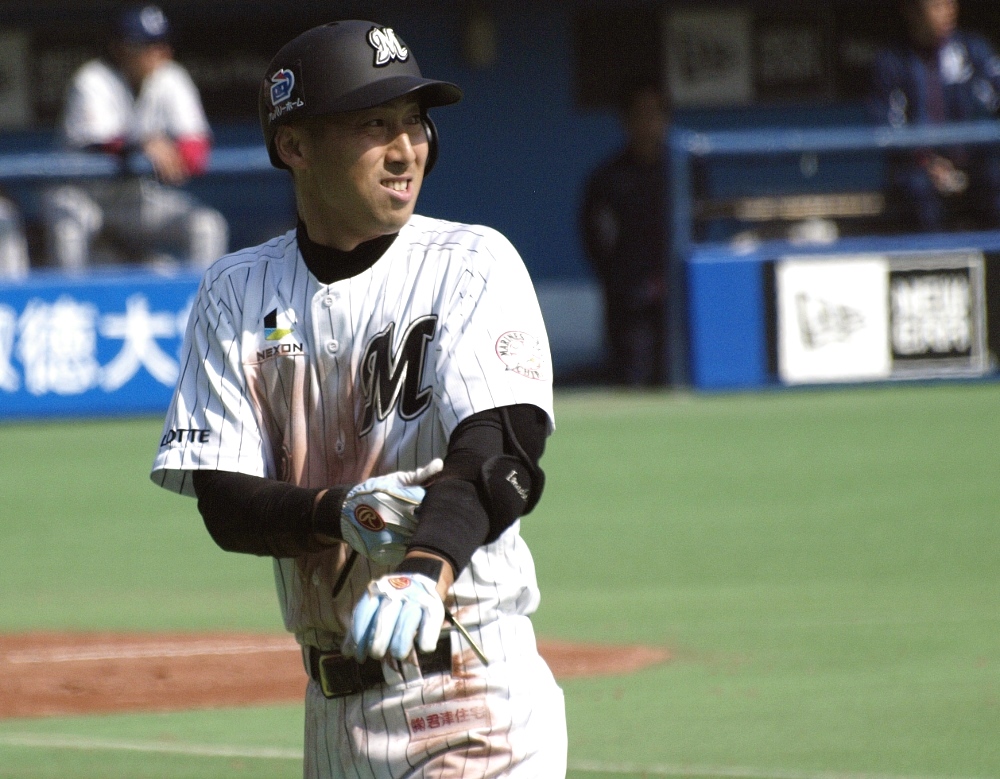 There was great defense on the Lotte side, too – Hoshi hit a weak grounder in between first and the pitcher's mound. Tae Kyun charges to scoop it up but there's no way he can flip it to anyone. Instead he makes a break for first and dives feet first, just beating Hoshi to the bag. Tae Kyun hasn't had the big power explosion yet but his defense has been fantastic.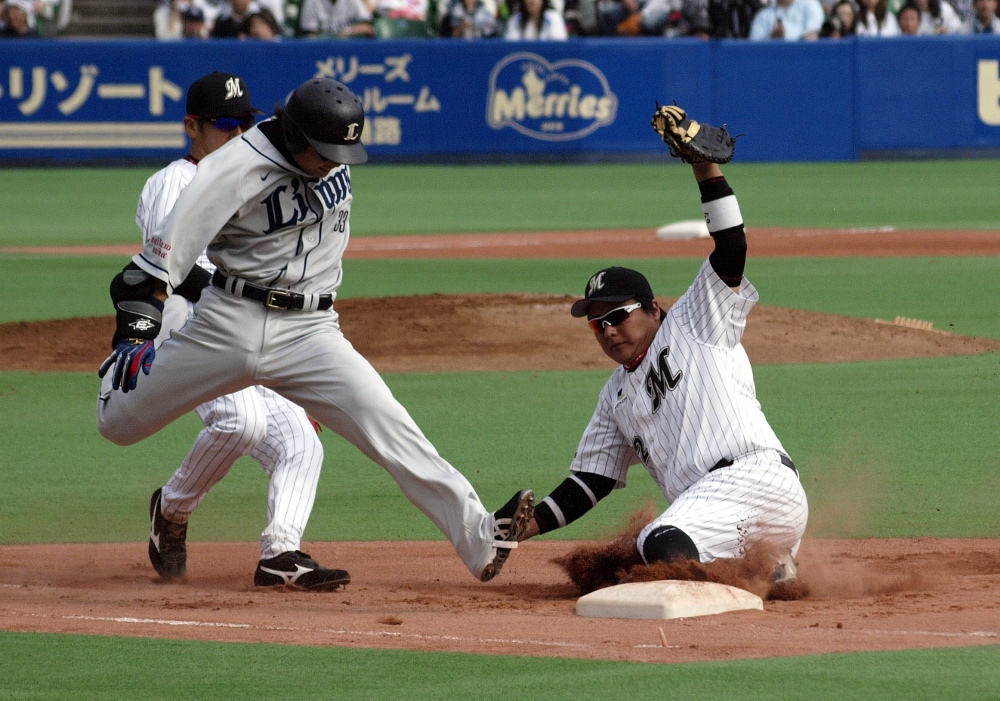 In the 5th, Tsuyoshi is on again, Ogino is getting him over again with a sac bunt, and Iguchi brings him home with a single. It's like a machine, the top five spots in the order.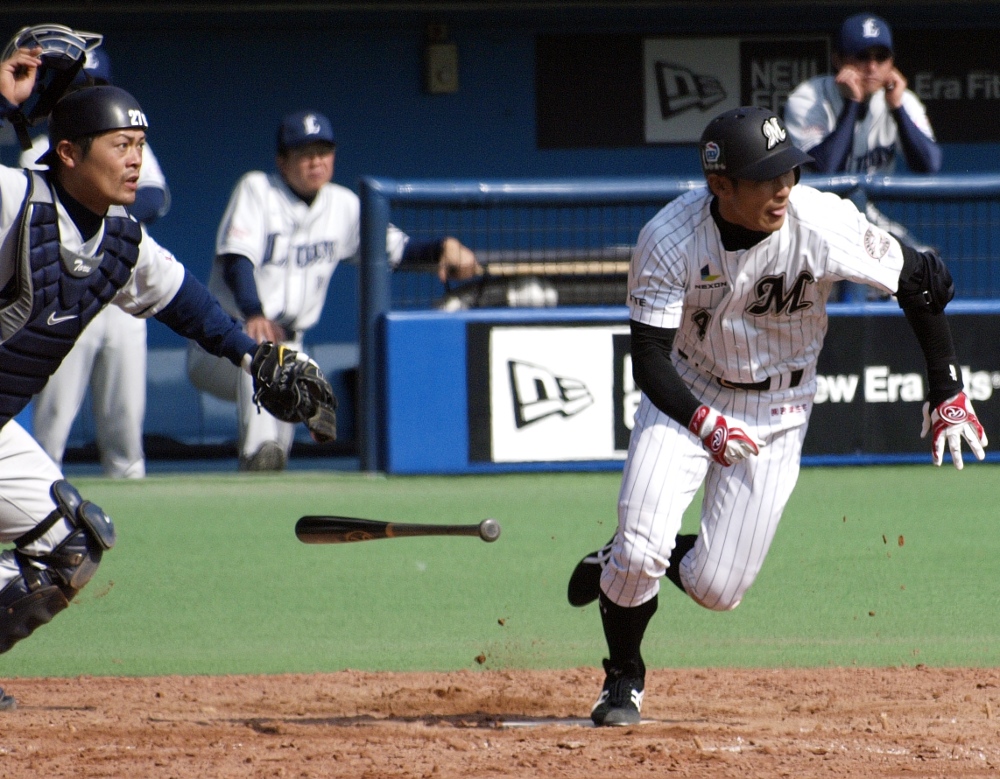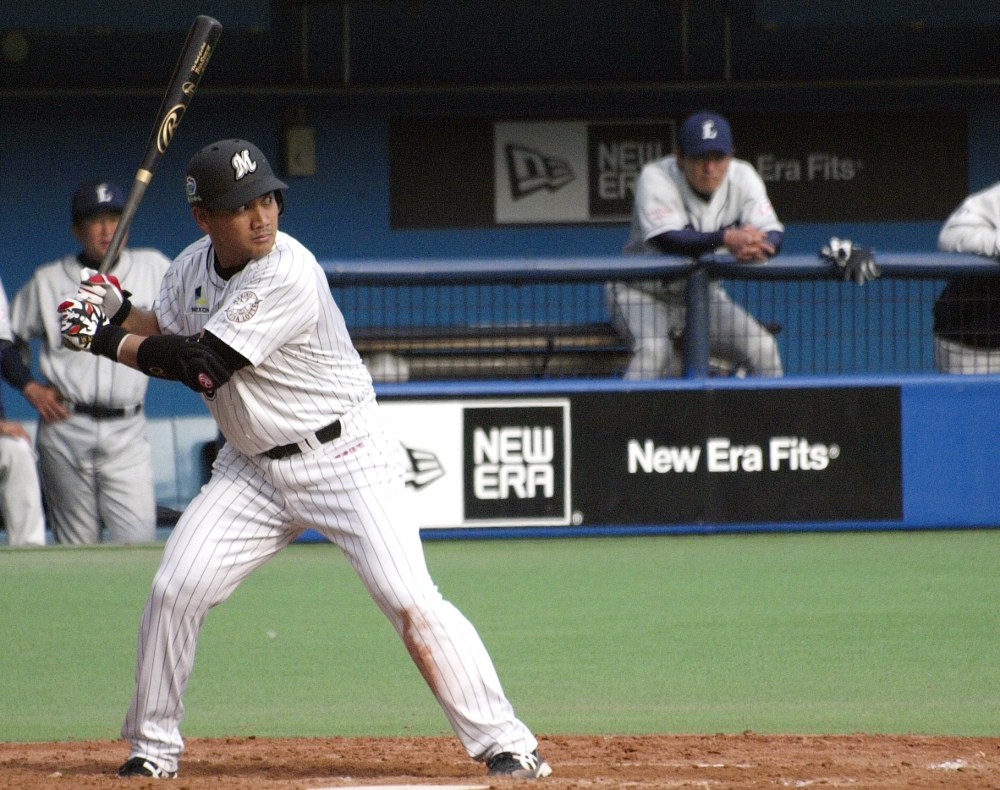 As you may have guessed by now (and you have of course seen the banner up top), this game was the second sort of blowout. In the 8th the Lotte offense decided to pound on the Seibu pen, especially whipping boy Yamamoto (if you've read this far, you might remember I said he'd get his comeuppance). This was greatly facilitated by the Seibu pen coughing up 4 walks (including one to bring in a run), a 2-RBI single by Saburo, a 2-RBI double by Matoba (his first RBIs as a Marine) and all of it was capped off by Imae's first homer of the year, a poke into center left. 7 runs crossed the plate, turning a relatively close 4 run game into an 11 run laugher. Nice, nice finish.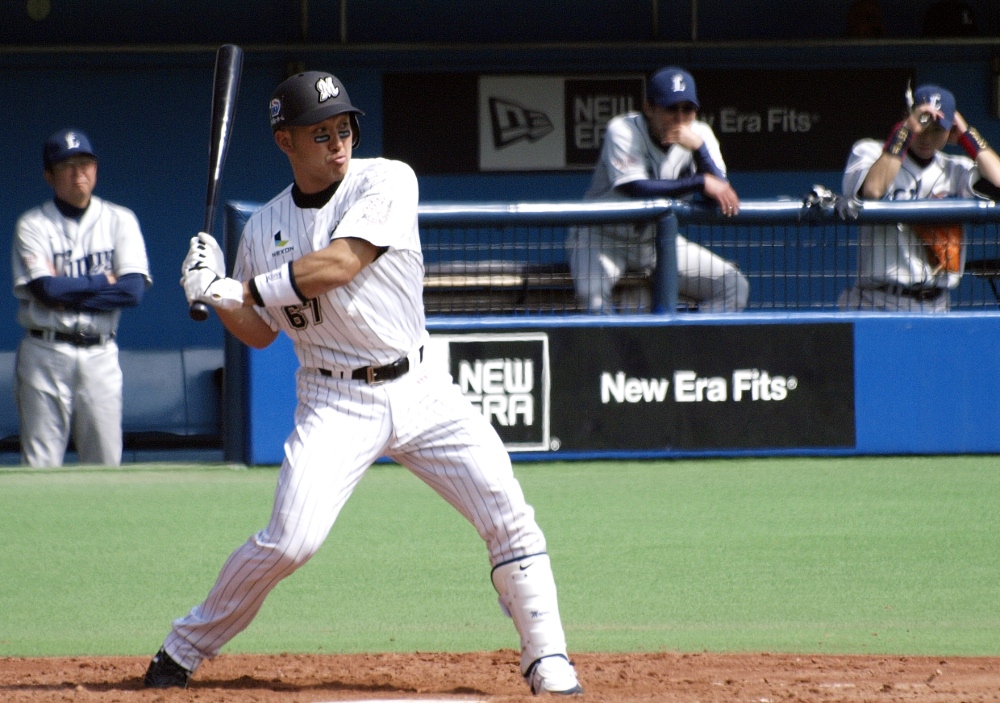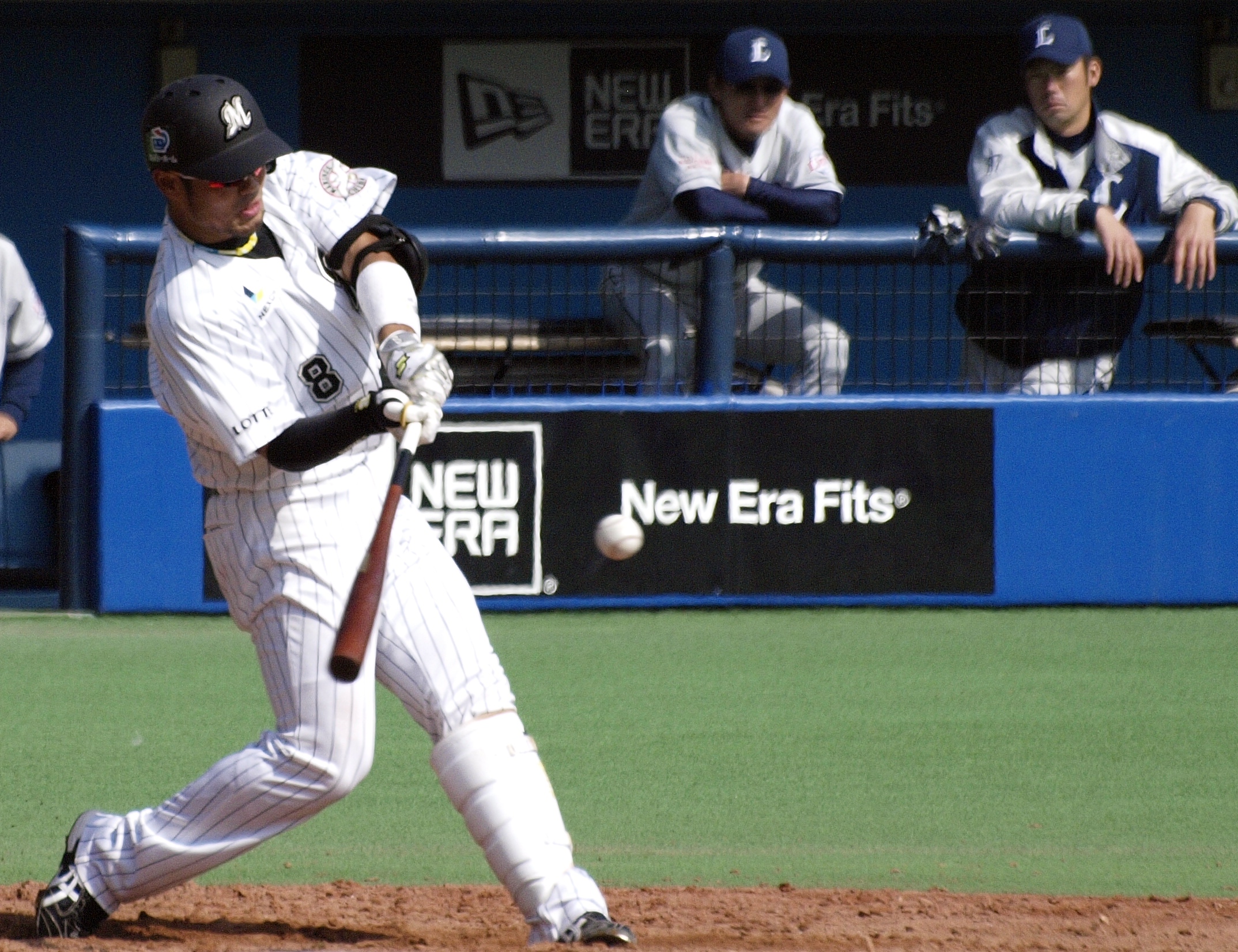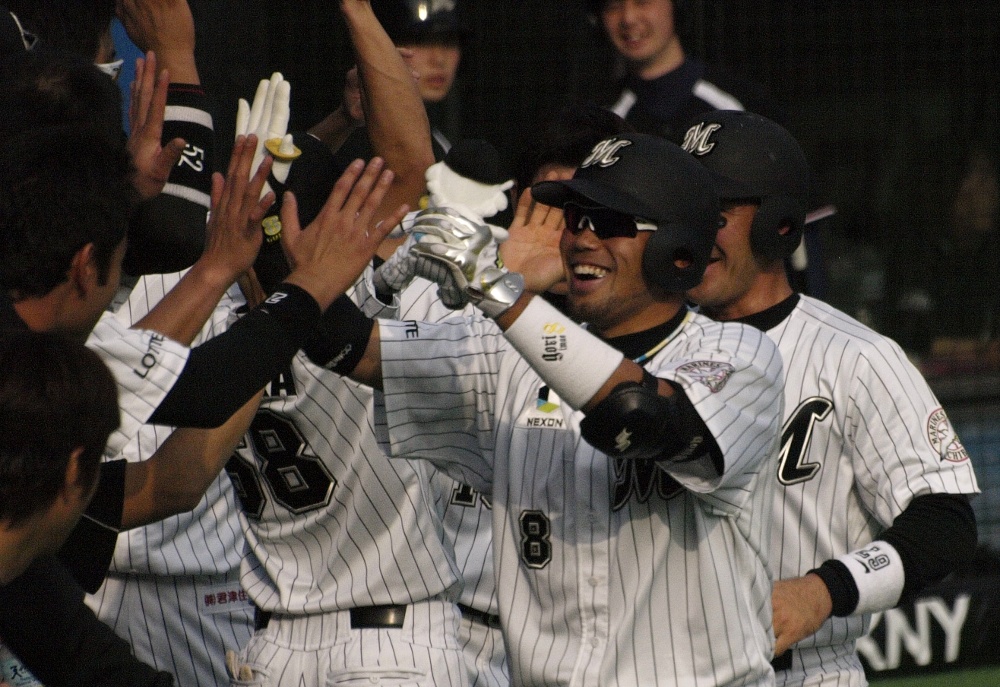 Yabuta and Kobayashi finished off the game, sealing the blowout victory. It's the second series win against Seibu, and it keep Lotte nicely at the top of the league standings. A solid start to the season, for sure!
Up next is a trip to Sapporo before coming back home on Friday to face Orix. Here's a few more (more?!?!) photos of Sunday's game.