April baseball is great, but cold at Chiba Marine Geez, QVC Marine Field*. It's usually nice and windy, temps in the low teens or single digits, vendors selling shochu and hot water instead of cool, fruity Chu-Hi. It's definitely more a time for the hardcore fan than the casual fan as even hardy members of the ouendan will feel a deep chill despite bounce bounce bouncing all game. This is common knowledge. But would anybody expect this week's interleague games versus the Swallows – May 30-31 – to be as cold as a game in the first week in April?
*I've got a bad habit for overusing parenthetical asides to begin with so I'm going to overuse these sorts of asides for a while, just for novelty. I've been reading too much Joe Posnanski, I think.
The naming rights to Chiba Marine Stadium were sold in the offseason to TV retailer QVC, so Chiba Marine Stadium is now QVC Marine Field. Until I come up with a pithy nickname for the place I'm still probably going to call it Chiba Marine. Perhaps. At least we got a nice new turf out of the deal.
Freezing as it was – and for the first game I was wearing but a dress shirt I wore to work plus my uniform, this in 12 degree, blustery conditions – the feeling in the stands was anything but. Tuesday was my first home game in the gaiya* after moving around from picnic box, reserved A, unreserved, and even upper deck reserved. I had to show up a little late due to work, so I grabbed a bite to eat on the way in, looked around for a seat, found a nicely located one in the middle upper portion and settled in as Yakult was coming to the plate.
*Though I did sit/stand/bounce/sing in the gaiya ouendan at Seibu Dome. I almost always sit in the outfield on the road and almost never do at home. I have absolutely no idea why other than I am peculiar.
Not 30 seconds had passed until I heard "STEVE!!!!" – uttered by someone I didn't know. It was a large and already inebriated group next to me and someone recognized me. I'm used to getting noticed at the stadium ("Hey Benny Fan!") but I usually at least know the people doing the recognizing. Soon enough a girl I did know joined the group, a bottle of sake was produced and thrust in my face. Home.
On such a cold night we loudly singing fans wanted some OFFENSE to warm us up but we got a whole lot of whiff. 8 baserunners and only one run – a sac fly by Fukuura to score the wonderful Ishimine. In the first. Let me also point out that virtually all of our meager offense of late has come in the first inning or innings – no late inning heroics recently. What was heroic was the pitching of young Tomohisa Ohtani, second round pick in '09, making his first career start. Ohtani went 5 2/3 innings of two hit, 5-K ball before a 6th inning throwing error on out three by 4th-string shortstop Takahama* derailed his evening. 2 unearned runs later and Ohtani was taking the loss – sad.
*The answer to the trivia question "Name the four starting shortstops for the 2011 Chiba Lotte Marines through May" will surely be one that rings throughout the ages. The answer is obvious, of course – even kindergardeners know it's Takashi Ogino, Takayuki Takaguchi, Hosoya Kei (of the easiest ouenka outside Kohbe – wait, didn't I promise no more parenthetical asides? But what do you do inside an inside? HMM.), and Takuya Takahama, compensation for losing Kobayashi to Hanshin in free agency this offseason. Sorry to tell you something you surely knew already.
But at least we had fun. As the evening wore on the group next to me got progressively loopier. I was fitted with a mask, extensively photographed and mocked. Somebody's kid wandered around singing songs. The guy and girl next to me finished each other's cheers, "Sato!" "Zaki!" Eventually she gave up coherent cheering and just yelled "aaaaaaaaaahhhhhhhh!" repeatedly. I've missed the gaiya ouendan.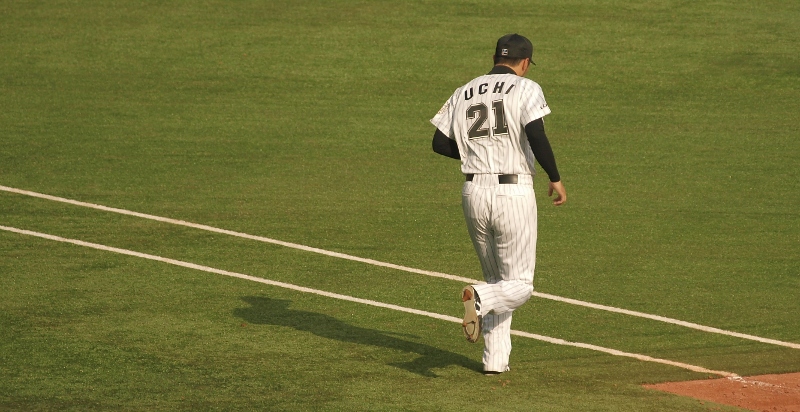 Anyhow it was back to my traditional 1st base reserved A seats for Wednesday's game. Yoshimi, who I secretly and pretty inexplicably like for no real reason, took the hill looking to break the home non-winning streak, at that time sitting at 8 games. YIKES. Our Marines gave him some early run support off a first inning RBI single by Fukuura and a second inning solo shot to left by Imae (first home HR by anybody in 2 weeks, and only the second overall!). At least 4 men came to the plate in every inning, 13 baserunners reached in the last 7 innings including bases loaded in the 6th, runners on first and second with no outs in the 7th, runners on first and third in the 8th, and two on in the ninth – nary a spike crossed the plate. Sigh.
For his part Yoshimi was reasonably solid – 3 ER in 6 2/3 but with 9 hits/3 BB – but 3 runs is just too much to overcome in our current slump. But I'll say it again – at least we are playing dreadful ball in May, not September. Bad news for this game was the injury list grew even longer as Kiyota took a fastball headed for his skull off his hand (and his helmet I believe – I haven't seen the replay but live it looked like it hit him square on the helmet) and has a broken finger, out indefinitely.* I have no idea who will be replacing him in the starting lineup; Kohbe? Kakunaka? Aono?
*Reached for comment after the game Nishimura-Kantoku said "There is nothing to say." Actually I think there is – #$&%!!!

Back in my normal seats I got to cheer with my normal crowd, though. Some guys I've been sitting with for four years swung by my seat – "Steve, what's the problem right now?" "We're not very good."
Most enjoyably, the crazy family from last year (too lazy to find the link) was sitting a few sections over. This was the family that managed to be louder than me (and I am notoriously loud) – mother was the loudest. The crazy family found me as the kids came running over in the middle of the game. The middle kid (maybe 6 or so) said, "Hey, remember us? Remember us???" How can I forget? The kids scream like banshees when we drop a successful sac bunt, let alone score a run. Mom screams encouragement at the players like a particularly angry trucker screams profanities at the econobox that cut him off on the interstate. Yeah, I remember you kid. The kids ran back over to their parents who look over and wave – well, about 20 people sitting near them wave, too, so I don't know what the hell they were discussing over there, probably "That dude's as loud as our kids."
After Ohmatsu smooshed an 8th inning double the oldest kid ran back over to my seat and yelled "OHMATSU!!!!", high fived me, and sprinted back. Just think of the chaos if we actually came back to win that game.
Oh, it ended 3-2 Yakult. Perhaps we can get something going this weekend at Yokohama and Chunichi – last time we were in Nagoya it worked out pretty well.